This decadent Middle Eastern jeweled rice with roasted vegetables will fill your kitchen with the wonderful and deep aroma's of Christmas. By using freshly roasted nuts from the nut shop and high quality spices and fruits, this dish will offer an equally delicious texture as well as taste. Half the work has already been done by the use of these ingredients and you can take it easy.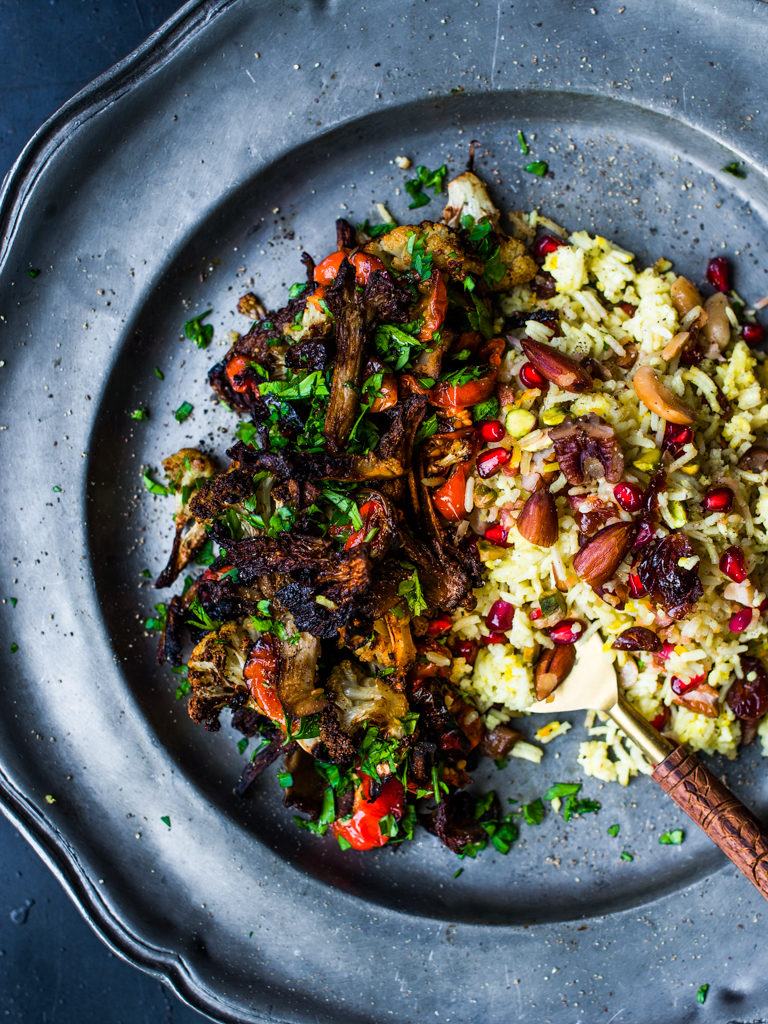 Serves 4-6
INGREDIENTS
Jeweled rice
2 cups rice 
3 cups water
2 bay leafs
2 garlic cloves, peeled and crushed
2 pinches of saffron
1 tsp Celtic sea salt
150 g freshly roasted cranberry-nut mix from your favourite nut-shop (for example: almonds, pistachios, macadamia, pecans and cranberries)
1 pomegranate
2 tbsp olive oil
Veg roast
1/2 large cauliflower, cut or 'torn' in chunks
1 sweet red bell pepper, sliced
250 g cherry tomatoes, halved
2 medium large red onions, peeled and sliced
300 g oyster mushrooms, big ones torn in large pieces (don't make them too small)
3 tsp ras el hanout (spice mix)
2 tbsp soy sauce
2 tbsp agave or maple syrup
1 bunch of parsley, chopped
INSTRUCTIONS
Jeweled rice

Put rice, water, bay leafs, garlic, saffron and sea salt in a pan. Bring to the boil and turn heat as low as possible (with lid on). Let cook until rice has absorbed all the water and is cooked thoroughly. By using this method the rice should have absorbed all the water completely. Turn off heat and leave with lid on for another 10 min. Chop up nuts (roughly). Get seeds out of the pomegranate (check this easy and clean! method). Loosen rice up a bit with a fork, so it's nice and fluffy. Mix in 2 tbsp of olive oil, nuts and pomegranate seeds.
Veg roast
Preheat oven to 200 C/400 F. Put all veggies on a tray lined with baking parchment. Add ras el hanout, soy sauce and syrup. Mix it all up. Roast for ca. 30 min or until nicely browned and cooked completely. Sprinkle with parsley and serve straight away.
---
JUWELENRIJST MET GEROOSTERDE GROENTE
Laat je keuken heerlijke geuren naar de rijke aroma's van kerst met deze decadente Midden-Oosterse 'juwelenrijst' en geroosterde groenten. Door gebruik te maken van vers gebrande noten van de notenboer, kwalitatieve specerijen en vruchten krijgt dit gerecht een even heerlijke textuur als smaak. Daarmee is het halve werk al gedaan en kun je zelf lekker rustig aan doen.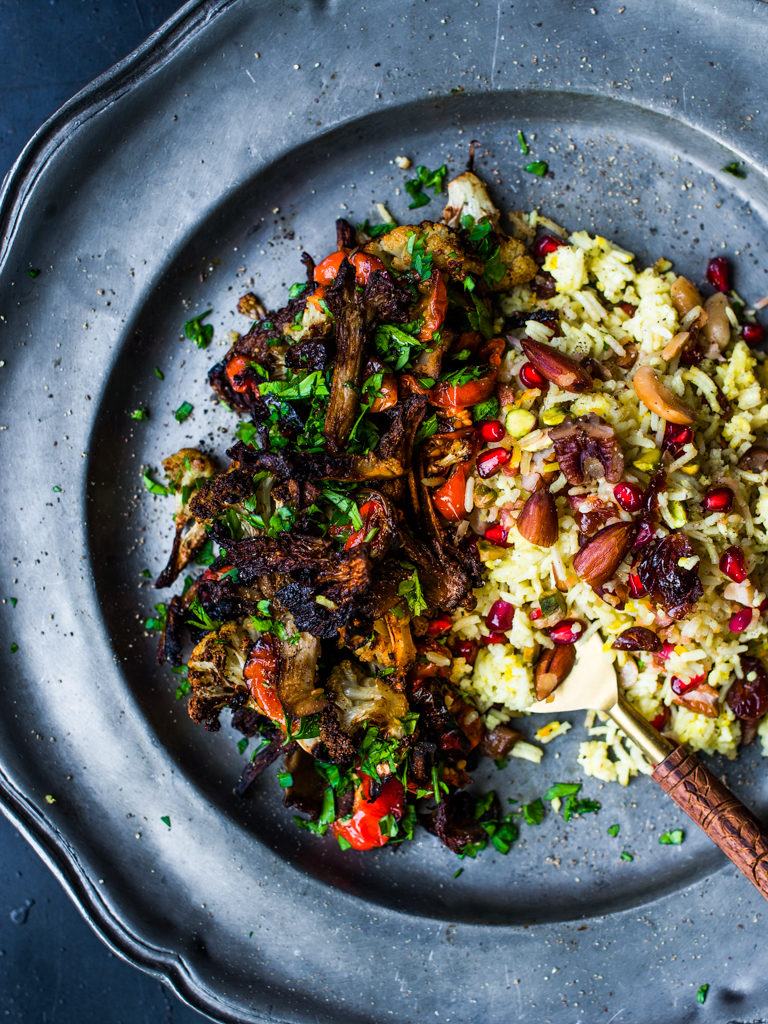 Voor 4-6 personen
INGREDIENTEN
Juwelenrijst
2 koppen basmatirijst (a 250 ml per kop)
3 koppen water (a 250 ml per kop)
2 laurierblaadjes
2 tenen knoflook, gepeld en geplet
2 plukjes saffraan draadjes
1 tl grof Keltisch zeezout
150 g vers gebrande cranberry-notenmix van de notenboer (bijv. een mix van amandel, pistache, pecan, macadamia en cranberries)
1 granaatappel
2 el olijfolie
Geroosterde groente
1/2 grote bloemkool, in stukken gesneden of 'gescheurd'
1 zoete puntpaprika, in plakken
250 g cherry tomaten, gehalveerd
2 middelgrote rode uien, geschild en in partjes gesneden
300 g oesterzwammen, grote exemplaren in grove stukken gescheurd
3 tl ras el hanout (kruidenmix)
2 el sojasaus of shoyu (géén ketjap)
2 el agave- of ahornsiroop
1 bosje peterselie, gehakt
INSTRUCTIES
Juwelenrijst
Doe rijst met water, laurier, knoflook, saffraan en zeezout in een pan en breng aan de kook (met deksel op pan), en zet het vuur vervolgens laag. Laat de rijst zachtjes koken tot al het water geabsorbeerd is. Als het goed is, is de rijst dan perfect gaar. Draai het vuur uit en laat nog 10 minuten staan. Hak ondertussen de noten grof en haal de sappige, robijn-achtige pitten uit de granaatappel (check deze makkelijke en schone! methode). Maak de rijst een beetje los met een vork, zodat hij lekker fluffy wordt. Roer er vervolgens de olijfolie, noten en granaatappelpitten door. Serveer in een mooie schaal.
Geroosterde groente
Verhit de oven op 200 graden C. Doe alle groenten op een met bakpapier beklede bakplaat. Voeg ras el hanout, sojasaus en siroop toe. Mix alles en rooster ca. 30 minuten in de oven tot gaar en goudbruin. Serveer na het roosteren met de peterselie.