A super easy, but oh so delicious and festive dessert! The crunchy biscuit flavour of the crumbs goes old-fashionable well with the creamy custard. The pear and cardamom provide a fresh note.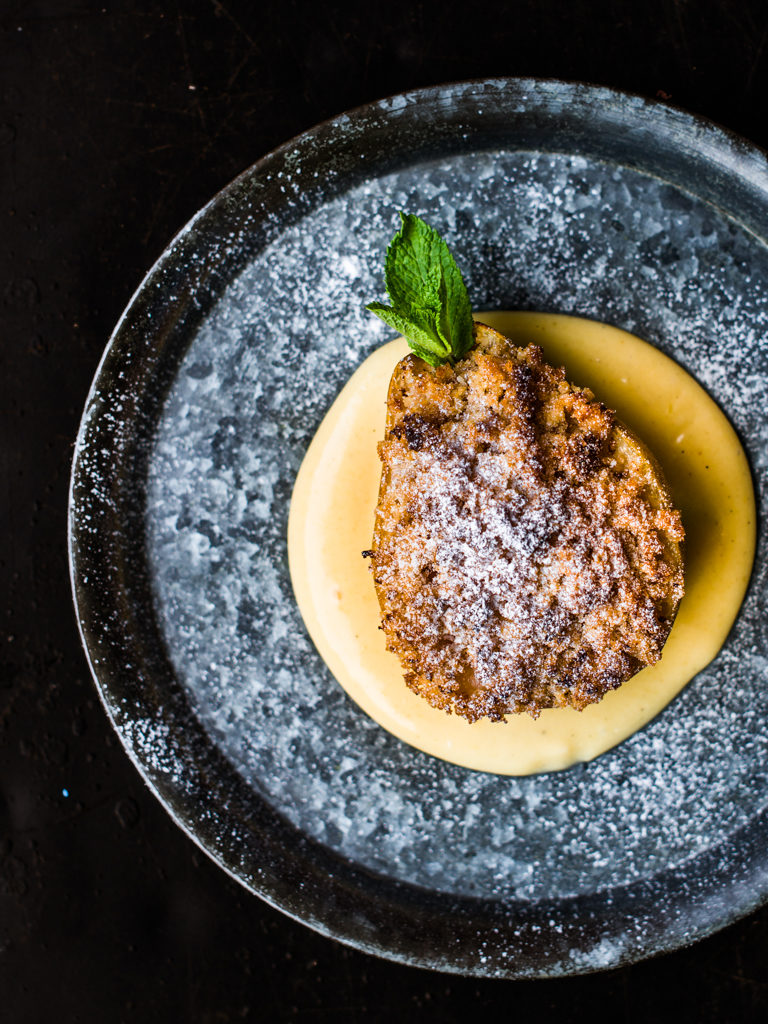 Serves 4-6
INGREDIENTS
Crumble pears
3 beautiful and big hand pears (Doyenné du Comice of Conference)
75 g flour
25 g desiccated coconut
35 g brown sugar
1/4 tsp cinnamon
pinch of salt
50 g plant based butter
1 tsp vanilla extract
2 tsp water
1 tbsp powdered sugar
4-6 small mint sprigs (only the tops including leafs)
Cardamom custard
300 ml almond milk
15 g custard powder (or maizena/corn starch with a small pinch of curcuma/tumeric)
a few extra tbsp of cold almond milk
1 tbsp sugar
1 tsp vanilla extract
1/4 tsp ground cardamom seeds (fresh from pods works best, but powder will do as well)
INSTRUCTIONS
Crumble pears
Preheat oven to 180 C/360 F.
Cut the pears in half and remove the cores. Put them on a baking tray lined with parchment paper, inside side up. Make crumble mixture by mixing flour, coconut, sugar, cinnamon and salt. Crumble butter with top of fingers into flour mixture. Add vanilla extract and water, and mix again, It should be a nice crumbly mix, that you can squeeze easily together into a dough (but don't do that). If too dry, add a little bit more water. Divide mixture over the pears. Bake for 25-30 min, until fully cooked.
Cardamom custard
Put almond milk in sauce pan and bring to the boil. Mix custard powder with some cold almond milk and sugar. Whilst stirring, add the mixture into the hot almond milk. Also add vanilla and cardamom. Let cook (keep on stirring) on low heat until fully cooked and thickened into a custard-like consistency (this should take just a few minutes).
To serve
Spread custard on each plate and arrange a pear in the middle. Dust with icing sugar and put a small sprig of mint where once the pear stalks were.
---
DESSERT – KRUIMEL PEER MET KARDEMON-CUSTARD
Een mega makkelijk, maar oh zo heerlijk en feestelijk dessert! De krokante biscuitsmaak van de kruimel gaat ouderwets goed samen met de romige custard. De peer en kardemom zorgen voor de frisse noot.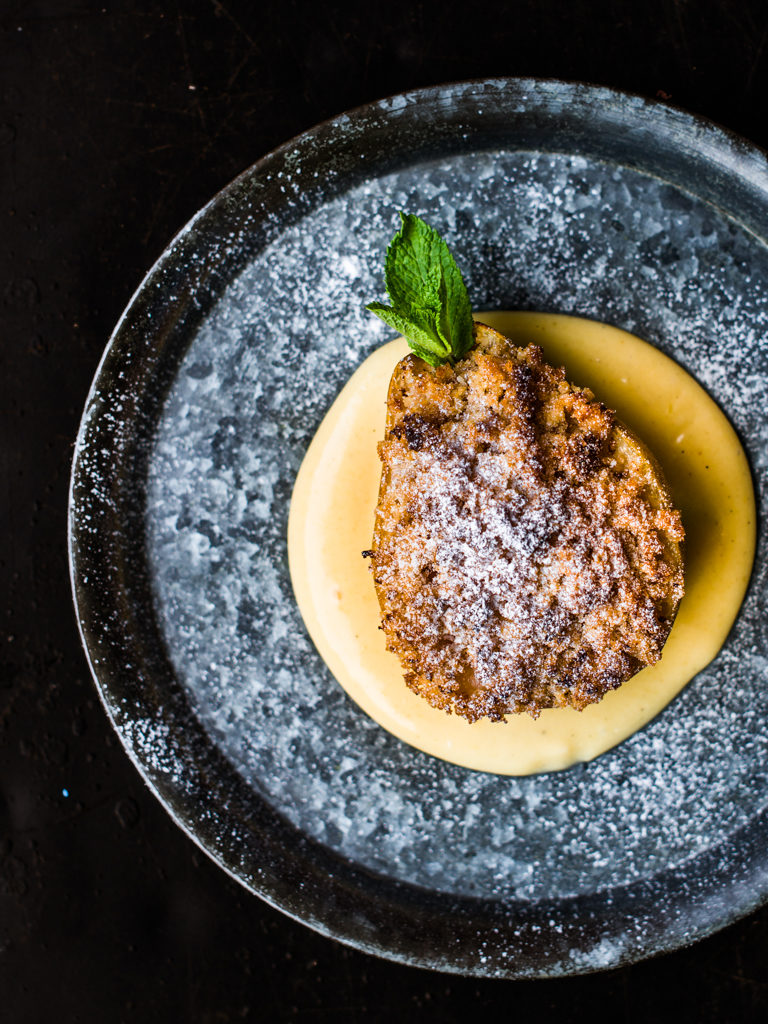 Voor 4-6 personen
INGREDIËNTEN
Kruimel peren
3 lekkere dikke handperen (Doyenné du Comice of Conference)
75 g bloem
25 g geraspte kokos
35 g bruine suiker
1/4 tl kaneel
1 zakje bourbon vanillesuiker
snuf zout
50 g plantaardige bakboter
2 tl water
1 el poedersuiker
6 topjes van een munttakje (met blad!)
Kardemom-custard
300 ml amandelmelk
15 g custardpoeder (of maizena + een klein snufje kurkuma)
een paar el koude amandelmelk
1 el suiker
1 zakje bourbon vanillesuiker
1/4 tl gemalen kardemom (zelf gemalen vers uit peultjes is het lekkerst!, maar poeder kan ook)
INSTRUCTIES
Kruimel peren

Verhit de oven op voor 180 graden C.
Halveer de peren. 'Schep' de klokhuizen eruit. Leg ze met de binnenkant naar boven op een met bakpapier bekleede bakplaat. Maak de kruimel topping door bloem, kokos, suiker, kaneel, vanillesuiker en zout te mengen. Mix de boter erdoor met je vingertoppen. Voeg enkele theelepels water toe en meng, zodat je een kruimelig deeg krijgt. Voeg, indien té droog en onsamenhangend, wat extra water toe. Verdeel het mengsel over de peren. Bak ze in 25-30 min gaar, goudbruin en crunchy.
Kardemom-custard
Breng amandelmelk in een steelpan op laag vuur aan de kook. Meng custardpoeder met paar el koude melk en suiker in een schaaltje. Voeg dit papje al roerend aan de inmiddels kokende amandelmelk toe. Voeg vanillesuiker en kardemom toe. Kook de custard al roerend op een laag vuur totdat deze indikt. Dit zal slechts enkele minuten duren.
Opmaak
Maak een mooi rondje op een bord met de kardemom-custard. Leg hierop een kruimel peer. Bestrooi met een beetje poedersuiker en steek het munttopje in de peren waar ooit het steeltje zat.