This appetizer will surprise you with sparkling flavours, for sure! Fresh lime and tangerine combined with creamy coconut and avocado, crispy fennel and apple and a little red pepper. A combination that will surprise your taste buds just before the big Christmas meal. The real festivity is due to the angel hair, a nice trick with rice noodles!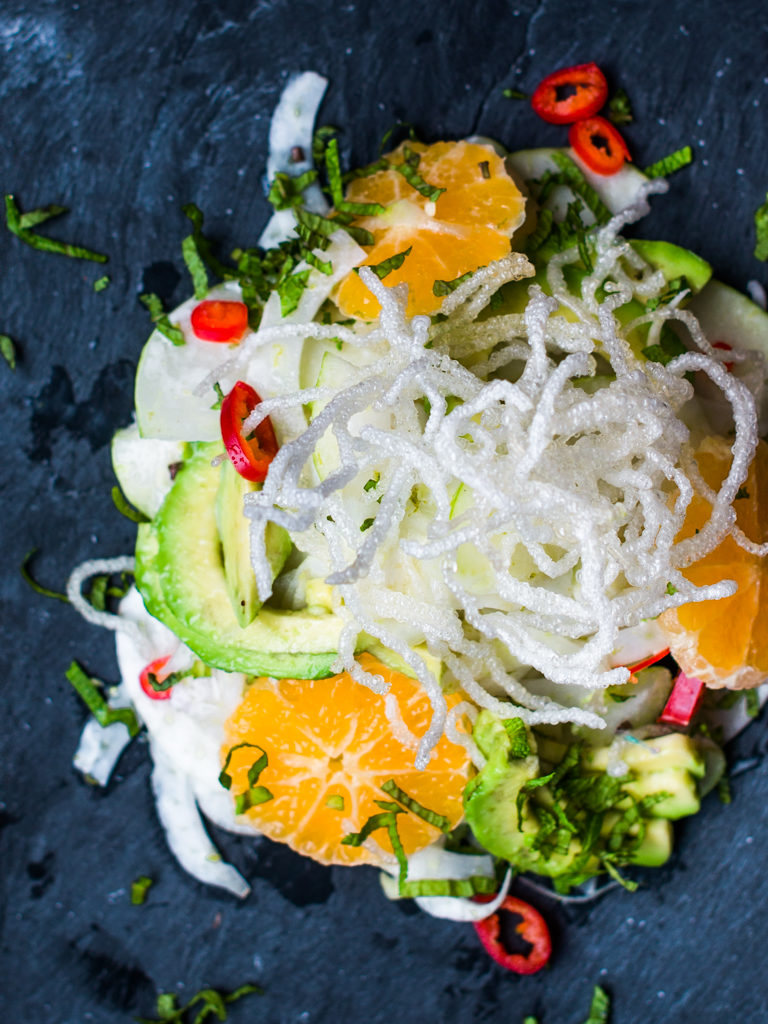 Serves 4-6
INGREDIENTS
Salad
1 fennel bulb, super thinly sliced with a mandolin or really sharp knife
1/2 green apple (granny smith), thinly sliced
1 avocado, peeled and sliced
2 tangerines, peel cut off, and the whole fruit horizontally sliced in circles
1/2 red chili pepper, thinly sliced
zest and juice of 1 lime
1 tl agave syrup
5 el coconut milk/cream from a carton
salt and black pepper to taste
mint leafs from 1/2 bunch, stapled, rolled and then thinly sliced
Angel hair
50 g (ca. 1 cluster) of thin rice noodles (glass noodles)
oil for deep frying
INSTRUCTIONS
Salad

Add fennel, apple, avocado, tangerines and chili in a big bowl. Add lime zest, juice, agave syrup and coconut milk. Mix carefully. Season with salt and pepper to taste.
Angel hair
Heat a decent amount of oil in a pan suitable for deep frying. Test temperature with piece of noodle. If it immediately pops up and turns white the temperature is perfect. Fry the raw noodles in portions all curly and puffy. Make sure they are cooked completely, but not browned!
To serve
Serve a hand of salad on each plate and decorate with angel hair and mint leafs.
---
VONKELENDE VENKELSALADE MET ENGELENHAAR
Dit voorgerechtje verrast je met sprankelende smaken! Frisse limoen en mandarijn gecombineerd met romige kokos en avocado, knapperige venkel en appel en een beetje rode peper. Een combinatie die je smaakpapillen even goed wakker schudden voorafgaand aan de kerstmaaltijd. De echte feestelijkheid is te danken aan het engelenhaar, een leuke truc met rijstnoedels!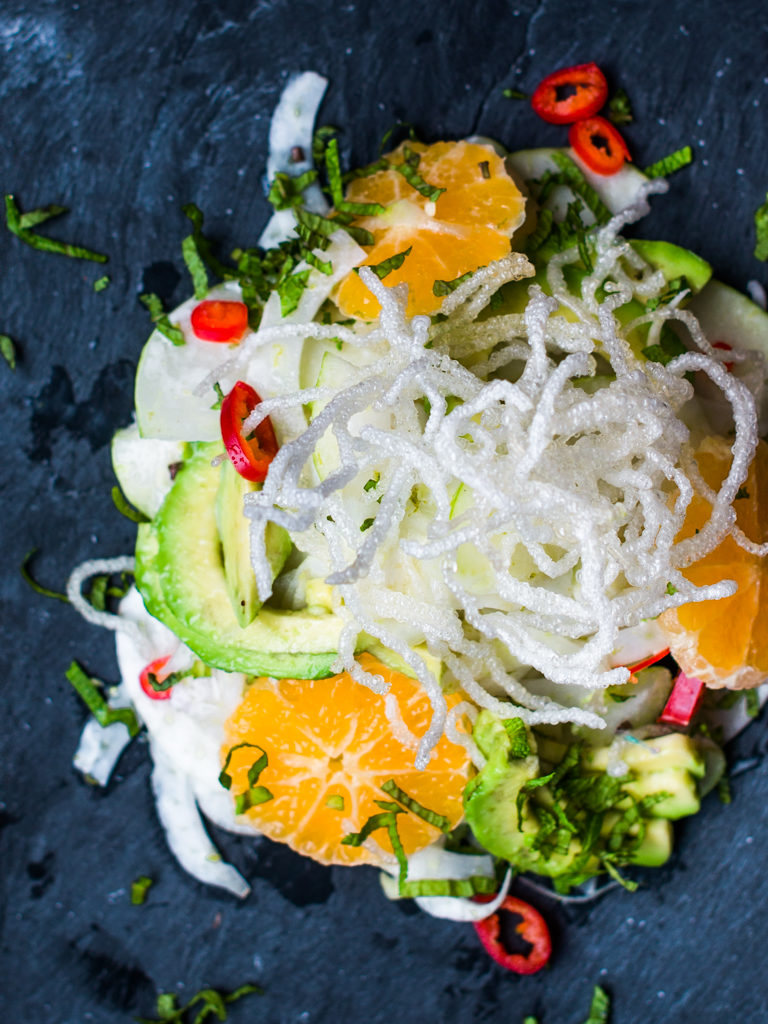 Voor 4-6 personen
INGREDIËNTEN
Salade
1 venkelknol, in ragfijne reepjes geschaafd (bijv. op mandoline of met heel scherp koksmes)
1/2 groene appel (granny smith), in fijne schijfjes geschaafd
1 avocado, gepeld en in reepjes
2 mandarijnen, schil eraf gesneden en horizontaal in ronde plakken (dus partjes niet uit elkaar pellen)
1/2 rood pepertje, in dunne ringen
rasp en sap van 1 limoen
1 tl agavesiroop
5 el kokosmelk (liefst uit een karton, bijvoorbeeld van Go Tan)
zwarte peper en zout naar smaak
blaadjes munt van 1/2 bosje, opgestapeld, opgerold en vervolgens in fijne reepjes gesneden
Engelenhaar
50 g dunne rijstnoedels (glasnoedels)
olie om in te frituren
INSTRUCTIES
Salade

Meng venkel, appel, avocado, mandarijn en pepertje in grote schaal. Voeg limoenrasp, sap, agavesiroop en kokosmelk toe. Meng voorzichtig door elkaar. Breng op smaak met peper en zout.
Engelenhaar
Verhit een plens frituurolie in een daarvoor geschikte pan. Test de temperatuur met een stukje noedel. Als deze meteen mooi wit 'oppopt' is de temperatuur goed. Frituur de harde onbewerkte noedels in kleine hoopjes tegelijk. Zorgt dat ze niet bruin worden, en zorg er tegelijkertijd voor dat ze helemaal gaar en 'opgepopt' zijn.
Opmaak
Serveer de salade op mooie bordjes, in kommen of in een coupe, met een pluk engelenhaar erop. Garneer met de muntblaadjes.