This is just a heavenly dish to celebrate the holidays. The ingredients may seem a little odd, but once you've made it and start to eat, everything will fall into a cosmic place.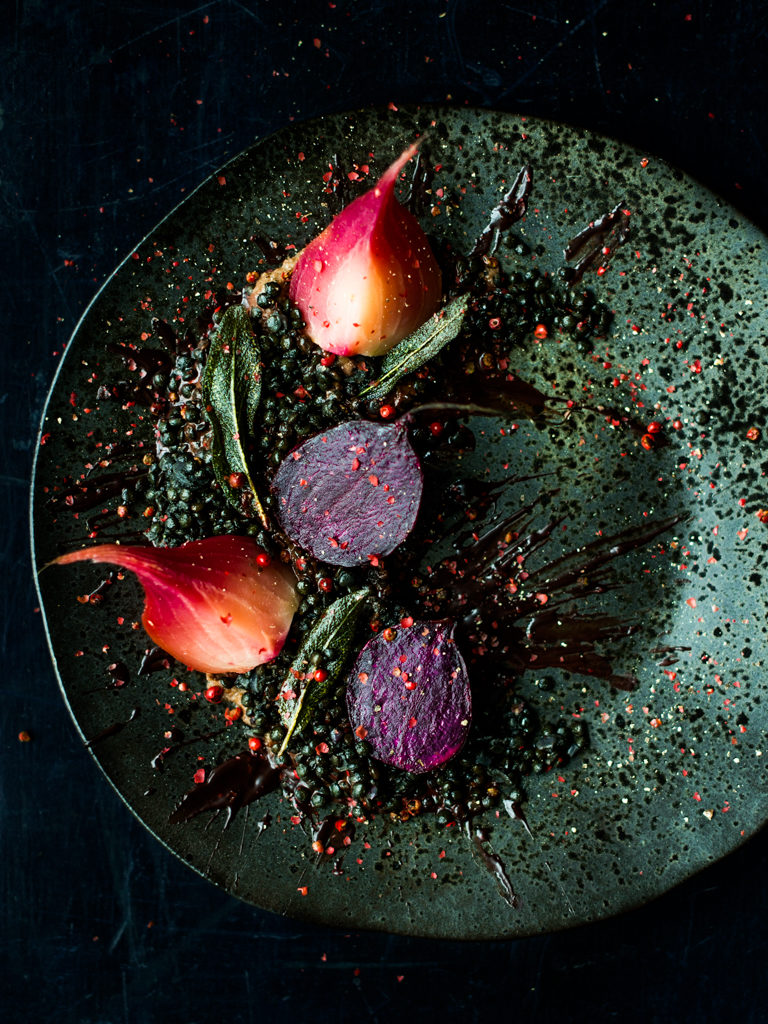 Serves 4
INGREDIENTS
Beets
8 medium to small different kinds of beetroots, like chioggia, yellow and red beets
(recycled) aluminum foil
Lentils
2 tbsp olive oil
1 onion, peeled and finely chopped
150 g dried black lentils (not from a can)
300 ml (1 1/3 cup) water
5 sage leafs
1/2 cinnamon stick
1 garlic clove, peeled and crushed
salt and black pepper
Puree of celeriac, rye bread and cacao
100 g celeriac, peeled, cleaned and diced in small cubes
150 ml (2/3 cup) water
1 garlic clove, peeled and crushed
1/2 tsp sea salt
125 g Dutch style rye bread
1 tbsp olive oil
1 tbsp soy sauce/shoyu
1 tsp Fairtrade cacao
Salted chocolate-balsamic fudge dressing
75 ml (1/3 cup) balsamic vinegar
50 ml (1/4 cup) beetroot juice
1 garlic clove, peeled and crushed
3 sage leafs
15 g dark vegan Fairtrade chocolate, chopped in small pieces
pinch of sea salt
Sage crisps
12 sage leafs
olive oil
Extra
sea salt
freshly cracked red peppercorns
fleshly grounded black pepper
INSTRUCTIONS
Beets
Preheat oven to 200 C/390 F.
Clean beetroots, leave peel on. Wrap them in aluminum foil. Pop them in the oven for ca. 1 hour. Get them out of the foil and peel skin off (with the aid of a little knife, or by squeezing it gently so skin comes off). Cut in half or quarters (depending on size of beets).
Lentils
Fry onion in olive oil until translucent. Add lentils and water, bring to a boil. Add sage leafs, cinnamon stick and garlic. All liquid should be absorbed after ca. 30 min. Season to taste at end of cooking time with salt and black pepper.
Puree of celeriac, rye bread and cacao
Bring water in a pan to a boil with celeriac, garlic and salt. Turn heat low as soon as it starts to boil, keep lid on. Let cubes simmer for 10-15 min until fully cooked. Then crumble in rye bread and cook along for a few minutes. Add olive oil, soy sauce and cacao. Puree with a stick blender or with the aid of a food processor into a smooth puree.
Salted chocolate-balsamic fudge dressing
Put balsamic vinegar, beetroot juice, garlic and sage leafs in a sauce pan and place on medium heat. Reduce liquid by half. Turn heat off and add chocolate. Mix with whisker until melted. Add a pinch of salt.
Sage crisps
Heat shallow layer of oil in frying pan. Add sage leafs and fry until crispy. Be careful not to burn the leafs. Put them on kitchen towels so excess oil can absorb.
To serve
Scoop some puree on (preferably preheated) plates. Put beets in puree, as were it a little vegetable garden. Also arrange lentils in your garden, and drizzle with some dressing. Garnish with crispy sage leafs, sea salt, red peppercorns and black pepper.
---
A GARDEN MOONWALK

Terwijl de biet in vol ornaat ten tonele verschijnt, vervullen de Fairtrade chocolade, zwarten linzen en verwarmde salie een essentiële bijrol in dit schitterende schouwspel van plantaardige smaaksensaties.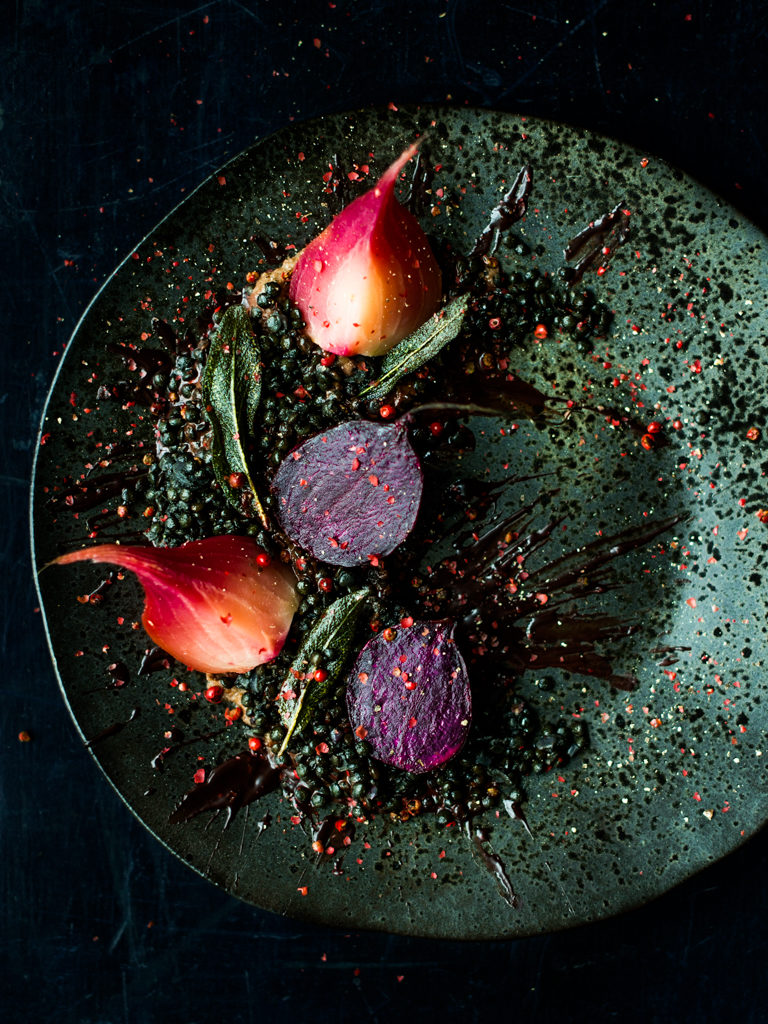 Voor 4 personen
INGREDIËNTEN
Bieten
8 kleine bieten, liefst verschillende soorten zoals chioggia, gele biet en rode biet.
Linzen
2 el olijfolie
1 ui, gesnipperd
150 g zwarte gedroogde linzen (niet uit blik)
300 ml water
5 salieblaadjes
1/2 pijpje kaneel
1 teen knoflook, fijngehakt
zout en zwarte peper
Puree van knolselderij, roggebrood en cacao
100 g knolselderij, schoongemaakt en in dobbelsteentjes gesneden
150 ml water
1 teen knoflook, gepeld en geplet
1/2 tl zout
125 g roggebrood
1 el olijfolie
1 el sojasaus/shoyu
1tl Fairtrade cacao
Gezouten chocolade-balsamico fudge dressing
75 ml balsamico
50 ml bietensap
1 teen knoflook, gepeld en geplet
3 salieblaadjes
15 g pure vegan Fairtrade chocolade
snuf zout
Saliekrokantjes
12 blaadjes salie
olijfolie
Om af te maken
zeezout
gecrushte rode peperkorrels
versgemalen zwarte peper
INSTRUCTIES
Bieten
Verwarm de oven op 200 graden C. Boen de bieten schoon. Verpak ze in gerecycled aluminiumfolie en pof ze ca. 1 uur in de oven. Haal ze daarna uit het folie en pel het schilletje er af (dit gaat heel makkelijk met behulp van een mesje). Snijd de bieten in tweeën of vieren afhankelijk van de grootte.
Linzen
Fruit ui in olijfolie tot glazig. Voeg linzen samen met water toe en breng aan de kook. Voeg salieblaadjes, kaneel en knoflook toe en laat ongeveer 25 minuten koken. Breng het mengsel tegen het einde van de kooktijd op smaak met zout en peper. Als het goed is hebben de linzen na zo'n 25-30 minuten al het vocht opgenomen.
Puree van knolselderij, roggebrood en cacao
Doe knolselderij met water, knoflook en zout in een pan en breng aan de kook. Draai het vuur laag zodra het kookt en houd het deksel op de pan. Kook de blokjes in 10-15 minuten gaar. Verkruimel vervolgens het roggebrood boven de pan en kook even kort mee. Voeg vervolgens olijfolie, sojasaus/shoyu en cacao toe. Pureer alles met een staafmixer of in een keukenmachine tot een gladde puree. Houd warm in de pan.
Gezouten chocolade-balsamico fudge dressing
Doe balsamico, bietensap, knoflook en salieblaadjes in een steelpan. Reduceer het mengsel op matig vuur tot ongeveer de helft van de oorspronkelijke hoeveelheid over is. Draai het vuur uit en voeg de chocolade toe en laat smelten. Meng met een garde tot een gladde saus en voeg als laatste nog een snuf zout toe.
Salie
Verhit een laagje olie in een koekenpan. Doe de salieblaadjes in de pan en bak ze zachtjes en kort tot ze krokant zijn. Laat uitlekken op keukenpapier.
Opmaak
Schep wat puree op de (liefst voorverwarmde) borden. Schik de bieten in de puree, alsof het een soort tuintje is. Schep er wat van de linzen bij en druppel de dressing erover. Garneer met de salieblaadjes, zeezout, peper en rode peperkorrels.
Noot: Deze recepten vloeien voort uit een bijzondere campagne van Stichting Max Havelaar:
Genieten van eerlijke chocolade tijdens de Feestdagen
Chocolade, wie houdt er niet van? In Nederland eten we jaarlijks wel 4,7 kilo chocolade per persoon. Ook tijdens de feestdagen genieten we van dit bruine 'goud'. Maar wist je ook dat cacao van miljoenen kleinschalige boeren komt? Ze leven vaak in extreme armoede en verdienen soms minder dan 0,67 euro per dag. Daardoor staan deze boeren voor grote uitdagingen. 'Hoe zorg ik voor voldoende eten?' 'Wie van mijn kinderen kan ik naar school sturen?' Om maar eens wat zorgen te noemen. En dan hebben we het nog niet eens over de impact van klimaatverandering op hun cacaoproductie.
Fairtrade werkt er hard aan om de positie van cacaoboeren te verbeteren. Cacaocoöperaties krijgen voor de cacao die ze onder Fairtrade voorwaarden verkopen ten minste de Fairtrade minimumprijs en een vaste premie. Dit geld investeren de boeren in productiemiddelen en trainingen, maar ook in betere gezondheidszorg en onderwijs voor hun kinderen. Stap voor stap kunnen zij zo werken aan een betere toekomst.
Let op bijgaand Fairtrade keurmerk tijdens het kopen van chocolade en dus ook bij de vegan chocolade in deze recepten. Dan weet je dat je een eerlijke keuze hebt gemaakt die bijdraagt aan het geluk van een ander. Op www.maxhavelaar.nl/eerlijkechocolade lees je welke eerlijke chocolade je waar kunt kopen. Voor deze recepten hebben wij gebruikt gemaakt van deze eerlijke chocolade, de vegan versies uiteraard.