This dish is as colourful as it is tasteful. The cranberry-port compote goes really well with the tofu roast. The beautiful purple puree is just a sight for sore eyes. The slightly bitter chicory is lifted to a higher level by caramelising it and the slaw serves as a refreshment in the midst of all these flavour bombs.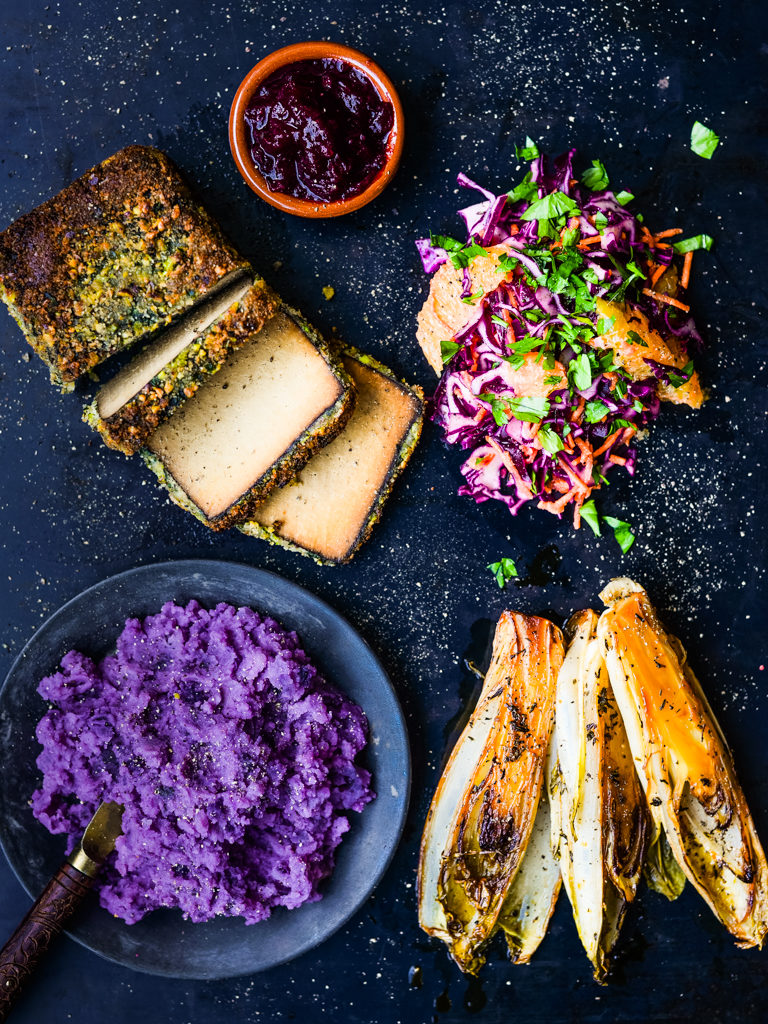 Serves 4-6
INGREDIENTS
Rainbow slaw
1/4 head red cabbage, finely sliced with a mandoline, foodprocessor or with a real sharp knife
2 large carrots, cleaned and grated
1 orange, flesh segmented
1/2 bunch of parsley, chopped
2 tbsp vinegar (apple or wine)
2 tsp mustard
2 tbsp oil
1 tbsp agave syrup
black pepper and salt to taste
Cranberry compote
250 g cranberries
a piece of orange peel (only the orange part)
100 ml (1/2 cup) port
100 ml (1/2 cup) water
1 tbsp brown sugar
Crusted smoky tofu
8 tbsp plain flour
8 tbsp water
50 g bread crumbs/panko
50 g shelled pistachio's, finely chopped or ground to bits with foodprocessor
1/2 bunch parsley, finely chopped
pinch of salt
500 g smoked tofu (1 big log or 2 smaller ones. F.e. Viana)
4 tbsp oil
Purple puree
750 g purple potatoes, peeled and cut into chunks
salt to taste
1 garlic clove, peeled and crushed
60 g (1/4 cup) vegan butter
175 ml (3/4 cup) unsweetened oat or soy milk, warmed up a bit
1/4 nutmeg seed, grated
black pepper and salt to taste
Caramelised chicory
4-6 heads of chicory (1 per person)
1 tbsp olive oil
1 tsp balsamic vinegar
2 tsp agave syrup
leafs of 4 sprigs of thyme
INSTRUCTIONS
Rainbow slaw
Mix veggies, orange and parsley together. Make dressing by whisking vinegar, mustard and oil. Season to taste with pepper and salt. Drizzle over veggies and toss. Let sit/marinate for ca. 30 min before serving.
Cranberry compote
Rinse cranberries. Get rid of soft berries that may have gone bad. Put cranberries in a saucepan with orange peel, port, water and sugar. Let sit on low heat until cranberries fall apart and the mixture resembles a jam-like consistency. Serve hot or cold.
Crusted smoky tofu
Make a 'lane' out of 3 deep plates or bowls. Put 4 tbsp flour in one bowl. Put 4 tbsp of flour and 8 tbsp water in the second bowl and mix into a batter. Put bread crumbs, pistache bits, parsley and a pinch of salt in the last bowl and mix. Dip tofu in plain flour, then dip into batter and finally coat with crumb mixture. Make sure the tofu is evenly coated. Heat oil in frying pan. On medium heat, fry tofu on all sides until it is warmed up completely on the inside and crunchy on the outside. To be sure, let sit in the pan for ca. 10 min on low heat, while preventing the crust from burning.
Purple puree
Bring potatoes to a boil in a layer of water (they should be half under water), some salt and garlic clove. Cook with lid on until fully cooked (ca. 20 min). Drain and mash into a smooth puree. Add vegan butter, and stir in. Add milk, heaps of nutmeg and freshly ground black pepper. Season to taste with extra salt if needed.
Caramelised chicory
Halve the chicory heads. Heat oil in frying pan. Fry heads, inside down, for a few minutes on high heat until they start to colour. Turn around and fry for another minute. Add balsamic vinegar and agave syrup, and turn the chicory around (inside down again). Also add thyme leafs. Let syrup caramelise a bit. Turn around one more time (inside up) and turn heat off. Serve straight away.
To serve
Prepare each plate with a scoop of rainbow 'slaw', a couple of slices of tofu with some cranberry compote, purple puree and a few chicory halves. Finish the plate with some freshly ground black pepper.
---
ROOKTOFU IN KRUIDENKORST MET CRANBERRY-PORT COMPOTE, PURPEREN PUREE, GEKARAMELISEERDE WITLOF & REGENBOOG 'SLAW'
Dit gerecht is even kleurrijk als smaakvol. De cranberry-port compote gaat fantastisch samen met het tofu gebraad. De purperen puree heeft een koninklijke allure en matched mooi met de rest. De licht bittere witlof wordt naar een hoger niveau getild door hem te karameliseren en de 'slaw' verfrist het palet te midden van al het smaakgeweld.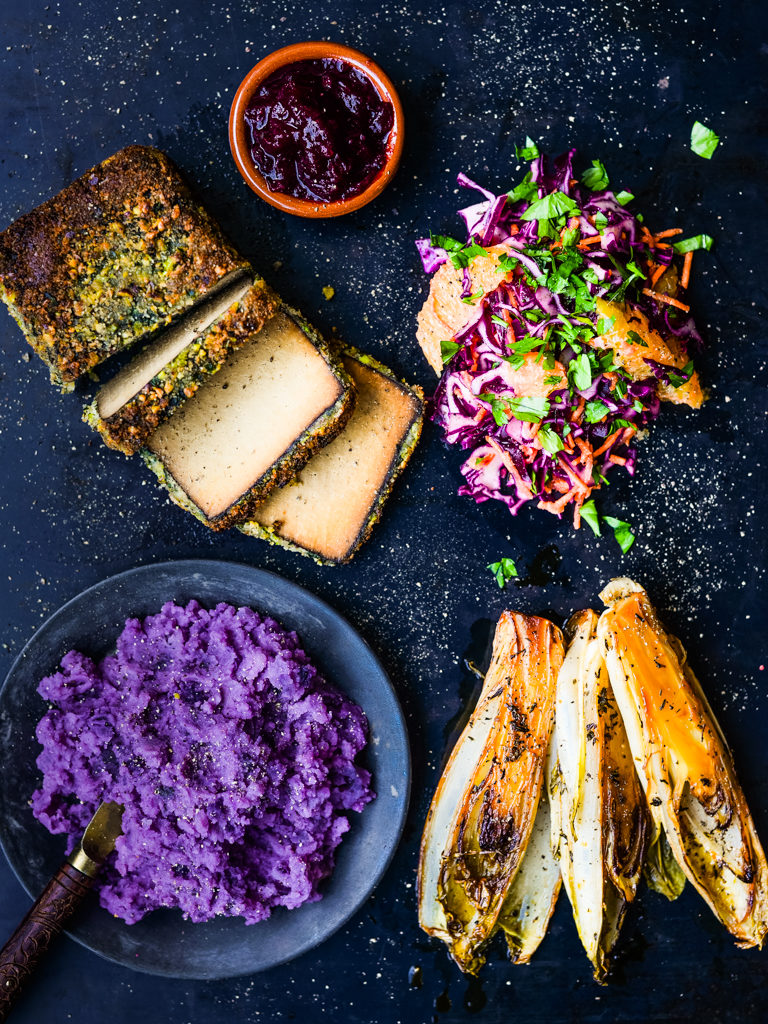 Voor 4-6 personen
INGREDIËNTEN
Regenboog 'slaw'
1/4 rode kool, zeer dun geschaafd op een mandoline, met keukenmachine of met zeer scherp mes
2 grote penen, schoongemaakt en geraspt
1 sinaasappel, vruchtvlees segmenten eruit gesneden
1/2 bosje peterselie, fijngehakt
2 el azijn
2 tl mosterd
2 el olijfolie
1 el agavesiroop
zout en zwarte peper
Cranberry-port compote
250 g cranberries
stuk schil van een sinaasappel (alleen het oranje gedeelte)
100 ml port
100 ml water
1 el bruine suiker
Rooktofu in kruidenkorst
8 el tarwebloem
8 el water
50 g paneermeel/panko/broodkruimels
50 g gepelde pistachenoten, fijngehakt of medium grof gemalen in keukenmachine
1/2 bosje peterselie
zout
500 g gerookte tofu (1 groot stuk of 2 kleinere. Tip: gebruik de heerlijke variant van Viana)
4 el olie
Purperen puree
750 g paarse aardappel, geschild en in stukken
zout naar smaak
1 teen knoflook, gepeld en geplet
60 g plantaardige boter
175 ml ongezoete haver- of sojamelk, opgewarmd
1/4 nootmuskaat bol, geraspt
zwarte peper en zout naar smaak
Witlof
4-6 kroppen witlof
1 el olijfolie
1 tl balsamico azijn
2 tl agavesiroop
4 takjes tijm, blaadjes eraf gerist
INSTRUCTIES
Regenboog 'slaw'
Meng rode kool, peen, sinaasappel en peterselie in een ruime kom. Maak dressing door azijn, mosterd, olie en agavesiroop door elkaar te kloppen. Breng flink op smaak met zout en peper. Giet de dressing over het groentemengsel en schep door elkaar. Laat ca. 30 min staan/marineren alvorens op te dienen.
Cranberry-port compote 

Begin met het maken van de compote. Was cranberries. Haal erg zachte, weke bessen eruit (deze kunnen bedorven zijn). Doe de cranberries in steelpan met sinaasappelschil, port, water en suiker. Laat op laag vuur sudderen tot de cranberries uit elkaar vallen en veranderen in een jam-achtige consistentie. Serveer warm of koud naar keuze bij het gerecht.
Rooktofu in kruidenkorst
Maak voor de kruidenkorst om de tofu een laantje van 3 diepe borden of kommen. Doe 4 el bloem in het eerste bord. Doe 4 el bloem plus 8 el water in het tweede bord en roer dit tot een papje. Doe paneermeel, pistache, peterselie en snuf zout in het laatste bord, en mix even door elkaar. Dip de tofu eerst in de bloem, dan in het papje, dan in de kruimels. Zorg dat de tofu helemaal egaal gecoat is. Verhit olie in de koekenpan en bak de tofu rondom goudbruin en knapperig. Zet het vuur niet te hoog, zodat de tofu kans krijgt om door en door warm te worden zonder te verbranden.
Purperen puree
Breng de aardappels aan de kook met een laagje water (ca. halverwege de aardappels), een snuf zout en een geplette teen knoflook. Kook met deksel op de pan helemaal gaar (ca. 20 min). Giet af en doe terug in de pan. Stamp fijn met een pureestamper of -knijper. Voeg boter toe en roer. Voeg vervolgens melk, veel nootmuskaat en versgemalen peper toe. Breng op smaak met extra zout indien nodig.
Witlof
Halveer iedere witlof. Verhit olie in koekenpan. Bak met gesneden kant naar beneden een paar minuten tot de witlof begint te kleuren. Draai om en bak nog even een minuut op de 'rug'. Voeg balsamico, siroop en tijm toe, en draai de witlof weer met gesneden kant naar beneden. Laat karameliseren. Draai nogmaals om en doe vervolgens het vuur uit. De witlof is nu als het goed is gaar met nog een kleine bite er in. Serveer meteen.
Opmaak
Maak ieder bord op met een schep regenboog 'slaw', een paar plakken tofu en wat cranberry compote, een dot purperen puree en een paar witlof helften. Maak het bord af met wat versgemalen zwarte peper.