These devilish chocolate cakes are the definition of food porn. Who doesn't like melted chocolate ganache oozing out of a fluffy cake? The added smoked salt, which pairs really well with the earthy tones of chocolate, makes it extra special and a beautiful finale of a smoky dinner party.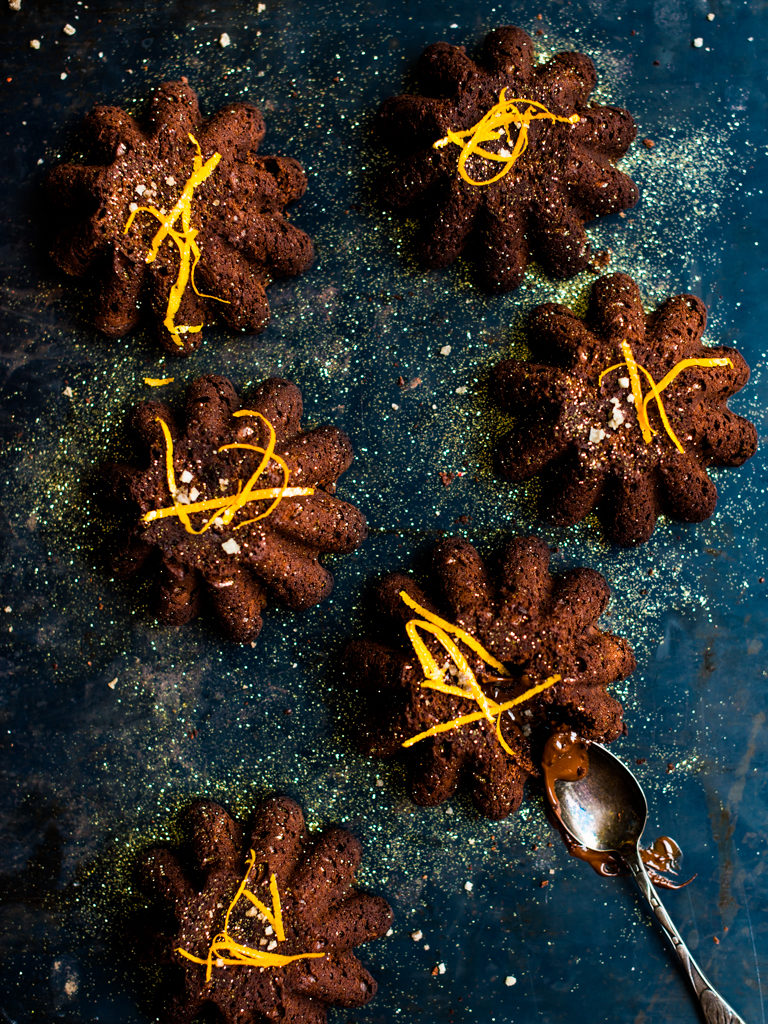 Serves 6-8
INGREDIENTS
150 g dark vegan chocolate, in pieces
240 ml (1 cup) water
60 g (1/4 cup) + 1 tbsp extra virgin coconut oil
100 g (1/3 cup) treacle
3 tbsp brown sugar
200 g (1 cup) flour
4 tbsp cacao powder
1 tsp baking powder
pinch smoked salt
zest of 1/2 organic orange, plus extra for serving
optional: pinch of edible golden glitter
optional: vegan ice cream
INSTRUCTIONS
Start by making the liquid ganache centers. Melt 50 g of dark chocolate with 40 ml water and 10 g coconut oil in a saucepan on low heat. When just melted, divide over 8 mini cups and let set in the fridge. You can also put mixture in fridge and scoop out 8 balls later on.
Preheat oven to 175 C/350 F. Grease 8 individual cake molds. Mix 100 g chocolate, 200 ml water, 50 g coconut oil, 100 g treacle and 3 tbsp sugar in a pan and melt together on low heat. Mix dry ingredients in a bowl. Stir in wet mixture. Divide mixture over cake molds. Put a piece of ganache in each center. Make sure it's 'under water'. Bake cakes for ca. 12-15 min, not any longer or centers will not be liquid. Gently remove cakes from molds. Serve with extra pieces of orange zest, an extra pinch of smoked salt, edible glitter and a scoop of vegan ice cream if you prefer.
---
CHOCOLADE VULKAAN CAKEJES
Deze duivelse chocolade cakejes zijn food porn pur sang. Wie houdt er nou niet van gesmolten chocolade ganache druipend uit een zacht en luchtig cakeje? Een snuf gerookt zout dat heel goed samengaat met de aardse tonen van chocolade, maakt het geheel extra speciaal en een prachtige afsluiting van dit rokerige menu.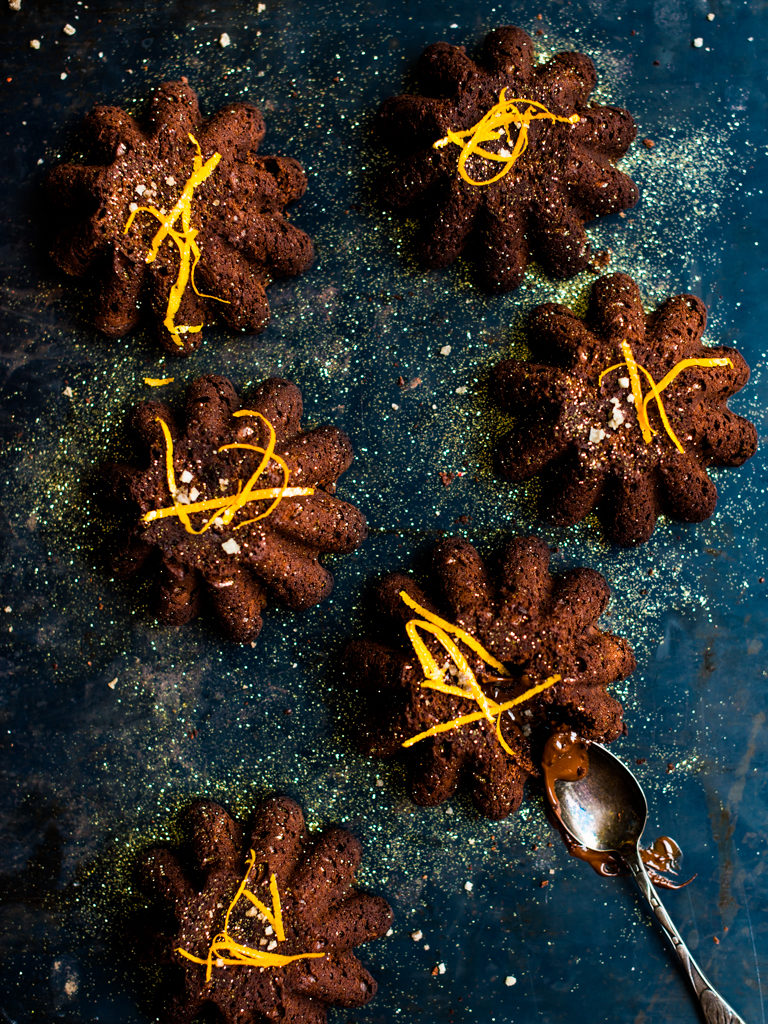 Voor 6-8 personen
INGREDIËNTEN
150 g pure vegan chocolade, in stukjes gebroken
240 ml water
60 g extra virgin kokosolie
100 g keukenstroop
3 el bruine suiker
200 g bloem
4 el cacao
1 tl bakpoeder
snuf gerookt zout (te vinden bij speciaalzaken, natuurwinkels en sommige supermarkten)
rasp van 1/2 biologische sinaasappel, plus extra voor het serveren
optioneel: snuf eetbaar glitter (verkrijgbaar bij bakwinkels of online)
optioneel: vegan roomijs
INSTRUCTIES
Start met het maken van de vloeibare ganache 'centers'. Smelt 50 g pure chocolate met 40 ml water en 10 g extra virgin kokosolie op laag vuur in een pannetje tot net gesmolten. Verdeel vervolgens over 8 mini vormpjes of laat in zijn geheel opstijven in de koelkast en schep er later 8 balletjes uit.
Verwarm de oven voor op 175 graden C. Vet 8 individuele cakevormpjes in.
Laat 100 g chocolade, 200 ml water, 50 g kokosolie, 100 g keukenstroop en 3 el suiker in een steelpan op een laag vuurtje smelten. Meng alle droge ingrediënten in een kom m.u.v. de glitters. Voeg de gesmolten natte ingrediënten bij de droge en meng snel doch voorzichtig door elkaar tot een beslag. Verdeel het beslag over de vormpjes. Doe een balletje ganache in het midden van elk vormpje. Zorg dat ze onder het beslag staan. Bak de cakejes 12-15 min. Beter niet langer, dan kan het effect van het vloeibare midden minder zijn. Los de cakejes voorzichtig uit hun vormen en serveer met extra sinaasappel zest, een snufje extra rookzout en eventueel wat eetbaar glitter en een bolletje vegan roomijs.