This WINTER WONDER DESSERT TRIO is the perfect dessert to a classic menu. The stewed pears (a Dutch classic), are cooked in elderberry juice, which gives them a wonderful 'musky' flavour and a stunning deep purple colour. Tangerine and almond flirt with each other in the mini semolina cakes, and the ice cream brings all wintery flavours together whilst also being a refreshment after a good savoury meal.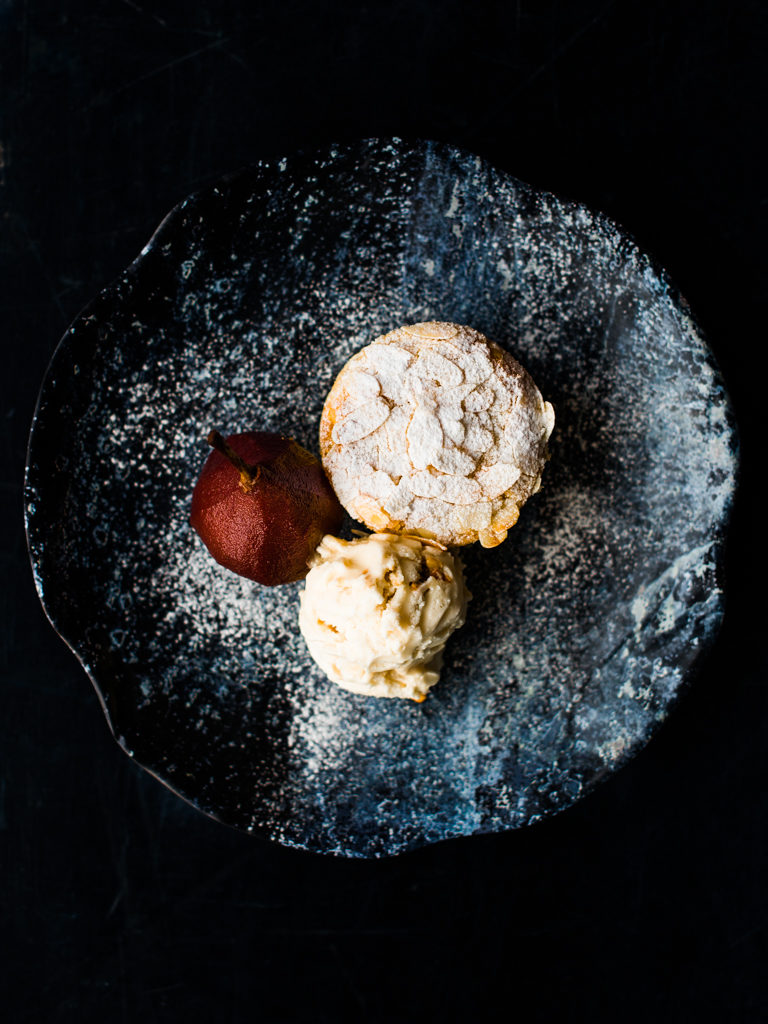 Serves 4-6
INGREDIENTS
Elderberry pears
6 stewable cooking pears
100 ml (½ cup) elderberry juice (black currant juice will work just as fine)
400 ml (2 cups) water
2 tbsp raw cane sugar
1 cinnamon stick
1 star anise
Almond and tangerine semolina cakes
plant based butter to grease molds
50 g (½ cup) almond flour
50 g (⅓ cup) semolina flour (plus some extra to dust molds)
100 g ( ⅞ cup) all purpose wheat flour
40 g (4 tbsp) raw cane sugar
2 tsp baking powder
1/4 tsp fine sea salt
40 ml (3 tbsp) rice bran oil
zest and juice of 2 organic tangerines, oat drink added up to 135 ml (½ cup + 1 tbsp)
1 tsp vanilla extract
6 tbsp slithered almonds
icing sugar
Ice cream
vegan ice cream to choice, for a minimum of 6 scoops
INSTRUCTIONS
Start at least half a day ahead with the stewing of the pears. Peel them and bring to a boil with elderberry juice, water, sugar, cinnamon and star anise. Stew on low heat, until completely cooked, dark purple in color and extremely scented. This will take at least 2 hours if using real cooking pears.
Almond and tangerine semolina cakes
Preheat oven to 185 C/365 F.
Grease 6 ramekins or individual cake molds with plant based butter. Dust with a bit of semolina flour and get rid of excess flour. Bring a decent amount of water to a boil. Mix almond flour, semolina, wheat flour, sugar, baking powder and salt in a bowl. Add rice oil, tangerine-oatmilk mixture and vanilla extract. Mix until just incorporated. Don't overwork the batter. Divide mixture over molds and sprinkle almonds on top. Put them in a big oven tray and poor hot water in tray (not in the molds!). Make sure the water level is halfway up the molds. The water will help the cakes to rise and will also create some steam which enhances the texture of the cakes. Bake the cakes in ca. 30 min until a skewer poked in the center comes out clean. Get the cakes out of their molds and dust them with some icing sugar.
To serve
Divide all elements over 4-6 plates (cake, pear and scoop of ice cream). Finish with some extra icing sugar.
---
WINTER WONDER DESSERT TRIO
Dit trio is een fantastische afsluiting van een feestelijk menu. De peren worden gestoofd in vlierbessensap, wat ze naast een prachtig diep-paarse kleur een heerlijke aromatische smaak geeft. In de cakejes flirten mandarijn en amandel met elkaar, het ijs erbij maakt het compleet.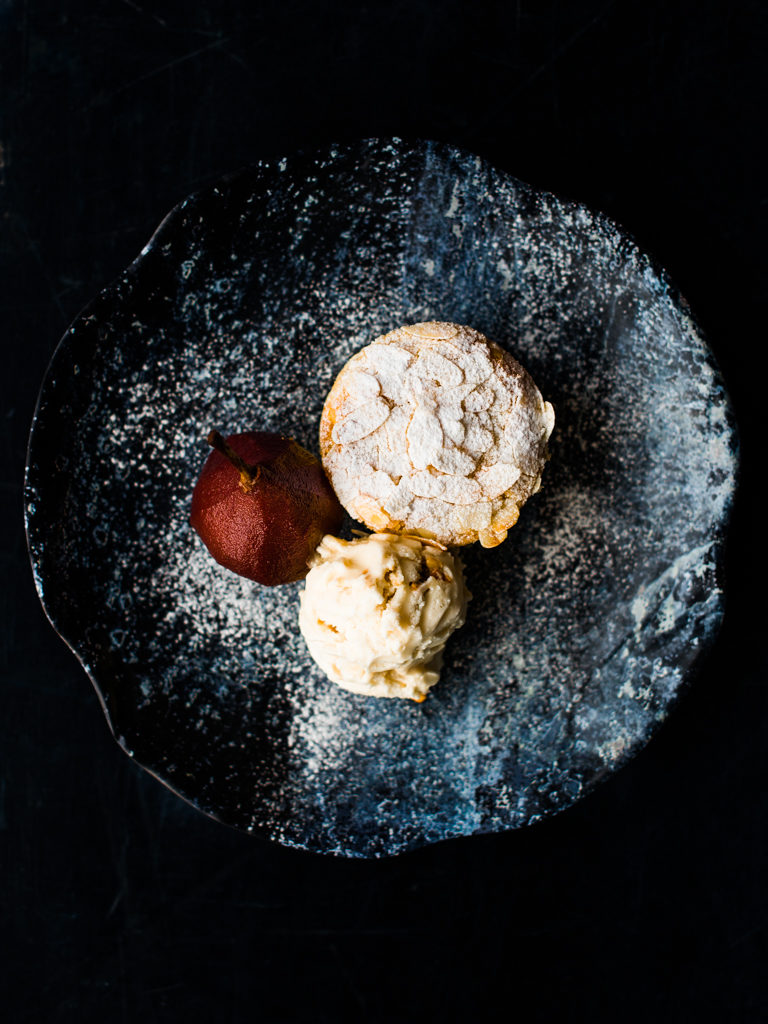 Voor 4-6 personen
INGREDIËNTEN
Vlier peertjes
6 stoofperen (bijv. Gieser Wildeman)
100 ml vlierbessen-oersap (zwarte bessensap kan ook)
400 ml water
2 el (riet)suiker
1 kaneelpijpje
1 steranijs
Amandel-mandarijn cakejes
plantaardige bakboter om vormpjes mee in te vetten
50 g amandelmeel
50 g griesmeel (plus wat extra om de cakevormpjes mee te bestrooien)
100 g tarwebloem
40 g (riet)suiker
1 zakje bourbon vanillesuiker
2 tl bakpoeder
1/4 tl fijn zout
40 ml rijstolie
geraspte schil en sap van 2 biologische mandarijnen, aangelengd met havermelk tot 135 ml
6 el amandelschaafsel
poedersuiker
IJs
Tenminste 1 bol vegan (room)ijs naar keuze per persoon (bijvoorbeeld Alpro vanille of karamel)
INSTRUCTIES
Vlier peertjes
Begin minstens een halve dag van tevoren met de peertjes. Schil en breng aan de kook met vlierbessensap, water, suiker, kaneel en steranijs. Stoof heel zachtjes gaar, minimaal 2 uur, liefst nog langer, tot ze heerlijk geurig en gaar zijn.
Amandel/mandarijn cakejes
Verwarm de oven voor op 185 graden C.
Vet 6 stenen cakevormpjes in met plantaardige boter. Bestrooi met een beetje griesmeel en klop ze uit. Breng een steelplannetje water aan de kook. Meng amandelmeel, griesmeel, bloem, suiker, vanillesuiker, bakpoeder en zout in een kom. Voeg rijstolie en mandarijn-havermelk mengsel toe en roer door de droge ingrediënten. Verdeel het mengsel over de cakevormpjes en strooi het amandelschaafsel erover. Zet de cakevormpjes in een grote ovenschaal en giet het kokende water in de ovenschaal tot het ca. halverwege de vormpjes staat. Dit zorgt ervoor dat de cakejes mooi gelijkmatig garen en het vocht komt de textuur van de cakejes ten goede. Bak de cakejes in ca. 30 min gaar en goudbruin. Haal ze uit de vormpjes, en bestrooi ze met poedersuiker. Tip: in plaats van poedersuiker kun je ook kokosschaafsel gebruiken.
Voor het serveren
Maak 4-6 bordjes op met een cakeje, een stoofpeertje en een flinke bol ijs. Garneer met wat poedersuiker.
*Dit menu is tot stand gekomen in samenwerking met Green Protein Alliance & MAN.EAT.PLANT. De Green Protein Alliance is de maatschappelijke beweging die alle Nederlanders helpt terug te keren naar een meer plantaardig voedselpatroon. Leden van de alliantie zijn producenten als HAK, Zeewaar, GardenGourmet, Bonduelle, Rotterzwam, Alpro en retailers zoals AH en Jumbo. Het Voedingscentrum, stichting Natuur & Milieu en het Ministerie van LNV zijn drie van de kennispartners.
Voor meer informatie zie www.greenproteinalliance.nl en www.daarkunjeopbouwen.nl