Pop those kernels like crazy! But wait. This is not just another popcorn recipe… this is an ultra-delicious snack and simple AF to make! So try it out!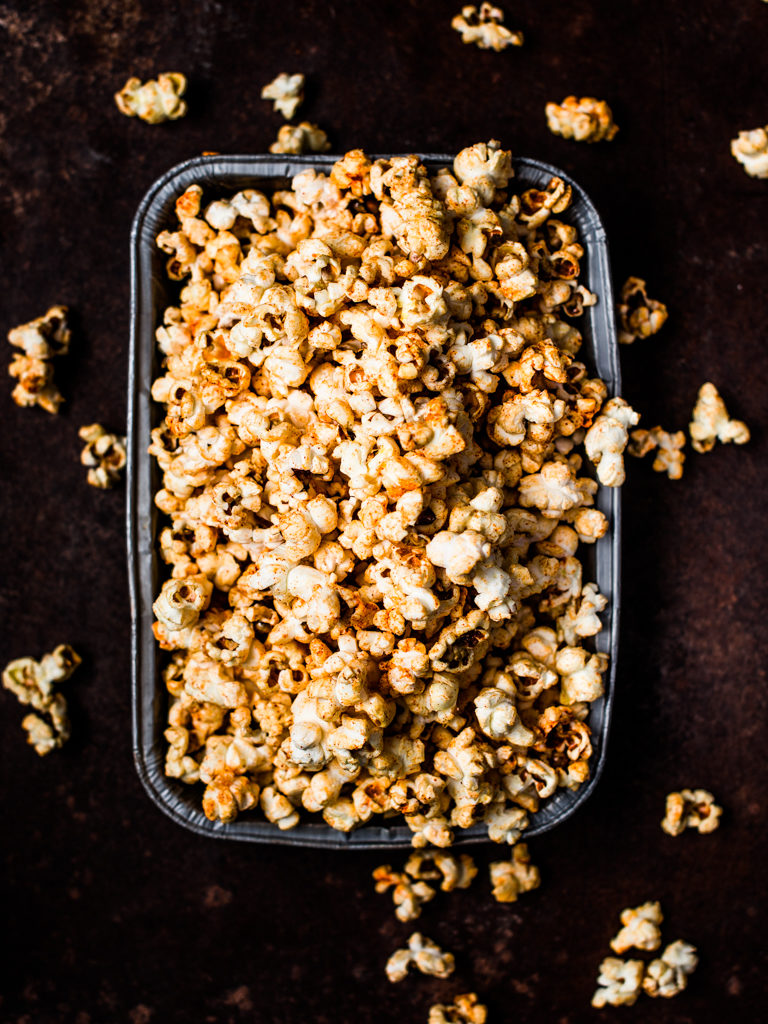 For 1 portion (2-4 people)
INGREDIENTS
2 tbsp oil (preferably rice or sunflower oil)
1/2 cup dried corn kernels for popping (ca. 100 g)
50 g plant based butter (use one with high fat percentage)
1/4 tsp fine salt
1/4 tsp onion powder
1/8 tsp cinnamon
1/4 tsp ground coriander
1/4 tsp ground cumin
1/4 tsp smoked paprika powder
INSTRUCTIONS
Put oil in a big pan, along with corn kernels. Heat on medium high heat until popping starts. Keep lid on pan! Keep on heating until popping is almost completed. Shake pan every now and then. Put fire low until pretty much all kernels have popped. In the meantime, heat butter on low heat in saucepan, until just melted. Add salt and all the spices. Pour mixture over popped corn and mix well. Serve straight away.
---
FEESTELIJKE & KRUIDIGE POPCORN
Dit is een super simpele maar o-zo-heerlijke snack! Echt verslavend lekker door de kruiden. Nog een voordeel: je maakt het in een handomdraai. Enjoy!
Voor 1 portie (2-4 personen)
INGREDIENTEN
2 el olie (bijvoorkeur rijstolie of zonnebloemolie)
100 g gedroogde maiskorrels om te 'poppen'
50 g plantaardige boter (neem eentje met hoog vetpercentage, geen halvarine o.i.d.)
1/4 tl fijn zout
1/4 tl uienpoeder
1/8 tl kaneel
1/4 tl gemalen korianderzaad
1/4 tl gemalen komijnzaad
1/4 tl gerookt paprikapoeder
BEREIDING
Doe maiskorrels met olie in ruime pan. Zet op middelhoog vuur. Laat deksel op de pan! Na een of enkele minuten zal de popcorn gaan poppen. Ga door tot het knallen afneemt. Schud de pan af en toe. Zet vuur laag en geef laatste korrels nog een kans om te poppen.
Verwarm ondertussen boter in een steelpan op laag vuur, totdat hij net gesmolten is. Voeg zout en specerijen toe. Giet over nog warme popcorn en mix goed. Serveer meteen.