This gorgeous wellington made from pieces of vegan chicken and stuffed with rich and divine ingredients is a real centerpiece. Classic carrots and pommes duchesse bring up all the good nostalgic feelings about what a Christmas meal should be like! If you're worried about your schedule, you can ease the work by preparing some elements a day ahead, like the wellington (the flavours will even get better after a day!), and pommes duchesse. Just bake them for another few minutes in a hot oven before serving. This course is a crowd pleaser!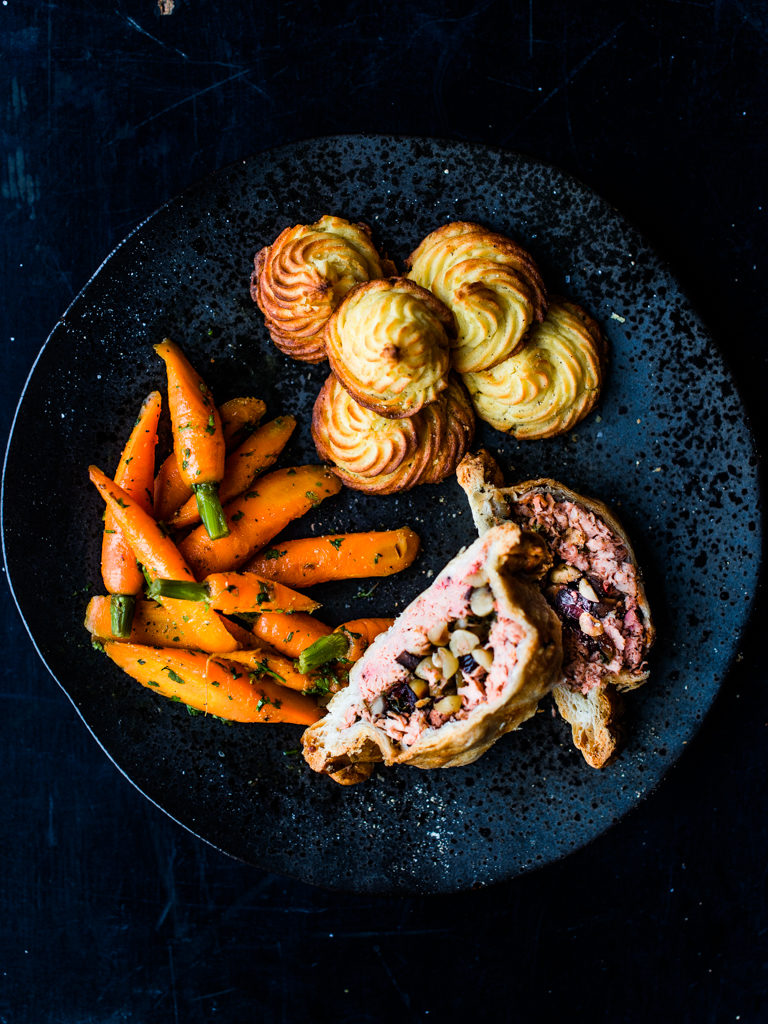 Serves 4-6
INGREDIENTS
Wellington
ca. 300 g vegan chicken pieces
150 ml (⅔ cup) water
1 garlic clove, peeled and crushed
1 sprig of sage
1/4 tsp fine sea salt
freshly ground black pepper to taste
freshly ground nutmeg (about ⅛ nut)
1 tsp beetroot powder (optional for extra dramatic effect)
125 g mushrooms, quartered
30 g (¼ cup) dried cranberries, soaked in water
50 g (⅓ cup) (whole) hazelnuts, coarsely chopped
½ bunch of parsley, chopped
270 g (1 big sheet) vegan puff pastry
splash of soy cream
Chervil carrots
2 tbsp good quality olive oil
1 kg Dutch carrots (ca. 1 big bunch)
1 garlic clove, peeled and smashed
150 ml (⅔ cup) water
juice of 2 tangerines
½ bunch chervil, finely chopped
black pepper and salt to taste
Pommes duchesse
600 g starchy potatoes (waxy potatoes will not give you the result you're aiming for!)
salt to taste
30 g olive oil (measure this on a scale to be really exact)
2 tsp onion powder
150 ml (⅔ cup) unsweetened oat or soy drink
4 tbsp chickpea flour
1 tsp baking powder
INSTRUCTIONS
Wellington
Preheat oven to 185 C/365 F.
 Cook 'chicken' pieces on low heat with garlic, sage and salt and put the lid on. Let pieces absorb all water. Turn heat off and add pepper and nutmeg to taste. Let cool down a bit. Add beetroot powder to make for a more meaty colour. Squeeze 'chicken' pieces with bare hands to pulp, or use a food processor to do this. You should end up with small stringy bits.
Heat 1 tbsp olive oil in frying pan and fry mushrooms on high heat – pan should be piping hot – until nicely browned. Don't be chicken shit, fry the hell out of those shrooms! When mushrooms are nicely browned, add hazelnuts and fry along. Add parsley and cranberries, heat for another minute and turn heat off.
Cut puff pastry sheet in two rectangles. Divide half of 'chicken' mixture over 1 rectangle puff pastry, leaving a 1 cm border free. Add mushroom stuffing on top of 'chicken' (like a path in the middle). Apply other half of 'chicken' mixture on top of it. Press and shape a bit. Lay other half of puff pastry sheet on top of it, and press borders together. Fold/pinch/stamp edges decoratively. Make criss cross marks in dough, but do it carefully! Brush with a bit of soy creamer, for shine and colour. Bake for ca. 40 min. Check whether the wellington is done after 25 min. If it browns to quickly, lower oven temperature. If it doesn't brown, leave in a bit longer (up to 50 min) or increase oven temperature.
Chervil carrots
Clean carrots (by brushing or peeling them), and cut in pieces diagonally. Heat olive oil in large pan and sauté carrots with garlic clove on medium to low heat. Add water and tangerine juice. Season to taste with pepper and salt. Braise carrots until just cooked, and add chervil when they're done. Serve straight away.
Pommes duchesse
Peel potatoes. Cook them in slightly salted water until cooked completely. Drain and let steam dry for a moment. Preheat oven to 225 C/435 F. Mash potatoes with a fork (it should be a really fine puree, a fork makes this happen) or squeeze them through a puree press. Don't use a big masher or blender. This will corrupt the recipe. Don't overwork puree, otherwise you'll end up with a gooey substance. Consistency should be creamy and smooth. Add oil, onion powder, milk and salt to taste. Also add chickpea flour and baking powder, and mix. Put mixture in piping bag with big crenelated nozzle. Pipe florets on a baking tray lined with parchment paper. Bake for ca. 30 min or until golden browned.
To Serve
Arrange pommes duchesse, carrots and two slices of wellington on each plate.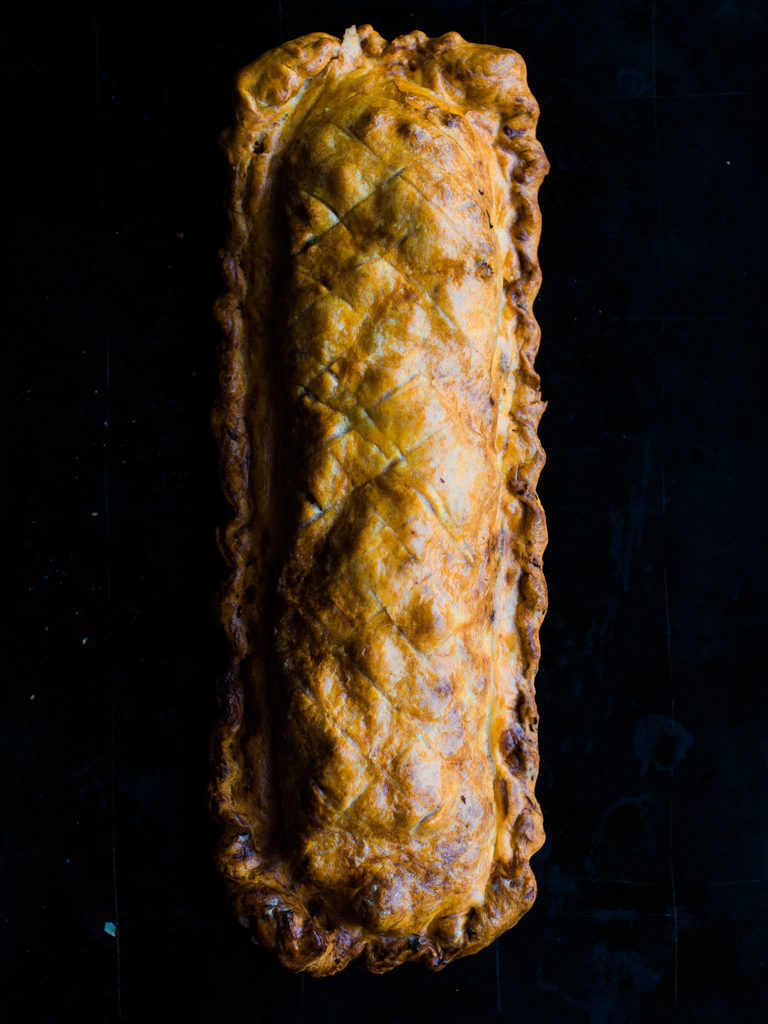 ---
WELLINGTON MET KERVEL WORTELTJES EN POMMES DUCHESSE
Deze wellington van plantaardige 'kip' is rijk gevuld met chique ingrediënten, de klassieke worteltjes en pommes duchesse smaken er heerlijk vertrouwd bij. Een overzichtelijk recept, je kunt de wellington en pommes duchesse eventueel al een dag van te voren maken (bak de wellington dan pas de volgende dag af). Hiermee maak je iedereen blij!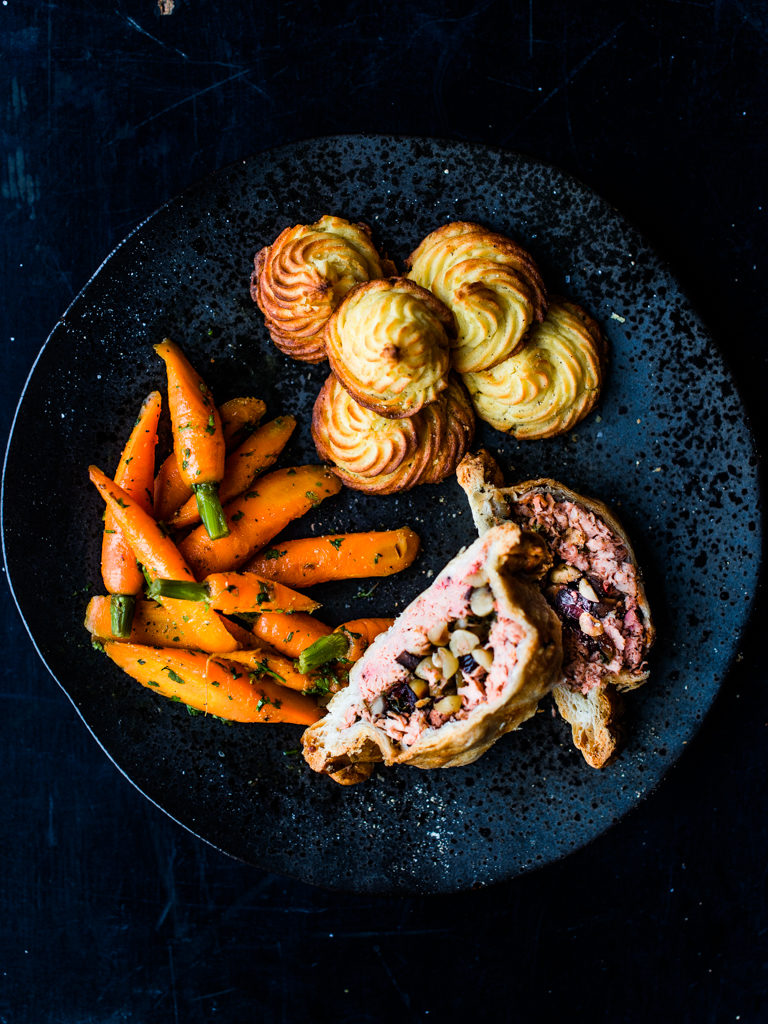 Voor ca. 4-6 personen
INGREDIËNTEN
Wellington
2 pakjes plantaardige 'kip'stukjes ((bijvoorbeeld Vivera of huismerk AH/Jumbo)
150 ml water
1 teen knoflook, gepeld en geplet
1 takje salie
1/4 tl fijn zeezout
versgemalen zwarte peper naar smaak
versgeraspte nootmuskaat (ca. 1/8 bol)
1 tl bietenpoeder: optioneel voor extra kleur
125 g champignons, in kwarten
30 g gedroogde cranberries, even geweld in heet water
50 g hazelnoten, grof gehakt
1/2 bosje peterselie, gehakt
270 g vegan bladerdeeg (vers van een rol is makkelijk, plakjes uit de diepvries kan ook)
scheutje sojaroom
Kervel worteltjes
2 el olijfolie
1 kg bospeen (1 grote bos)
1 teen knoflook, gepeld en geplet
150 ml water
sap van 2 mandarijnen
1/2 bosje kervel, fijngehakt
zout en peper naar smaak
Pommes duchesse
600 g kruimige aardappels (gebruik echt een kruimige aardappel!)
zout
30 g olijfolie
2 tl uienpoeder
150 ml ongezoete haver- of sojamelk
4 el kikkererwtenmeel
1 tl bakpoeder
INSTRUCTIES
Wellington
Verwarm de oven voor op 185 graden C.
Kook de 'kip'stukjes zachtjes in het water met knoflook, salie en zout. Zet een deksel op de pan en zorg dat de stukjes het water helemaal opnemen. Draai het vuur uit en voeg peper en nootmuskaat naar smaak toe. Laat ietwat afkoelen. Voeg eventueel bietenpoeder toe om de stukjes meer vlezig roze te kleuren. Knijp de stukjes helemaal fijn met je handen, of gebruik een foodprocessor. Als het goed is houd je nu fijne sliertjes over. Verhit een eetlepel olijfolie in een koekenpan en bak de champignons op hoog vuur flink aan. Voeg als ze mooi goudbruin zijn de hazelnoten toe en bak even mee. Voeg peterselie en cranberries toe, bak 1 min mee en draai het vuur uit. Snijd de lap bladerdeeg in twee rechthoeken. Verdeel de helft van het 'kip'mengsel over een helft bladerdeeg, laat zeker 1 cm van de rand vrij. Verdeel de champignonvulling over de hele lengte in het midden van het 'kip'mengsel. Dek de vulling af met de andere helft van het 'kip'mengsel. Druk een beetje aan zodat de vulling straks strak in het deeg zit. Leg de overige lap bladerdeeg over de vulling en druk voorzichtig vast om de vulling heen. Vouw de randen decoratief naar binnen, of prak er een motief in met een vork. Maak met een mes heel licht kruislings inkervingen over het deeg. Bestrijk met wat sojaroom en bak ca. 40 min op 185 graden C tot goudbruin en gaar. Check tussendoor goed of het gebraad niet aanbrandt. Verleng indien nodig de baktijd.
Kervel worteljes
Maak de wortelen schoon (schillen of schrobben naar wens). Snijd in mooie schuine stukken. Verhit de olijfolie en bak de wortelen met de teen knoflook zachtjes aan. Voeg het water en mandarijnsap toe. Kruid naar smaak met peper en zout. Stoof de wortelen zachtjes gaar en voeg als ze beetgaar zijn de kervel toe.
Pommes duchesse
Schil de aardappels. Kook gaar in licht gezouten water. Verwarm ondertussen de oven op 225 graden C. Giet ze af en laat even uitdampen. Prak de aardappelen fijn met een vork of pers ze door een pureeknijper (gebruik liever geen stamper, deze maakt te grove stukjes in de puree). Bewerk de puree niet teveel, anders krijg je een lijm-achtige substantie. Voeg olie, uienpoeder, melk en zout naar smaak toe. Als het goed is heb je nu een mooie romige, vrij gladde puree. Roer het kikkererwtenmeel en bakpoeder erdoor en doe het mengsel over in een spuitzak met kartelmondje (neem een wat grovere, zodat eventuele stukjes het mondje niet verstoppen). Spuit mooie toeven puree op een met bakpapier beklede bakplaat. Bak goudbruin en gaar in 30 min.
Voor het serveren
Maak ieder bord mooi op met een aantal pommes duchesse, een flinke schep kervel worteltjes en twee plakken wellington.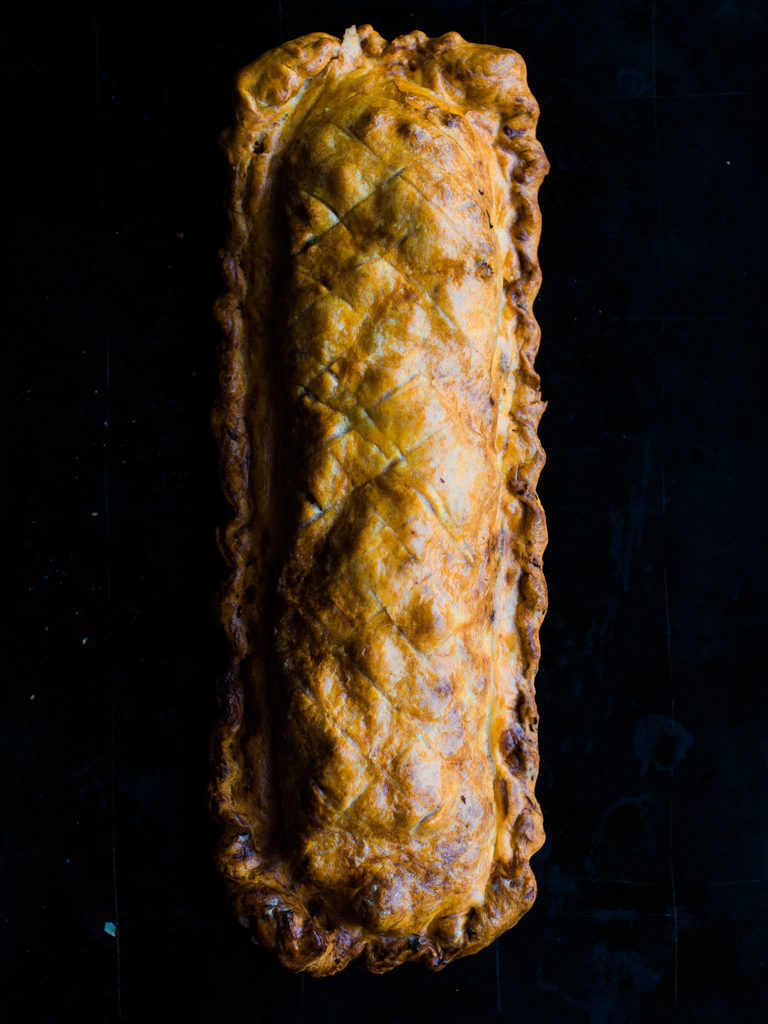 *Dit menu is tot stand gekomen in samenwerking met Green Protein Alliance & MAN.EAT.PLANT. De Green Protein Alliance is de maatschappelijke beweging die alle Nederlanders helpt terug te keren naar een meer plantaardig voedselpatroon. Leden van de alliantie zijn producenten als HAK, Zeewaar, GardenGourmet, Bonduelle, Rotterzwam, Alpro en retailers zoals AH en Jumbo. Het Voedingscentrum, stichting Natuur & Milieu en het Ministerie van LNV zijn drie van de kennispartners.
Voor meer informatie zie www.greenproteinalliance.nl en www.daarkunjeopbouwen.nl