This red roasted bell pepper soup is a wonderful Christmassy starter and will be loved by all family members. Not too heavy to digest, no difficult ingredients yet rich in flavour and heartwarming. The white bean hummus crostini is a the perfect accomplishment to this dish.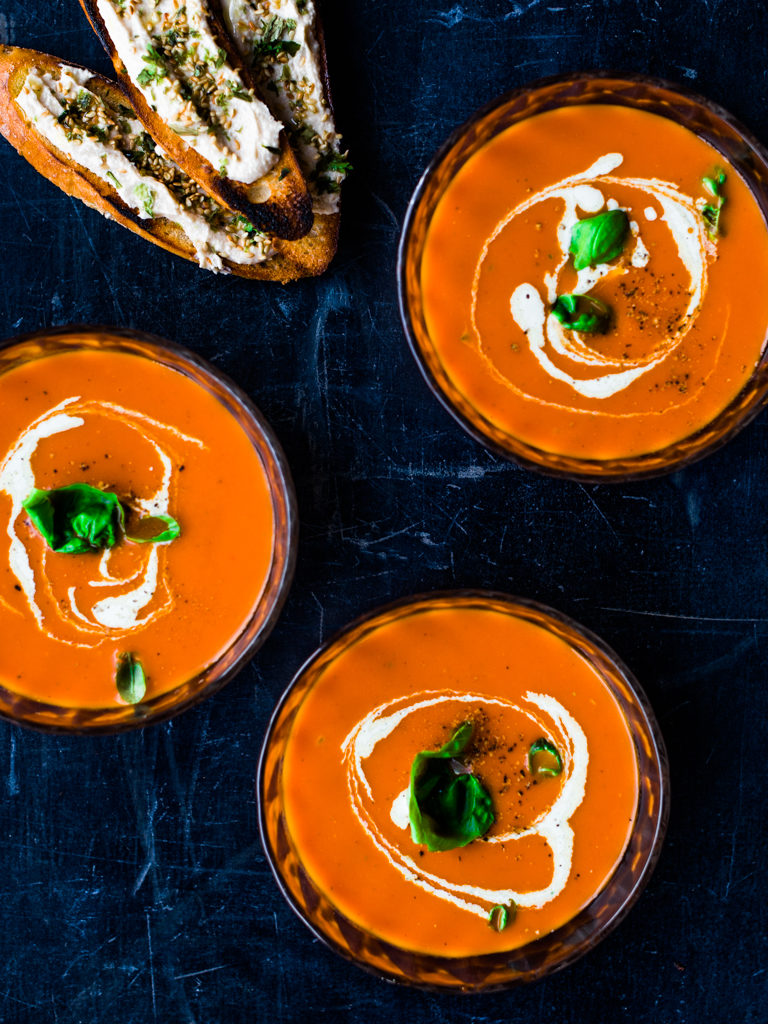 Serves 4-6
INGREDIENTS
Soup
1 tbsp olive oil
1 onion, peeled and diced
3 roasted bell peppers (from a jar)
1 garlic clove, peeled
1 can peeled tomatoes (400 g)
600 ml (2,5 cups) vegetable stock
pinch oregano
leafs torn off ½ bunch of basil, plus some extra leafs for decoration
125 ml (½ cup) plant based cooking cream
black pepper to taste
Crostini
6 thin slices of rustic bread (sliced diagonally) like ciabatta or baguette
olive oil
150 g white beans (like cannellini, butter beans or lima beans), from a jar or can
2 garlic cloves, peeled and 1 chopped
juice of 1 lemon
3 tbsp tahini
¼ tsp coarse sea salt
30 ml (⅛ cup) water
extra olive oil for serving
1 tbsp sesame seeds, freshly toasted
1 tsp seaweed flakes
INSTRUCTIONS
Soup
Heat olive oil in large pan. Fry onion on medium heat until translucent. Drain bell peppers and chop into pieces. Add bell pepper to onion and fry along. Add garlic, tomatoes and stock, and bring to a boil. Season to taste with a pinch of oregano. Let cook for ca. 15 min. Puree with stick a blender until really smooth.
In another container, blend basil with vegan cream to obtain herbed cream.
Serve in beautiful bowls and drizzle some of the herbed cream over the soup. Garnish with black pepper and basil leafs.
Crostini
Preheat oven to 200 C/400 F. Arrange slices of bread on baking tray. Drizzle some olive oil over the bread. Toast for ca. 10 min until crisp. In the meantime, puree beans with chopped garlic, lemon juice, tahin and salt in food processor. Add water and process until mixture resembles a smooth, creamy hummus. If mixture is too thick and chunky, add some more water and process again. Mix toasted sesame seeds with seaweed. Use the other garlic clove to rub over the slices of bread. Spread some hummus on each slice, drizzle with some olive oil and sprinkle seaweed-sesame mixture on top. Serve with the soup.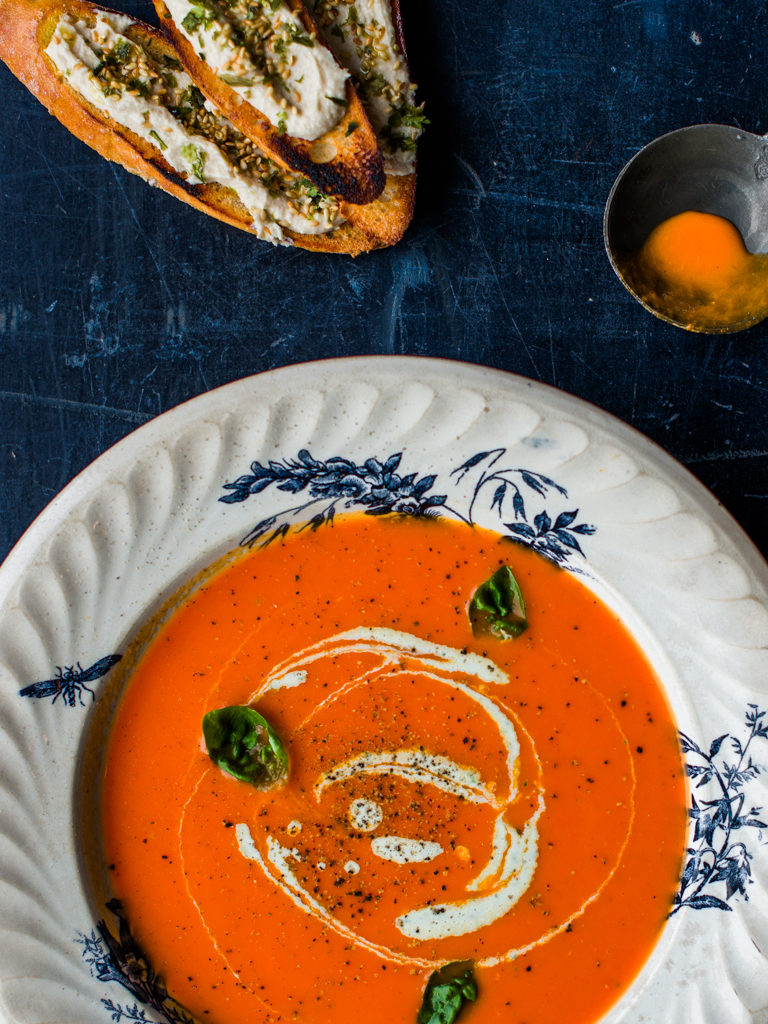 ---
RODE KERSTSOEP MET CROSTINI
Deze soep is een heerlijk voorgerecht voor de hele familie. Niet te zwaar, geen moeilijke ingrediënten, wel rijk van smaak. De crostini met hummus van witte bonen maakt het helemaal af.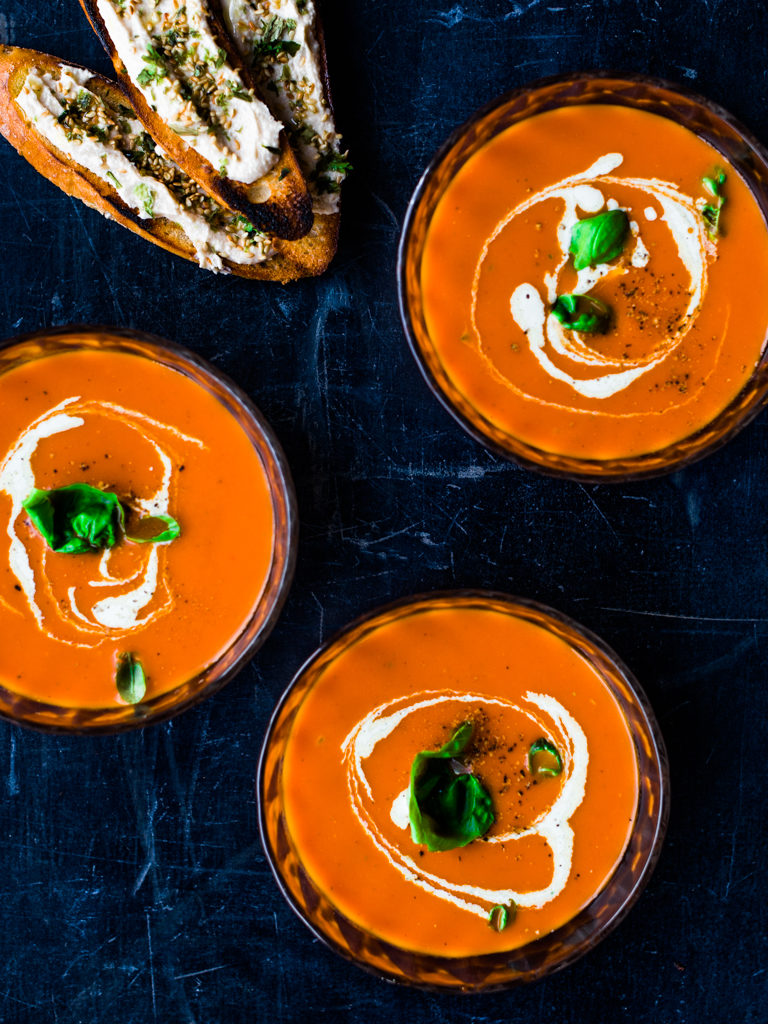 Voor 4-6 personen
INGREDIËNTEN
Soep
1 el olijfolie
1 ui, gepeld en gesnipperd
3 geroosterde paprika's (uit een pot)
1 teen knoflook, gepeld
1 blik gepelde tomaten (400 g)
600 ml groentebouillon
snuf oregano
125 ml plantaardige room (soja of haver)
blaadjes van 1/2 bosje basilicum + extra blaadjes om te serveren
zwarte peper
Crostini
6 mooie dunne, schuine plakken brood (baguette of ciabatta)
olijfolie
150 g boterbonen of cannellini bonen uit blik
2 tenen knoflook, gepeld en 1 grof gehakt
sap van 1 citroen
3 el tahin
1/4 tl grof zeezout
30 ml water
extra olijfolie voor het serveren
1 el sesamzaad, geroosterd in droge koekenpan
1 tl zeewiervlokken (optioneel)
INSTRUCTIES
Soep
Verhit olijfolie in een pan. Bak ui op middelhoog vuur glazig. Laat geroosterde paprika's uitlekken en snijd in stukjes. Voeg paprika toe aan de ui en bak even mee. Voeg vervolgens knoflook, gepelde tomaten en bouillon toe, en breng aan de kook. Breng op smaak met een snufje oregano. Laat ca. 15 min zachtjes doorkoken. Pureer het geheel met een staafmixer. Meng voor de kruidenroom basilicum samen met sojaroom. Serveer de soep in mooie kommen en schenk er een straaltje kruidenroom in. Garneer met zwarte peper en een basilicumblaadje.
Crostini
Verwarm de oven voor op 200 graden C. Spreid plakken brood uit over een bakplaat en besprenkel met olijfolie. Rooster in ca. 10 min krokant. Doe ondertussen bonen, de gehakte teen knoflook, citroensap, tahin en zeezout in een keukenmachine en maal fijn. Voeg het water toe en maal nogmaals, tot er een gladde, romige hummus ontstaat. Voeg eventueel extra water toe om tot een gladde, smeerbare hummus te komen. Meng sesamzaadjes met zeewiervlokken. Snijd de overige teen knoflook doormidden, en wrijf over de crostini's. Besmeer de crostini's met de hummus, enkele druppels olijfolie en strooi (een deel van) het sesam-zeewier mengsel over. Een deel van het mengsel kan ook over de soep worden gestrooid. Serveer naast de soep.