Around this time of year we Dutchies love to eat anything gingerbread-ish (speculaas). This rustic rye & almond gingerbread-cake serves those seasonal taste buds perfectly. And it also happens to be quite nutritious and delicious, and you can make it in a jiffy. Perfect to eat alongside a steaming hot cuppa. Enjoy!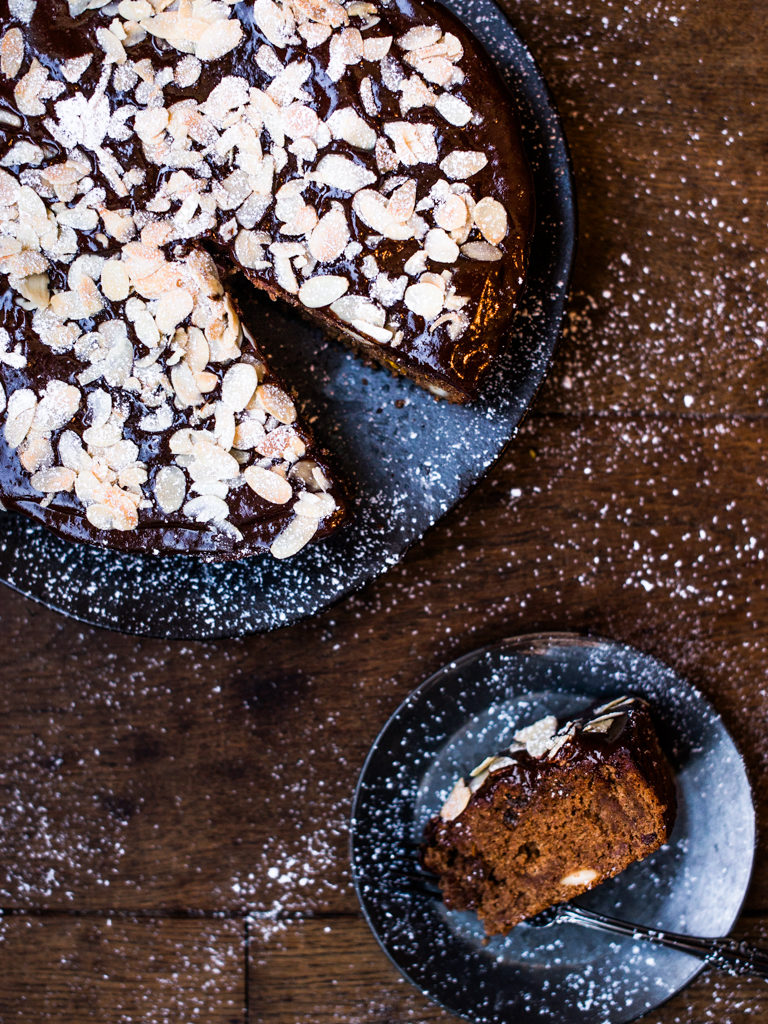 For 1 cake, ca. 12 pieces
INGREDIENTS
Cake 

275 g whole rye flour (ca. 2 cups)
75 g ground almonds (ca. 3/4 cups)
50 g fine brown sugar
zest of half an orange
1 tbsp gingerbread spices
1 tbsp aniseed
1 tbsp baking powder
1/4 tsp salt
1/3 cup raisins
3/4 cup dark treacle, molasses or date syrup
1 1/4 cup plant based milk of your choice (we use almond)
1/2 cup rice bran oil
Topping
50 g slithered almonds
75 ml oat milk
100 g dark chocolate, chopped in pieces
INSTRUCTIONS
Cake
Preheat oven to 175 C/350 F.
In big bowl mix rye flour, ground almonds, sugar, orange zest, spice mix, aniseed, baking powder, salt and raisins. Mix treacle with milk and oil. Add wet mixture to dry mixture. Fold mixtures into each other with rubber spatula. Don't over mix it! Over mixing will develop to many gluten strands (which will make the cake tough) and will a negative effect on the baking powder. Put batter in mould (8-10 inch/22-24 cm diameter) lined with baking parchment or lightly greased. Bake for ca. 35-45 min, or until a skewer, inserted in the center, comes out clean. Let cool down a bit before adding topping.
Topping
Slightly toast or roast slithered almonds in dry frying pan or oven, until it starts to colour.
Heat milk in saucepan. Add chocolate and turn off heat. Stir with a whisker. Let sit for a minute or so, and whisk again until milk and chocolate are completely combined. Let cool a bit before applying to cake. Don't let it cool down too much (like fridge cold), for it will set. Sprinkle almonds on top.
---
SPECULAASTAART MET CHOCOLADE EN AMANDEL
Rond deze tijd mag een speculaas-achtige lekkernij natuurlijk niet ontbreken! Deze taart bestaat uit krachtig roggemeel en amandelmeel, en daardoor lekker voedzaam en goed voor die spierballen van spinazie. En zo gemaakt. Heerlijk om te verorberen naast een hete kop thee, koffie of vegan chocolademelk.
Voor ca. 12 stukken taart
INGREDIENTEN
Cake
275 g roggemeel
75 g amandelmeel
50 g bruine suiker
geraspte schil van 1/2 sinaasappel
1 el speculaaskruiden
1 el anijszaadjes
1 zakje bakpoeder
1/4 tl zout
handvol rozijnen
175 ml keukenstroop of dadelstroop
300 ml soja-, haver-, rijst- of amandelmelk
100 ml rijstolie
Topping
50 g geschaafde amandelen
75 ml havermelk
100 g pure chocolade, gehakt
BEREIDING
Cake
Verwarm oven voor op 175 C.
Meng in een ruime kom roggemeel, amandelmeel, suiker, sinaasappelrasp, speculaaskruiden, anijszaad, bakpoeder, zout en rozijnen. Meng stroop met plantaardige melk en olie. Voeg nat mengsel bij droog mengsel en spatel door elkaar tot net gemengd. Roer niet te veel, dan raakt het beslag overbewerkt, worden teveel glutenketens geactiveerd en kan het bakpoeder uitgewerkt raken.
Doe het beslag over in een met bakpapier beklede (of ingevette) bakvorm (22-24 cm diameter). Bak ca. 35-45 minuten, of tot een satéprikker die je in het midden van de cake steekt er schoon uitkomt. Laat een beetje afkoelen alvorens de topping aan te brengen.
Topping
Rooster het amandelschaafsel heel kort in een koekenpan of in de oven, tot het begint te kleuren. Laat wat afkoelen. Verwarm de melk in een steelpan. Voeg de chocolade toe en draai het vuur uit. Roer even kort door met een garde, laat een minuutje staan, en roer dan nogmaals, tot de chocolade helemaal in de melk is opgelost. Laat de topping ietwat afkoelen alvorens op de taart aan te brengen, maar laat hem niet helemaal koud worden (dan zal hij stollen). Bestrooi met de geschaafde amandelen.