Snackin' along with your loyal canine friend: today a recipe for the dog (and all beasts, man as animal) to celebrate World Animal Day. Doggy will devour these cookies in a matter of seconds. Serve with a bowl of water, or glass of beer, because yep you guessed it right, you can feast on them yourself too!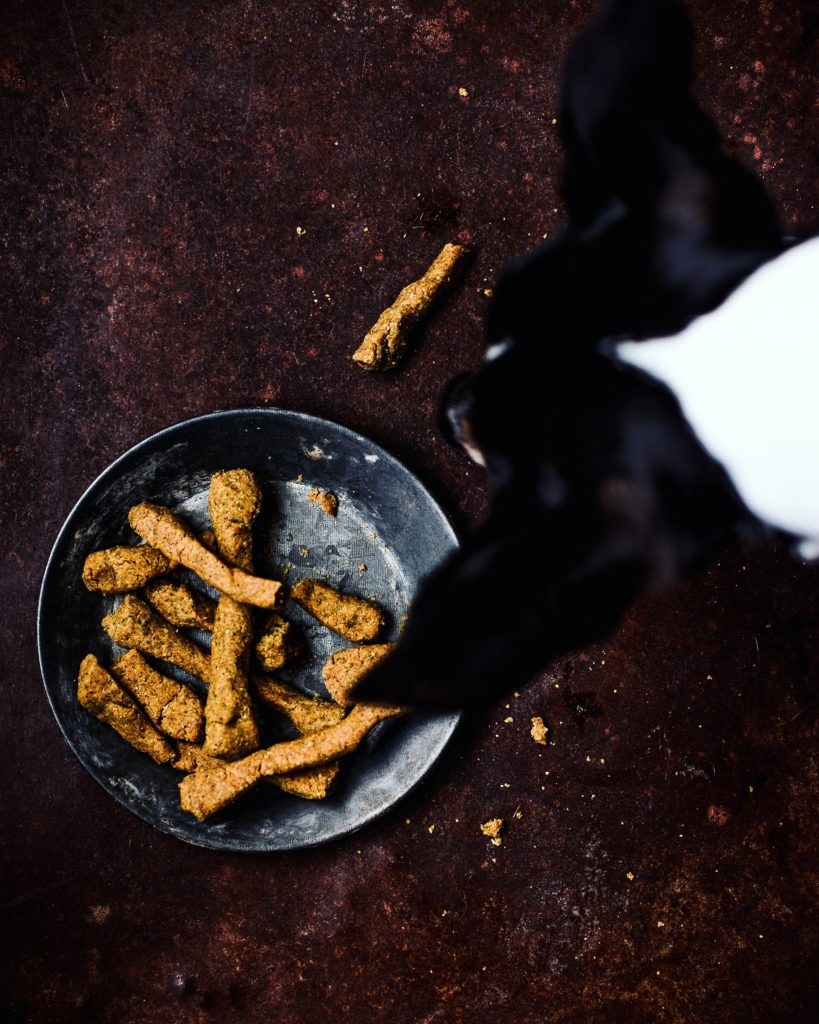 Serves a whole flock of hungry hounds
INGREDIENTS
125 g pumpkin seeds
125 g oat flakes or oatmeal
20 g nutritional yeast flakes
50 g chickpea flour
50 g polenta
50 g olive oil
150 ml water (1/3 cup + 3 tbsp)
INSTRUCTIONS
Preheat the oven to 175 C / 350 F. Put pumpkin seeds along and oats in a blender or food processor. Grind to flour. Put the mix in a bowl and add the yeast flakes, chickpea flour and polenta. Mix. Add olive oil and water and mix until it comes together and forms a dough. Shape cookies with your hand into little bones or use cookie cutters to make some cool shapes. Put the cookies on a baking tray lined with baking parchment. Bake them for 25 minutes until crunchy.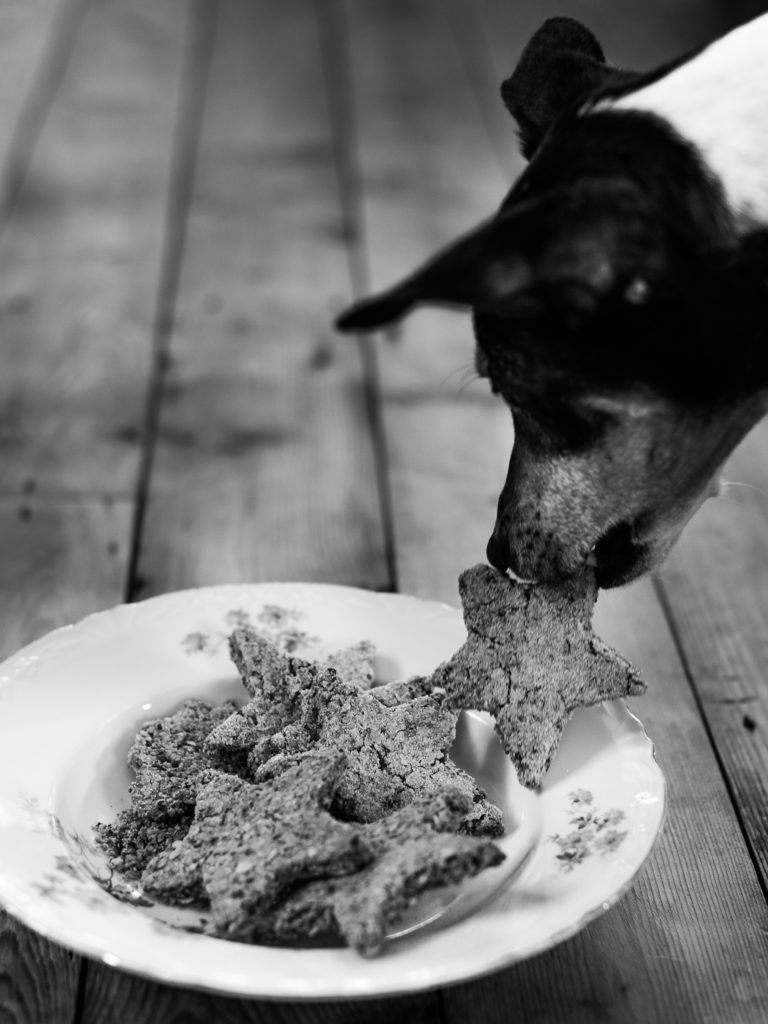 ---
DOG.EAT.PLANT
Speciaal voor dierendag een recept voor de hond (en alle andere beesten, mens en dier). Je trouwe viervoeter verslindt deze beenige koekjes in een oogwenk. Lekker met een bak water of glas bier, want jaja, je begreep het goed, deze kun jij ook eten.
Voor een hele roedel hongerige honden
INGREDIENTEN
125 g pompoenpitten
125 g havervlokken of havermout
20 g gistvlokken
50 g kikkererwtenmeel
50 g polenta
50 g olijfolie
150 ml water
BEREIDING
Verwarm de oven voor op 175 graden C. Doe pompoenpitten en haver in een blender of keukenmachine. Maal fijn tot meel. Doe het meel over in een kom en voeg gistvlokken, kikkerwtenmeel en polenta toe. Mix door elkaar. Voeg de olie en het water toe en meng tot er een samenhangend deeg ontstaat. Vorm koekjes van het deeg, bijvoorbeeld door er soort van 'botten' van te rollen, of steek er met vormpjes figuren uit. Leg ze op een met bakpapier beklede bakplaat. Bak de koekjes in 25 minuten gaar en knapperig.