One of the most familiar snacks in The Netherlands are kroketten; filled with a roux and crusted on the outside. Traditionally made with animal flesh. However we of course made them future proof and cruelty free, enriched with the magestically celeriac and king oyster shrooms! Maartje's nan used to make kroketten on New Year's eve, because we Dutchies are already frying oliebollen and appelflappen, so it's easy to just let a couple of kroketten sink in the frying pan as well. Happy New Year!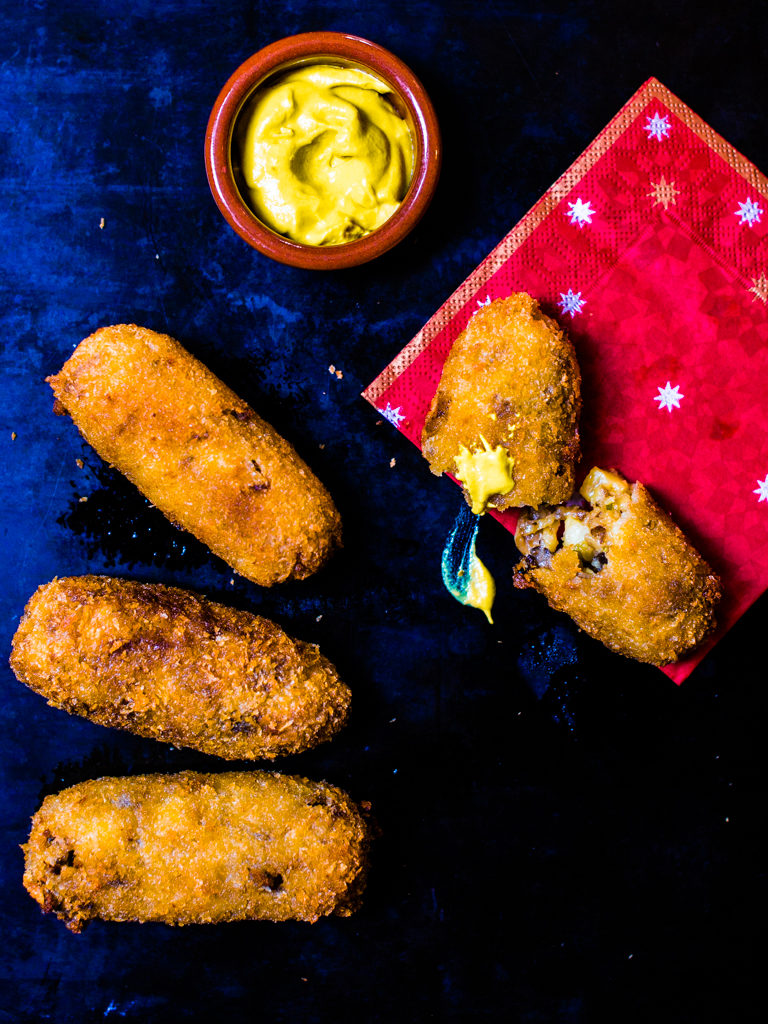 For 12 kroketten
INGREDIENTS
2 x 75 g plant based butter
1 onion, peeled and chopped
200 g (king) oyster mushrooms, combed with a fork
¼ celeriac, cut in small cubes
freshly ground black pepper and salt
1 garlic clove, peeled and chopped
75 g + 100 g (⅔ cup + ¾ cup) flour + extra to coat
500 ml (2 cups) strong vegetable stock
200 ml (¾ cup) water
1 cup breadcrumbs
oil for deep frying
INSTRUCTIONS
Heat 75 g butter in a large frying pan. Fry onion, mushrooms and celeriac until golden brown. Season with pepper and salt tot taste. Add garlic, fry along for a few seconds and then turn off heat. Transfer veggies to a plate or bowl and clean the pan. Put pan back on medium high heat and add the other 75 g butter. Let melt and add 75 g (⅔ cup) flour. Mix with a whisker and let cook until mixture begins to look pale. Whilst whisking add the cold stock. Bring to a boil. The roux will now bind and transform into a thick paste. Let cook completely and add mushroom mixture. Turn off heat and let cool down completely. Transfer to fridge.
Make a 'coating lane': put three small bowls or soup plates in a row. Add some flour in the first one, add a mixture of 100 g flour and 200 ml water in the second one, the breadcrumbs in the last one. Roll mushroom roux into 12 small logs. Dip in flour, then into batter and finally into breadcrumbs. Try to find a handy way of doing this, leave one hand clean to make the process easier and less messy.  Make sure the kroketten are fully covered so no oil can get inside the kroket during frying.
Heat oil in deep fryer and test with a cube of bread of it is hot enough. It should be sizzling a bit. Fry kroketten in batches until golden brown and transfer to a colander lined with kitchen towels after frying. Serve with mustard.
---
KEKKE KONINGS KROKETTEN
De oma van Maartje maakte altijd kroketten op oudejaarsavond, want de friteuse stond tenslotte toch al aan voor de befaamde oliebollen en appelflappen. Het is even een klusje om ze te maken, maar wel een leuke! Kroketten zijn prima te veganiseren en met een soort 'draadjesvlees' van oesterzwammen zijn ze echt fantastisch. De knolselderij maakt de kroketten lekker hartig en smaakvol.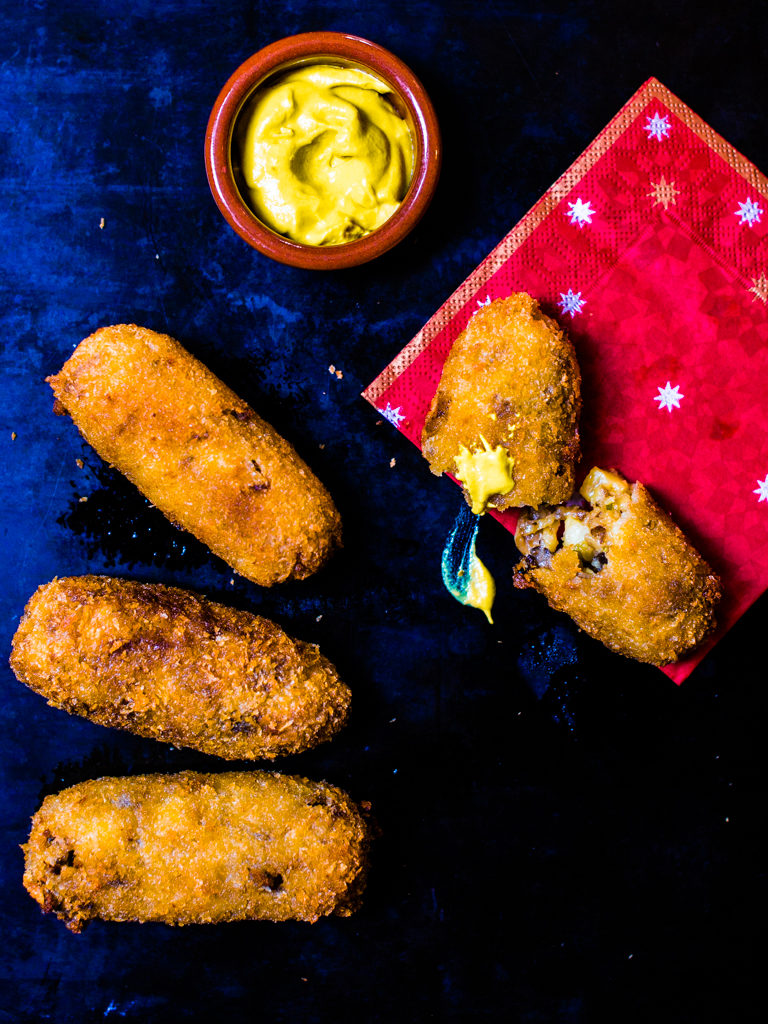 Voor 12 kroketten
INGREDIËNTEN
2 x 75 g plantaardige boter
1 ui, gepeld en gesnipperd
200 g (konings)oesterzwam, met een vork 'uitgekamd' tot reepjes
¼ knolselderij, in kleine blokjes
versgemalen zwarte peper en zout
1 teen knoflook, gepeld en fijngehakt
75 g + 100 g bloem + extra om te paneren
500 ml koude sterke groentebouillon
200 ml water
1 kop paneermeel
olie om in te frituren
INSTRUCTIES
Verhit 75 g boter in een ruime koekenpan of hapjespan. Voeg ui, oesterzwam en knolselderij toe. Bak tot oesterzwammen en knolselderij er goudbruin uitzien. Breng op smaak met peper en zout. Voeg knoflook toe, bak paar seconden mee en draai vuur uit. Neem mengsel uit de pan en maak de pan schoon. Zet opnieuw op middelhoog vuur en voeg de overige 75 g boter toe, laat volledig smelten. Voeg 75 g bloem toe en roer goed door met een garde tot een zanderig papje. Laat een beetje garen onder constant roeren, tot het papje lichtelijk wit uitslaat. Voeg al roerend met een garde bouillon toe. Breng aan de kook, de roux zal nu goed gaan binden. Voeg als roux goed gebonden is het oesterzwammengsel toe. Meng en laat volledig afkoelen tot kamertemperatuur en zet vervolgens in de koelkast.
Maak een 'paneerstraatje': vul een bakje met een paar handen bloem, een bakje met een papje van 100 g bloem + 200 ml water en een derde bakje met paneermeel. Rol 12 'worsten' van de afgekoelde roux en haal deze eerst door de bloem, dan door het papje en dan door de paneermeel. Probeer hier een handigheid in te vinden, zodat je maar één hand vuil hoeft te maken, dit werkt namelijk prettiger dan met twee gepaneerde handen. Zorg dat de kroketten helemaal bedekt zijn, anders kan er olie in komen.
Verhit de frituurolie in een daarvoor geschikte pan. Test met een stukje brood of de temperatuur goed is. Het stukje brood moet meteen gaan sissen en kleuren. Frituur de kroketten in porties en laat uitlekken op keukenpapier. Serveer met mosterd.