Pretzels using basically two ingredients, ready in an instant? Really?!? Really! Sure, these bites aren't going to be winning anyone a medal of culinary achievement, but they make for a crisp, toasty vehicle for a delicious sauce. And today, that sauce is a cheesy beer sauce: an American bar food classic. The magic of this yogurt/flour dough is that it can be used for so many things: last minute flatbread, pita and bagels to name a few. So if you've ever got a serious carb emergency, give it a try! We're all about easy peasy recipes that are perfect for kitchen newbies and experts alike.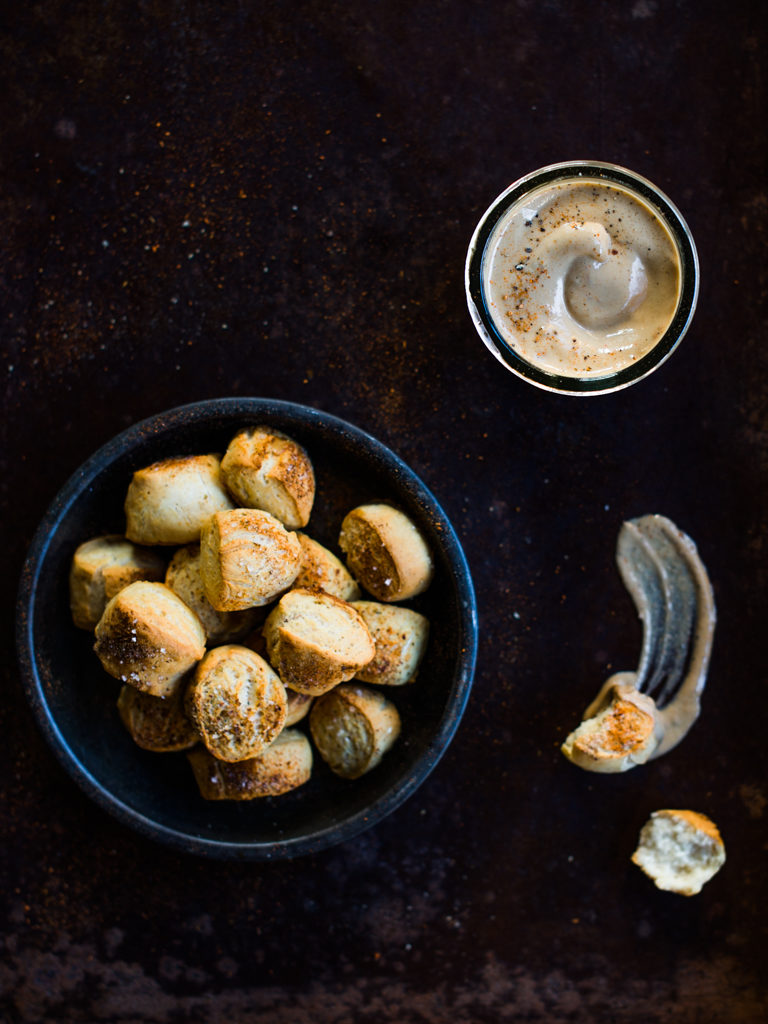 Yield 4 servings
INGREDIENTS
Beer cheese sauce
1 cup cashews
1/4 cup dark beer
1 cup non-dairy milk
1/4 cup nutritional yeast
1 tsp smoked paprika
1 tsp vegan worcestershire sauce
2 tsp soy sauce
salt to taste
Pretzel bites
1 tbsp baking soda
2 cups self rising flour
1.5 – 2 cups plain vegan yogurt (Alpro Go On is perfect)
a bit of aquafaba, non-dairy milk, or cornstarch dissolved in water to use as an 'eggwash'
seasonings of your choice: sea salt, pepper, sesame seeds, poppy seeds, garlic powder, onion powder, mixed together to form about tbsp total
INSTRUCTIONS
Bring a kettle to boil and pour water over cashews and let sit while you make the pretzel bites. Alternately, soak cashews overnight.
Preheat oven to 400°F (200°C). Line a baking sheet with parchment paper or a silicone baking mat.
Combine flour and yogurt in a large bowl until it forms a large ball (start with 1.5 cups yogurt and increase if needed). The dough should be tacky and quite wet but combined well.
Transfer dough to a very well floured surface and cut into 4 equally sized portions. Roll each portion into a long log. Cut each log into 10-12 'pillows' to form a total of 48 pretzels.
OPTIONAL: While preparing dough, bring a medium pot of water to boil and dissolve baking soda. Quickly dunk the pillows into the water for a moment, remove with a slotted spoon and transfer to a prepared baking sheet. This additional step makes for a crisper, shinier crust.
Brush with "egg wash" and sprinkle generously with seasoning. Bake for 20-25 minutes until lightly brown.
While pretzel bites are baking, drain cashews. Add together with beer, 1/2 cup of non-dairy milk, nutritional yeast, smoked paprika, worcestershire sauce and soy sauce in a high-speed blender or puree with an immersion blender until smooth. Add a bit more milk if needed. Transfer to a small pot and heat on medium heat. Whisk constantly as you slowly add the rest of the milk in a steady stream. Bring to a simmer (but don't let it boil) and remove from heat.
As the flavor will be affected by the beer your choose, give it a taste adjust seasonings (and add salt) as needed.
Serve pretzels with the cheesy beer sauce and dip like a maniac.
---
PRETZELS & KAZIGE BIERSAUS
Pretzels maken van maar twee ingrediënten en klaar in no time? Hell yeah. En nee, met deze snacks zul je geen culinaire medaille winnen, maar ze zorgen wel voor een knapperige lekkernij waar je goed mee kunt dippen in een super goeie saus. En vandaag is die saus een kazige biersaus; een Amerikaanse klassieker. De magie van dit yoghurt/meeldeeg is dat het voor zoveel dingen gebruikt kan worden: last-minute flatbread, pita en bagels om er maar een paar te noemen. Dus als je ooit een ernstige koolhydraat craving hebt, probeer dit recept dan eens! MAN.EAT.PLANT. is helemaal voor eenvoudige recepten die perfect zijn voor experts en voor nieuwkomers in de keuken.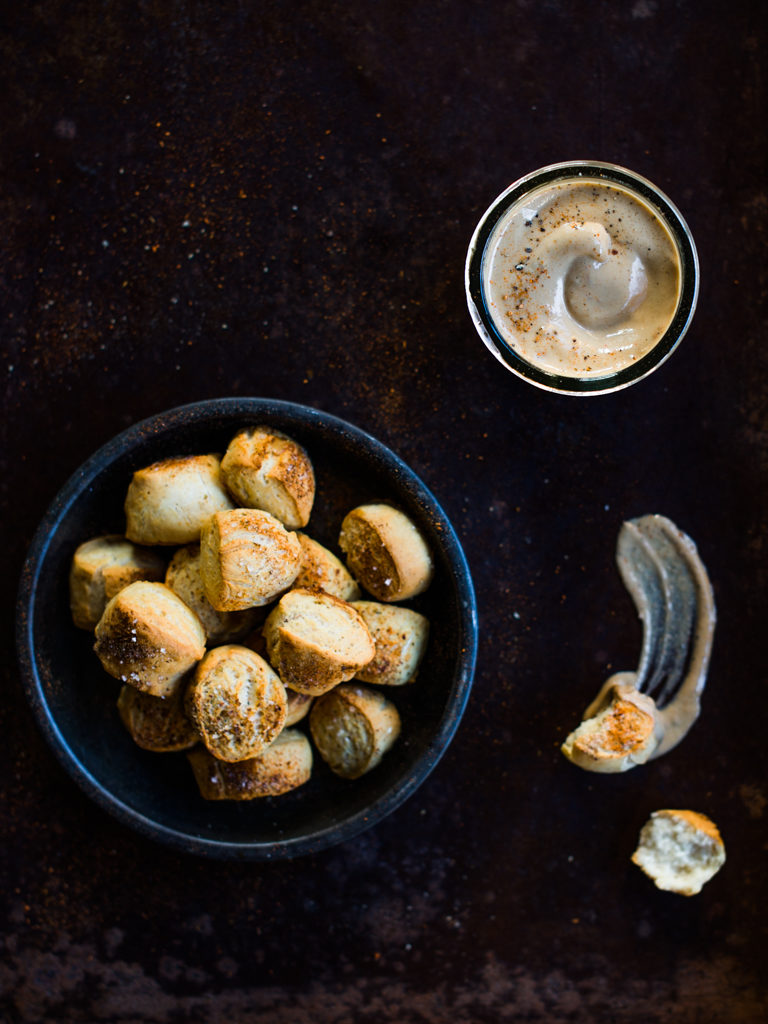 Voor 4 porties
INGREDIENTEN
Kazige biersaus
150 g cashewnoten
60 ml donker bier
240 ml plantaardige melk
4 el gistvlokken
1 tl gerookte paprika
1 tl veganistische worcestershiresaus
2 tl sojasaus
zout naar smaak
Pretzels
1 el bakpoeder
240 g zelfrijzende bloem
150-200 ml vegan yoghurt (Alpro Go On is perfect)
een beetje aquafaba, plantaardige melk of maizena opgelost in water om het geheel een glans te geven
kruiden naar keuze: zeezout, peper, sesamzaad, maanzaad, knoflookpoeder, uienpoeder, samen gemengd tot ongeveer el totaal
BEREIDING
Week de cashewnoten een nacht of giet er kokend water over en laat staan terwijl je de pretzels maakt.
Verwarm de oven voor op 200 ° C. Bekleed een bakplaat met bakpapier of een siliconen bakmat.
Combineer voor het deeg bloem en yoghurt in een grote kom tot het een grote bal vormt (begin met 1,5 kop yoghurt en verhoog indien nodig). Het deeg moet plakkerig en behoorlijk nat zijn, maar goed gemengd.
Leg het deeg op een zeer goed bebloemd oppervlak en snijd het in 4 gelijke porties. Rol elke portie in een lang blok. Snijd elk blok in 10-12 'kussens' om in totaal 48 pretzels te vormen.
Breng een middelgrote pan met water aan de kook en los hierin het bakpoeder op zodra het kookt. Laat iedere pretzel een ogenblik in het kokende water glijden, verwijder met een lepel en leg het op een bakplaat.Deze stap zorgt voor een knapperigere korst. Bestrijk de prezels met het glansmiddel en bestrooi royaal met kruiden. Bak 20-25 minuten tot ze lichtbruin zijn.
Terwijl pretzels bakken, laat je de cashewnoten uitlekken. Doe samen met bier, 1/2 kopje plantaardige melk, gistvlokken, gerookte paprikapoeder, worcestershiresaus en sojasaus in een sterke blender. Voeg indien nodig wat meer melk toe. Breng over in een kleine pan en verwarm op middelhoog vuur. Klop constant terwijl je langzaam de rest van de melk in een gestage stroom toevoegt. Breng aan de kook (maar laat het niet koken) en haal van het vuur.
Omdat de smaak wordt beïnvloed door het bier dat je kiest, kun je het zo nodig aan smaak aanpassen (en zout toevoegen).
Serveer de pretzels met de saus en dip als een malle.