This BANANAS FOSTER recipe is FIRE. Literally. You get to play with fire (RESPONSIBLY, OK???). This classic recipe veganized makes for a truly dramatic display as once you do some easy prep to combine the deceptively simple ingredients together with a bit of rum, you flambé the whole thing. Listen to your guests OOOH and AAAH as the rum cooks off with the glow of a blue flame, leaving an utterly delectable toasty caramelly sauce coating the bananas. Serve it the traditional way with your fave vegan vanilla ice cream or atop our Mancakes (recipe in book). Either way, for such a fancy lookin' recipe, all you need is some basic ingredients and a few minutes for it all to come together.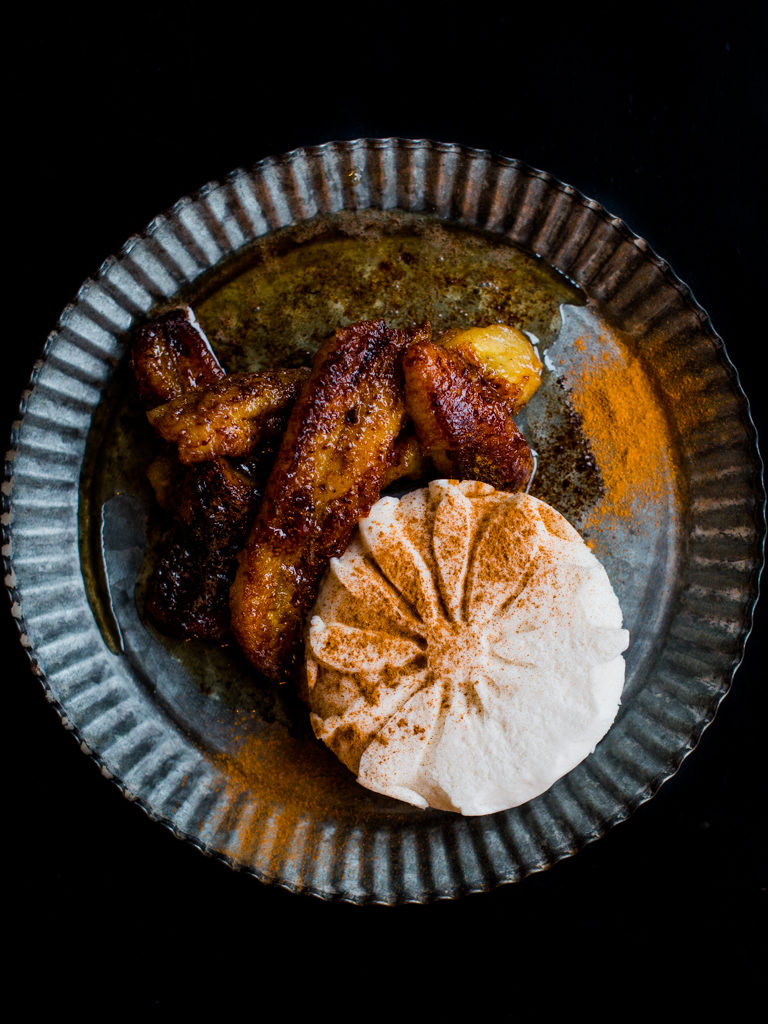 Yield 2-4 servings
INGREDIENTS
2 perfectly ripe (not green, not brown) bananas, peeled, cut in half and then cut into 3 or 4 long strips
2 tbsp vegan margarine
1 tbsp + 1 tsp brown sugar
a dash of cinnamon
4 tbsp (1/4 cup) rum
vegan vanilla ice cream to serve
INSTRUCTIONS
Melt butter and sugar in a frying pan, stirring often. Once both have melted, add bananas and cook until lightly brown, flipping once or twice so they're well-coated.
Remove from heat, being sure to use an oven mitt because the pan will be HOT. Sprinkle with cinnamon and toss to coat.
Add rum. Using a long-stemmed lighter, light the rum on fire and flambé (be careful the flame might be big). Stand back as it cooks off for a few seconds with a glowing blue flame. Once flame is extinguished (remeber the pan is still very hot!), shake pan to coat bananas in your delicious caramelly rum sauce. You can return it to light heat for a few moments if you like to cook down the sauce further, depending on how you plan to use it.
Place in bowls, serve with vanilla ice cream, on top of pancakes or whatever your heart desires.
---
VEGAN BANANAS FOSTER
Dit recept voor BANANAS FOSTER is ON FIRE. Letterlijk. Je mag met vuur spelen (VERANTWOORDELIJK, OK ???). Dit klassieke recept dat al vegan is, zorgt voor een echt dramatische weergave. Als je eenmaal een gemakkelijke voorbereiding doet om de bedrieglijk eenvoudige ingrediënten te combineren met een beetje rum, flambeer je het hele ding. Luister je gasten OOOH en AAAH uitkramen, terwijl de rum afkookt met de gloed van een blauwe vlam, waardoor een uiterst verrukkelijke geroosterde karamelsaus op de bananen achterblijft. Serveer het op de traditionele manier met je favoriete vegan vanille ijs of bovenop onze Mancakes (recept in boek). Hoe dan ook, voor zo'n mooi recept, heb je alleen enkele basisingrediënten nodig en een paar minuten om alles samen te laten komen.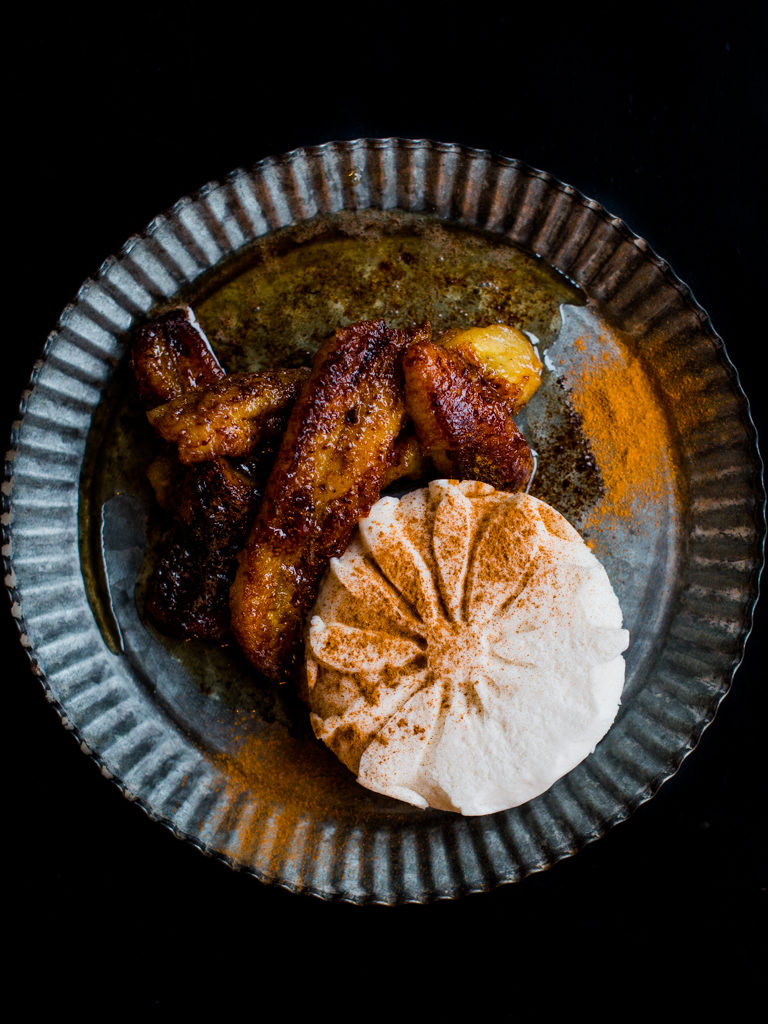 Voor 2-4 porties
INGREDIENTEN
2 perfect rijpe (niet groene, niet bruine) bananen, geschild, in tweeën gesneden en vervolgens in 3 of 4 lange reepjes gesneden
2 el veganistische margarine
1 el + 1 tl bruine suiker
een scheutje kaneel
4 el rum
vegan vanille ijs om te serveren
BEREIDING
Smelt al roerend boter en suiker in een koekenpan. Zodra beiden gesmolten zijn, voeg je de bananen toe. Bak tot ze lichtbruin zijn en draai een of twee keer om zodat ze goed bedekt zijn met de gesmolten suiker.
Haal de pan van het vuur en zorg ervoor dat je een ovenwant gebruikt, want de pan is HEET. Bestrooi met kaneel en schud de pan om te coaten.
Voeg rum toe. Steek de rum in brand en flambeer met een aansteker met lange steel (pas op, de vlam kan heel groot zijn). Stap achteruit terwijl enkele seconden kookt met een gloeiende blauwe vlam. Schud wanneer de vlam eenmaal is gedoofd (wederom let op, de pan is heel heet!) de pan om de bananen met de heerlijke karamelachtige saus te coaten. Je kunt de pan nog even kort op laag vuur zetten als je de saus verder wilt koken, afhankelijk van hoe je het wenst.
Plaats in kommen, serveer met vanille ijs, bovenop pannenkoeken of wat je hart begeert.