We are so excited to share with you these almond paste stuffed cookies from our youth and childhood dreams. They are a typical dutch treat and so delicious. Crispy from the outside and soft, creamy and nutty from the inside. Although they seem fancy, they are actually easy to make with just a few ingredients. Perfect with a cup of piping hot black tea or coffee.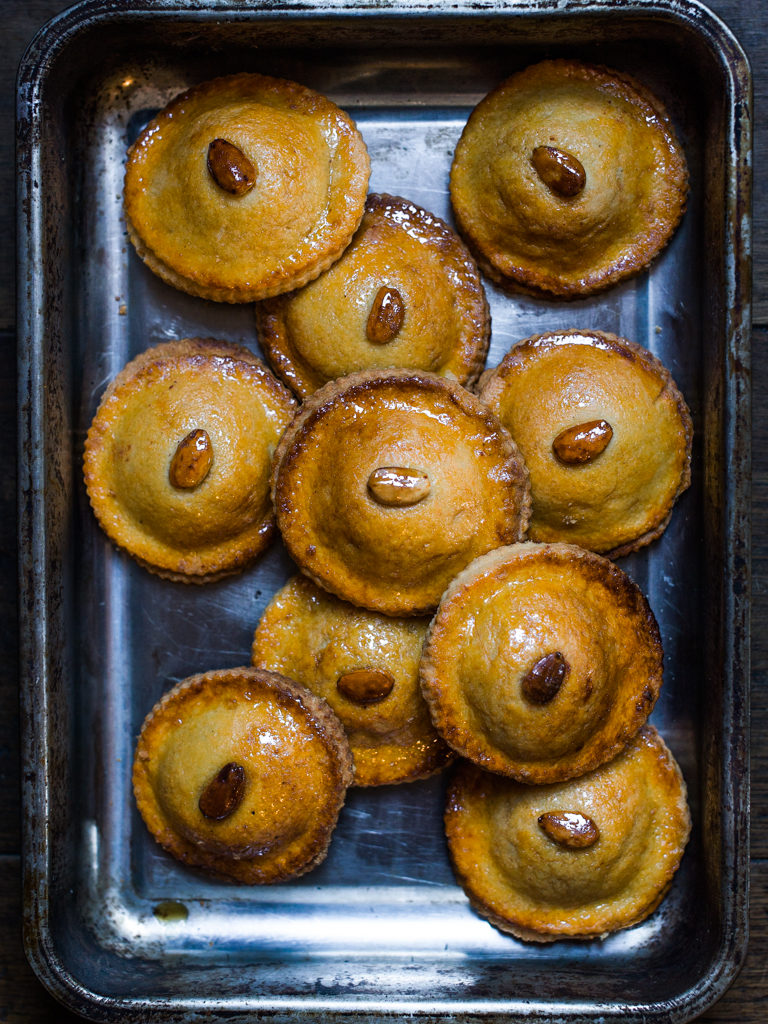 Serves 8 larger or 12 smaller cookies
INGREDIENTS
300 g all purpose wheat flour
200 g fine golden caster sugar
¼ tsp salt
175 g plant based butter
1 tsp vanilla extract
2-3 tbsp + a few tsp water
100 g ground almonds
zest of ½ lemon
optional: a few drops of natural almond extract
2 tbsp dark treacle, mixed with 2 tbsp water
8-12 blanched almonds for decoration
INSTRUCTIONS
Preheat oven to 185 C.
Prepare the dough by mixing flour with 100 g sugar and salt. Rub butter in with fingertips. Add vanilla extract and 2 tbsp water. Bring dough together without heavily kneading it. If too dry, add a little bit more water. Wrap dough in cling film and let rest in fridge.
In the meantime, make the almond paste. Mix ground almonds with leftover 100 g sugar, lemon zest and optionally a few drops of almond extract. Add 2 tsp of water and mix. Consistency should be thick and doughy, not sticky and wet. Add a teaspoon or so more if crumbly and dry, but make sure it doesn't get too wet.
Roll out dough on lightly floured surface, thickness should be a few millimeters. Cut circles (max 10 cm diameter). Count circles and form little balls of the almond paste, half the amount of the dough circles. Flatten balls a bit and put in middle of half of the dough circles. Slightly wet edges with a little bit of water and put leftover circles on top. Brush a little bit of the treacle mixture on top and put a blanched almond in the middle. Arrange on baking sheet lined with parchment paper and bake for 20 min., or until golden brown. Take them out of the oven and immediately brush again with treacle mixture for a brilliant shine. This only works if the cookies are still piping hot. Let cool a bit and enjoy!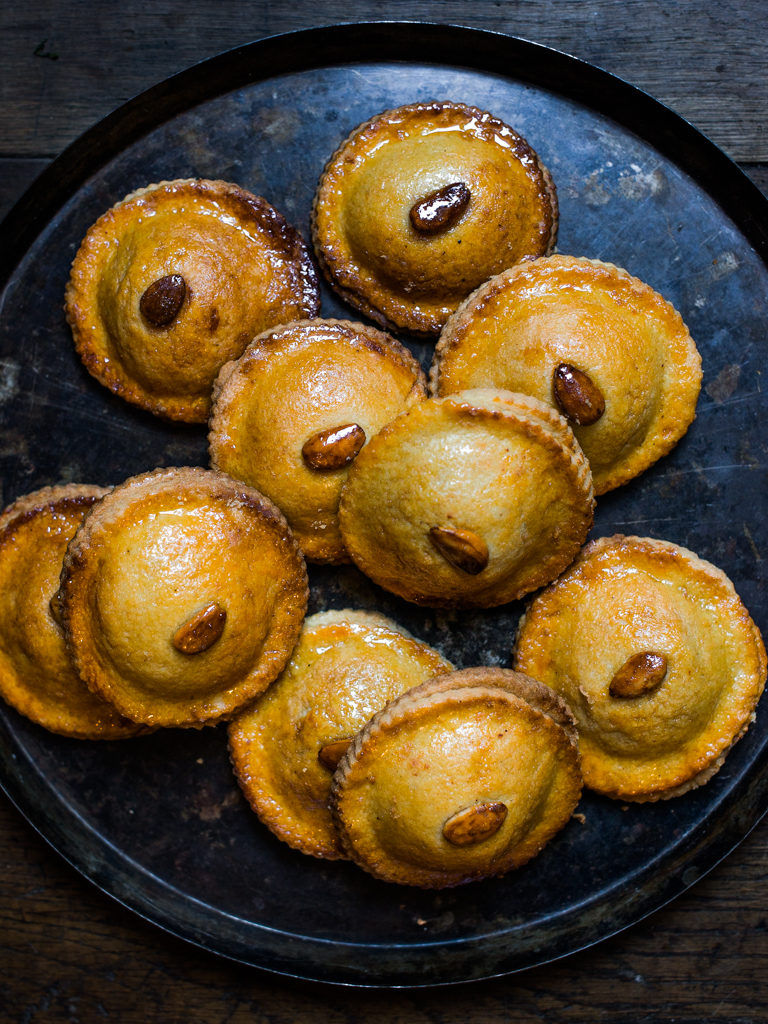 ---
ECHTE GEVULDE KOEKEN

Wie kent ze niet, heerlijke gevulde koeken met amandelspijs. We zijn zo verheugd dit recept met je te delen! Deze koeken zijn echte lekkernijen uit onze jeugd. Vegan exemplaren ervan zijn zeldzaam in bakkerijen, maar ze zijn vrij eenvoudig zelf te maken met een paar ingrediënten. Peuzel ze lekker op bij een kop dampende zwarte thee of koffie.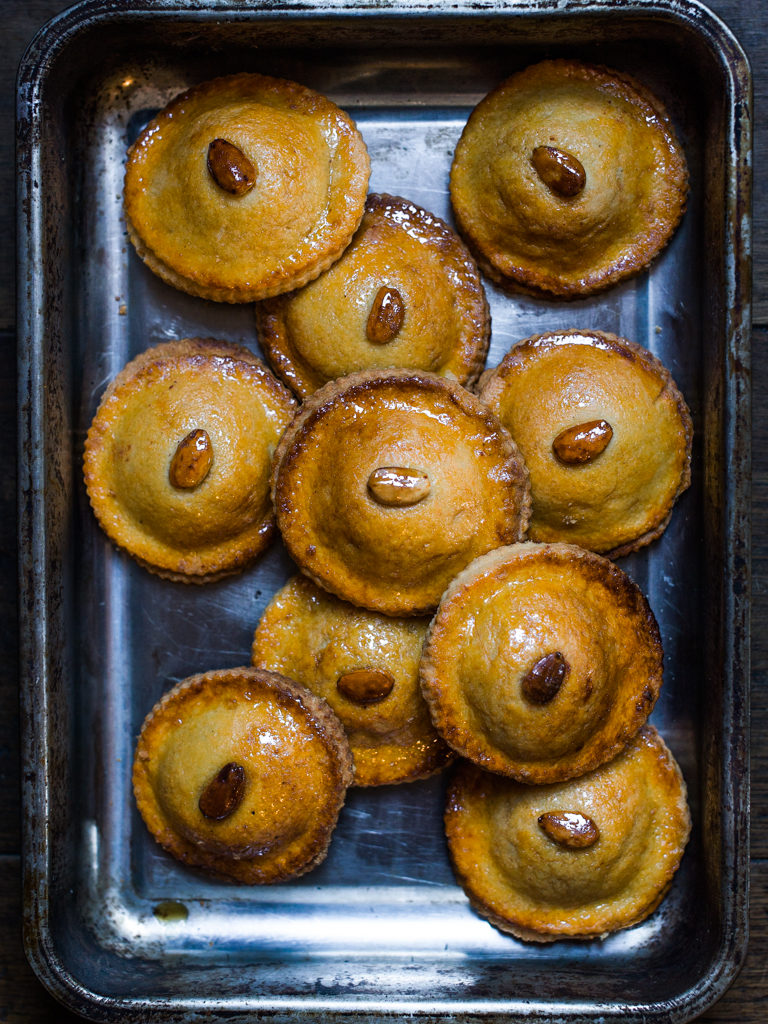 Voor 8 grotere of 12 kleinere koeken
INGREDIËNTEN
300 g bloem
200 g fijne gouden kristalsuiker
¼ tl zout
175 g plantaardige bakboter
1 zakje bourbon vanillesuiker
2-3 el + enkele tl water
100 g gemalen amandelen
geraspte schil van ½ citroen
optioneel: een paar druppels natuurlijk amandelextract
2 el stroop, gemengd met 2 el water
8-12 geblancheerde amandelen ter decoratie
INSTRUCTIES
Verwarm oven voor op 185 graden C.
Maak het deeg door bloem met 100 g van de suiker en het zout te mengen. Wrijf de boter erdoor met je vingertoppen. Voeg 2 el water toe en breng het deeg samen zonder echt te kneden. Indien te droog en kruimelig, voeg nog een of enkele el water toe tot consistentie soepel maar stevig is. Wikkel in huishoudfolie en laat even rusten in koelkast.
Maak ondertussen het amandelspijs door gemalen amandelen met de overige 100 g suiker, citroenrasp en eventueel enkele druppels natuurlijk amandelextract te mengen. Voeg 2 tl water toe en kneed tot een stevig deegje. Voeg indien nodig voorzichtig nog een klein beetje water toe. Zorg dat spijs niet te smeuïg of nattig wordt, een stevige spijs is beter.
Rol het deeg uit op licht bebloemd werkblad, tot enkele millimeters dikte. Steek er cirkels met een koeksteker van max 10 cm uit. Tel de circles. Maak half zoveel bolletjes van het amandelspijs, druk ze een beetje plat en verdeel over de helft van de deegcirkels, leg spijs in het midden. Maak randen van het deeg een klein beetje vochtig met water en leg de andere deegrondjes er op. Druk randen voorzichtig aan. Kwast een klein beetje van het stroopmengsel over de koeken. Druk een garneeramandel in het midden van elke koek. Bak ze op een met bakpapier beklede bakplaat in ca. 20 min. of tot goudbruin. Haal ze uit de oven en bestrijk meteen weer, terwijl ze nog gloeiend heet zijn, met het stroopmengsel voor een briljante glans. Even laten afkoelen en dan…lekker ouderwets smullen!