These steaks are super juicy and melt in the mouth. There's a slight but certain hint of umami in a melon, and by grilling or roasting it, the umami becomes more pronounced. Simple and good. Perfect for summer BBQ's too!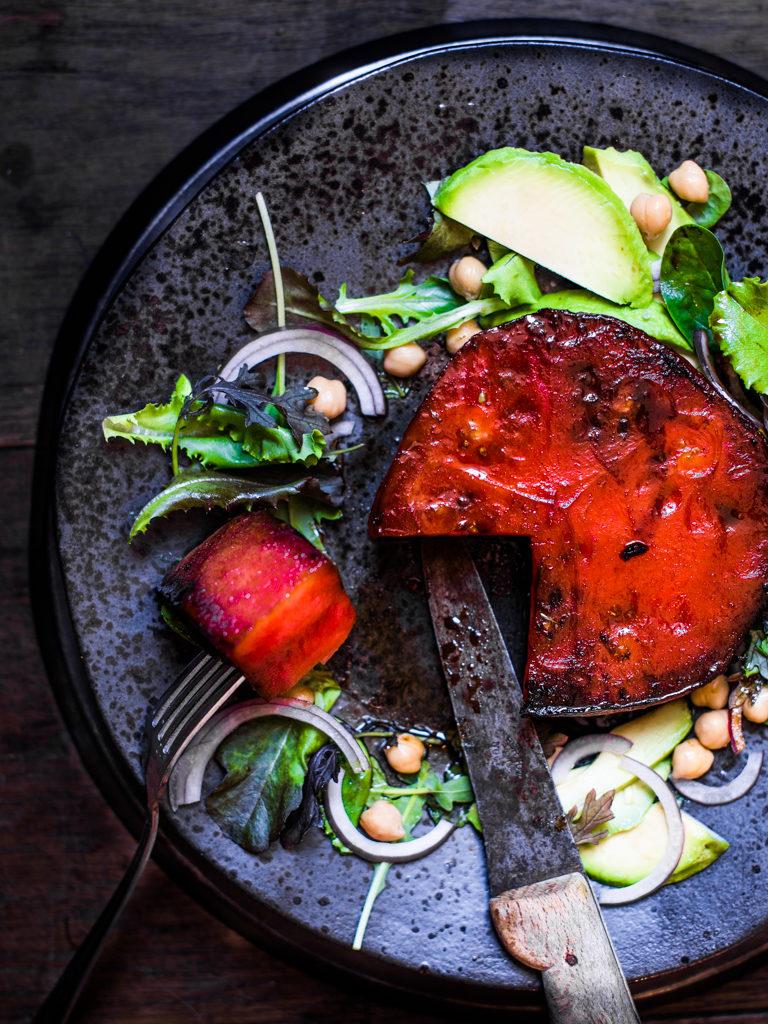 Serves 4
INGREDIENTS
1 tbsp soy sauce or shoyu
3 tbsp olive oil
3 tsp roasted sesame oil
3 tsp mustard
1 garlic clove, peeled and crushed
1 (medium or small) watermelon
1 small red onion, peeled and thinly sliced
1 tbsp lime juice
1 x can (400 g) chickpeas, rinsed and drained
1 avocado, in slices (peeled and pit removed)
1/3 cucumber, thinly sliced
1 big handful of mesclun (young salad leafs)
1 tsp agave nectar
1 tbsp toasted sesame seeds
black pepper and salt to taste

INSTRUCTIONS
Preheat the oven to 220 C/430 F.
Make a glaze out of the shoyu, 1 tbsp of olive oil, 1 tsp of sesame oil and 2 tsp of mustard. Mix together and add crushed garlic.
Cut two big and thick (ca. 1 inch/2,5 cm) slices out of the center of the watermelon and remove the peel. Heat a grill or frying pan on high heat.
When pan is hot, add 1 tbsp olive oil and 'sear' both sides of the watermelon steaks on high heat.
Line a baking tray with parchment paper and place the steaks on the tray. Brush both sides with the marinade. Place the tray in the oven for ca. 15-20 min. until the steaks are slightly compressed and charred and have gained a translucent deep red colour.
Mix red onion with lime juice (red union becomes bright pink this way and a bit more soft in flavour).
In large salad bowl, mix the chickpeas, slices of avocado and cucumber, and mesclun. Make a dressing by mixing 1 tsp of mustard, 1 tbsp of olive oil, 1 tsp of sesame oil, 1 tsp of agave nectar and the lime juice from the onion. Add this to the salad along with the red onion. Serve steaks with the salad and sprinkle some sesame seeds on top. Goes well with some slices roasted sourdough bread or fries.
---
SUCCULENT WATERMELON STEAKS
Deze steaks zijn super mals en sappig, en smelten in je mond. Er zit een bescheiden, maar zekere hint van umami in meloenen. Door ze te grillen of roosteren grijp je deze smaak bij de oren en maak je hem een hoofdrolspeler. Een simpel gerecht welke zich ook perfect leent voor een zomerse BBQ!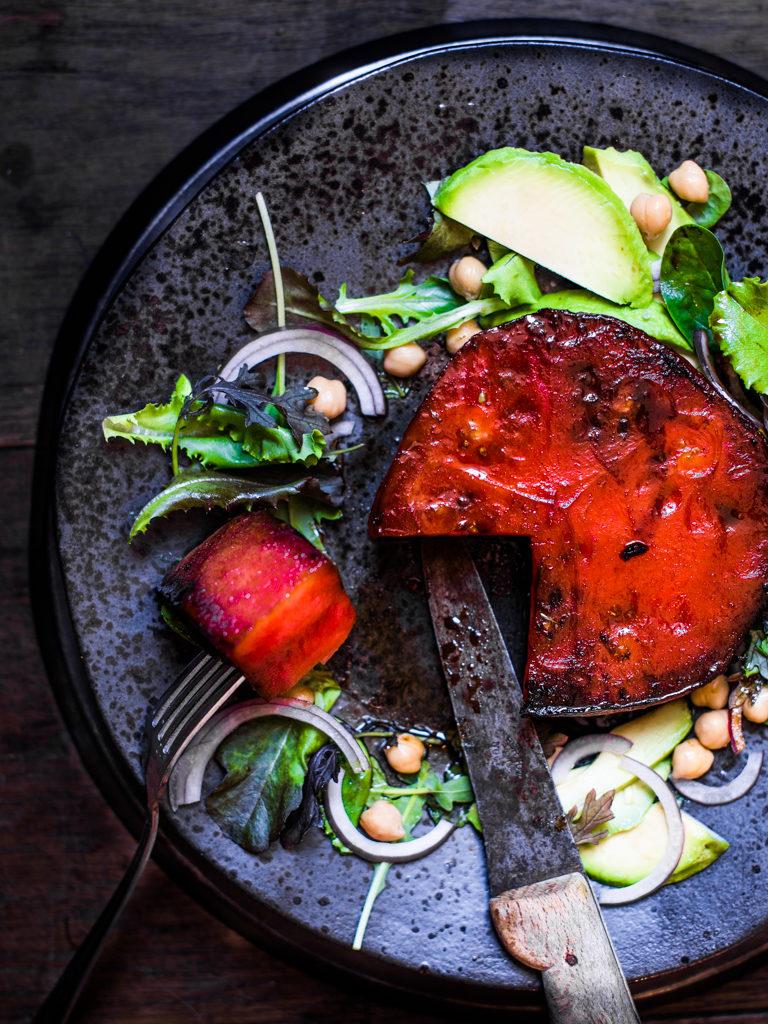 Voor 4 personen
INGREDIËNTEN
1 el sojasaus/shoyu
3 el olijfolie
3 el geroosterde sesamolie
3 tl mosterd
1 knoflook teen, gepeld en geplet
1 kleine tot middelgrote watermeloen
1 kleine rode ui, gepeld en in flinterdunne ringen
1 el limoensap
1 blik ( 400 g) kikkererwten
1 avocado, in reepjes (gepeld en ontpit)
1/3 komkommer, in dunne halve maantjes
1 grote handvol mesclun (jonge bladsla)
1 tl agavesiroop
1 el geroosterd sesamzaad
zwarte pepper en zout naar smaak
INSTRUCTIES
Verwarm de oven voor op 220 C.
Maak een marinade door de sojasaus te mengen met 1 el olijfolie, 1 tl sesamolie en 2 tl mosterd. Voeg de geplette knoflook toe.
Snijd 2 grote, dikke plakken uit het midden van de watermeloen (ca. 2,5 cm dik) en verwijder de schil.
Zet een grillpan of koekenpan op hoog vuur op op te warmen. Voeg wanneer de pan gloeiend heet is, 1 el olijfolie toe. Bak de watermeloen plakken aan beide zijden flink aan.
Bekleed vervolgens een bakplaat met bakpapier. Leg hier de gebakken watermeloen steaks op. Bestrijk beide zijden met de marinade. Zet de bakplaat ca. 15-20 min. in de oven tot de steaks een glanzende diep rode kleur hebben gekregen, en ze er wat geslonken en lekker 'charred' uitzien.
Meng de rode ui met limoensap en laat even staan.
Meng de kikkererwten met avocado, komkommer en mesclun. Maak een dressing door 1 tl mosterd, 1 el olijfolie, 1 tl sesamolie, agavesiroop en limoensap (waarin de ui gemarineerd heeft) te mengen. Giet dit bij de salade en voeg ook de rode ui toe. Serveer met de steaks en maak af met wat geroosterd sesamzaad. 
Lekker met een dikke snede geroosterd zuurdesembrood of patatjes.