Stuff a baguette with all kinds of delish toppings and create a show stopper for lunch! Slathered with smoky bell pepper hummus this luxurious bread is perfect for anyone who used to like pepperoni or just has a good old hearty appetite. The crunchy veggies make for an utterly delicious flavour and texture combination. Dare to stuff it in your face at once or be a nice chap and share.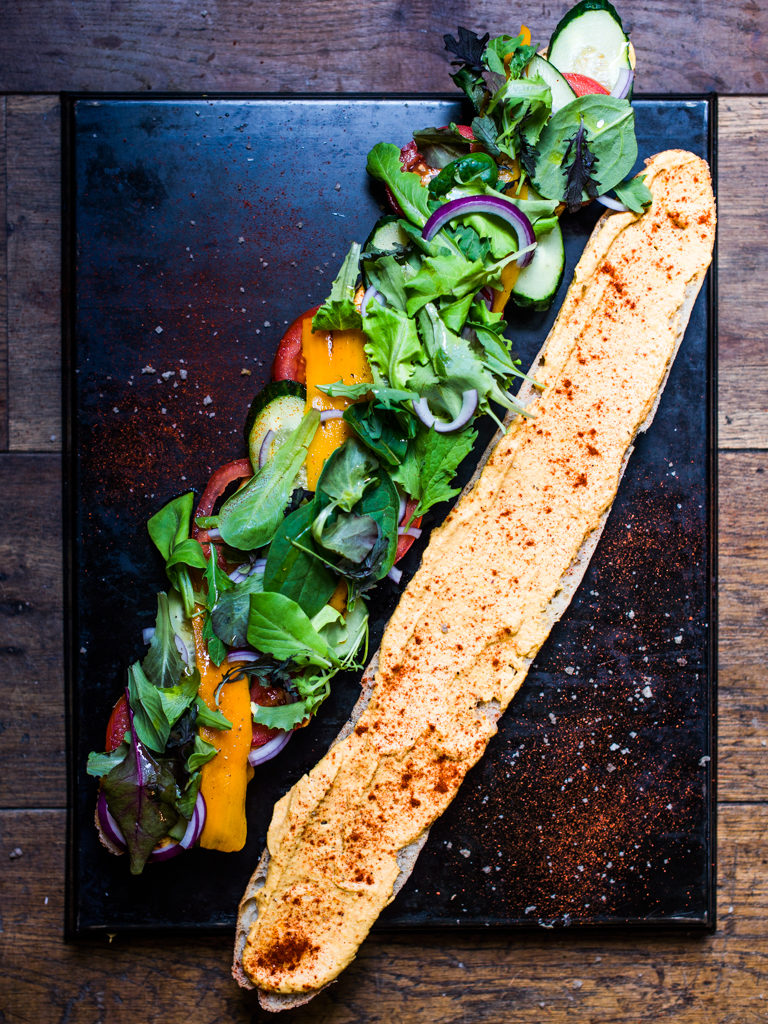 Serves 1-4
INGREDIENTS
1 can (400 g) chickpeas, rinsed and drained
3 roasted yellow or bell peppers from a jar (easy!) or home made, plus 2 for topping
1/2 cup tahini
1 tsp smoked paprika powder
2 garlic cloves, peeled
juice from 1 lemon
black pepper and salt to taste
ca. 1/4 cup water
1 super fresh sourdough baguette, sliced all the way through lengthwise
1/2 cucumber, sliced
2 tomatoes, sliced
1 small red onion, peeled and sliced
a few hands full of mesclun (baby leaf lettuce)
good quality olive oilINSTRUCTIONS
Puree chickpeas with bell peppers in food processor. Add tahini, smoked paprika, garlic, lemon juice and black pepper and salt (season quite heavily). Mix for a while until hummus becomes really smooth. Little by little, add some water, about 1/4 cup (a bit less or more might be needed), and let processor run. Mixture should be super creamy. Taste and season a bit more if needed.
Slather hummus on baguette and top with cucumber, tomatoes, leftover bell pepper, union and lettuce. Drizzle over some good quality olive oil and season generously with freshly cracked black pepper and some salt.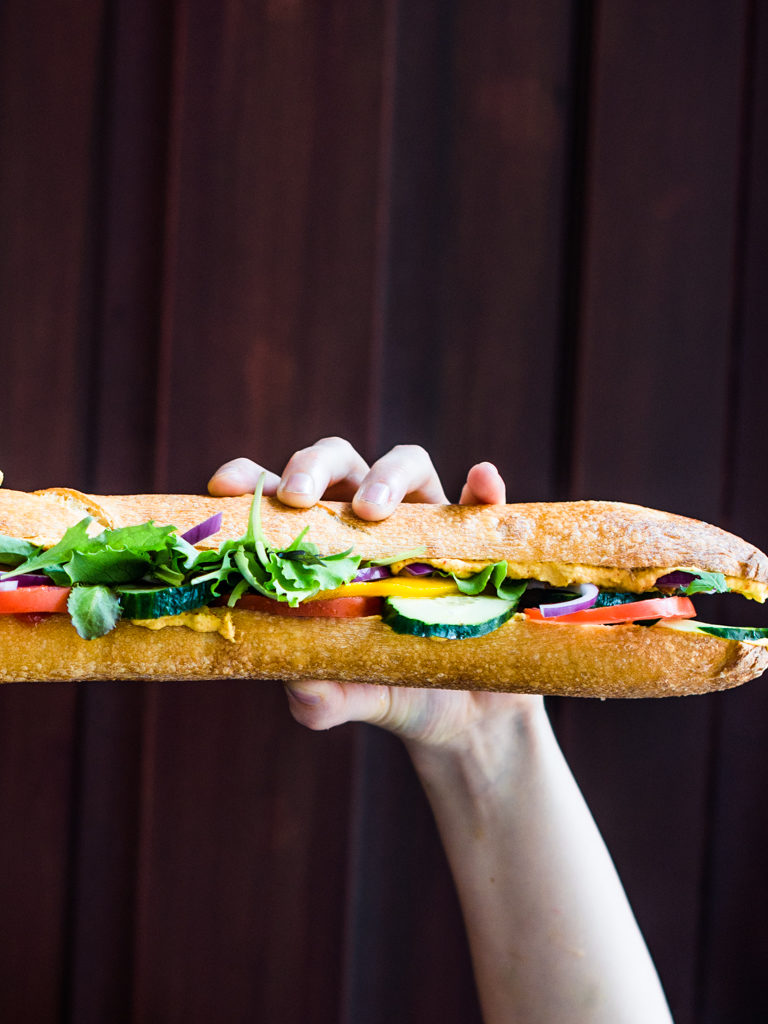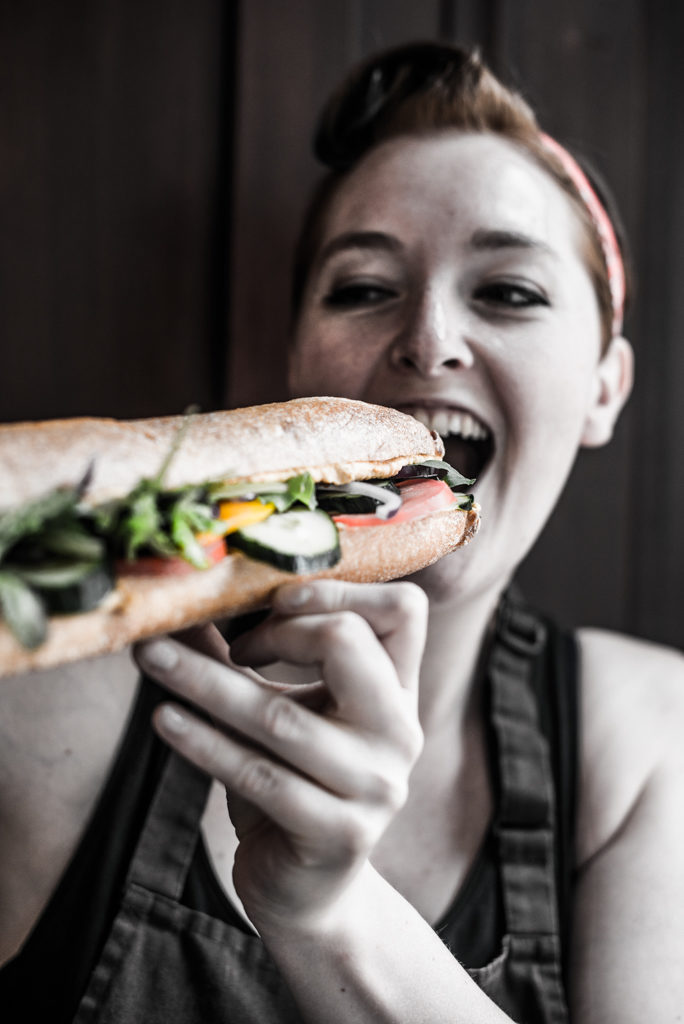 ---
XXL LUNCH BAGUETTE
Vul een baguette met allerlei lekkere toppings om zo een 'show stopper' voor de lunch te creëren! Deze versie met een heerlijk rokerige paprika hummus is perfect voor iedereen die van pepperoni hield of gewoon van eten met ballen houdt. De knapperige groenten zorgen voor een frisse noot en aangename textuur. Stop m zo in je mond als je durft of wees cool en deel.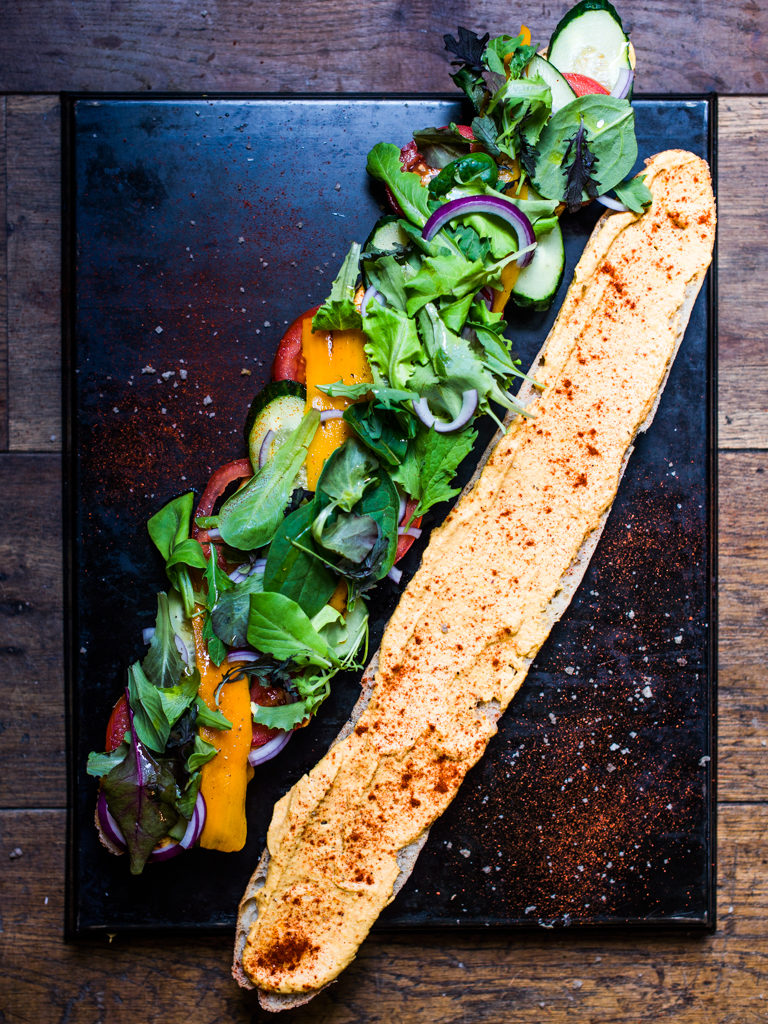 Voor 1-4 personen
INGREDIËNTEN
1 blik (400 g) kikkererwten, gespoeld en uitgelekt
3 gegrilde paprika's (uit pot is lekker makkelijk. Zelfgemaakt kan ook natuurlijk) plus 2 voor topping
1/2 cup (ca. 120 ml) tahini
1 tl gerookt paprikapoeder
2 tenen knoflook, gepeld
sap van 1 citroen
versgemalen zwarte peper en zout naar smaak
ca. 1/4 cup (60 ml) water
1 super vers desem stokbrood, helemaal opengesneden over de lengte
1/2 komkommer, in plakjes
2 tomaten, in plakjes
1 kleine rode ui, gepeld en in super dunne ringen
een paar handen mesclun (baby bladsla)
goede kwaliteit olijfolie
INSTRUCTIES
Pureer kikkererwten met 3 paprika's in een foodprocessor. Voeg tahini, gerookt paprikapoeder, knoflook, citroensap en lekker veel versgemalen zwarte peper en zout toe (wees niet te zunig). Mix tot hummus super glad is geworden. Voeg beetje bij beetje water toe terwijl de machine draait (wellicht iets meer of minder dan de aangegeven 60 ml). De textuur moet zo romig mogelijk zijn. Proef en kruid zo nodig bij. Smeer hummus op het stokbrood en beleg met komkommer, tomaat, overgebleven paprika, ui en sla. Druppel er goede olijfolie over en bestrooi royaal met versgemalen zwarte peper en wat zout.