This recipe is inspired by a "Dutch Baby", which is a sort of huge pancake, baked in a skillet. You can make it in a jiffy, and it's so convenient that you just have to make one large pancake instead of multiple little ones. It's satisfying, yet not overly fatty or sweet, so a perfect weekday dessert or luxurious brekkie!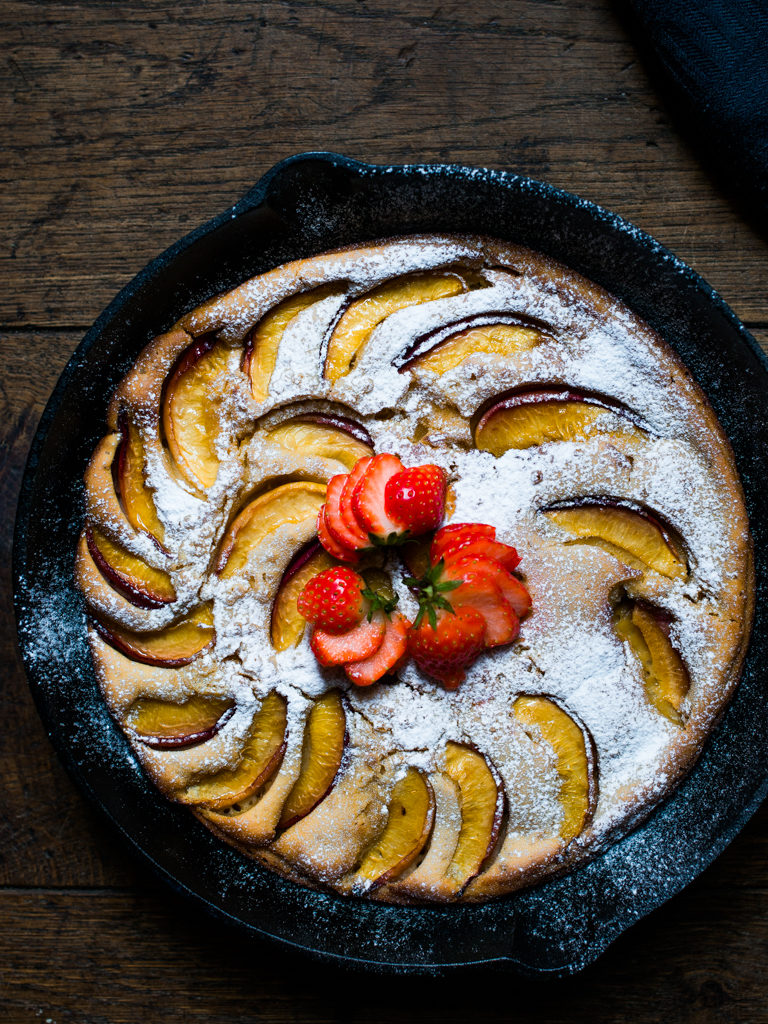 Serves 2-4
INGREDIENTS
1 cup flour
1/3 cup vegan cornstarch based custard powder, or just plain corn starch
1/4 cup almond flour
2 tsp baking powder
1/2 tsp baking soda
1/4 tsp fine sea salt
1 1/4 cup plant based milk (pick your favourite!)
2 tbsp agave syrup
1 tsp vanilla extract
4,5 tbsp vegan butter, melted
1 large nectarine or peach, pit removed and thinly sliced
3 tbsp almond shavings
powdered sugar
handful of strawberries
optional: vegan vanilla ice cream, whipped cream and syrup of choice
INSTRUCTIONS
Preheat oven to 200 ℃. Mix flour, starch, almond flour, baking powder, baking soda and salt in a large bowl. Add plant based milk, agave, vanilla and 3 tbsp of the melted butter. Whisk into a smooth batter. Put skillet or other kind of ovenproof frying pan on stove, medium heat. When pan is hot, put fire low. Add the other 1,5 tbsp butter to the pan. Pour batter into the pan, let edges set a bit before adding slices of peach on top. Sprinkle almonds on top. Put skillet into the oven and bake for ca. 15 min., or until a skewer inserted in the middle comes out clean. Remove from oven, dust the pan cake with icing sugar and serve with fresh strawberries. Make it even more festive by adding a scoop of vegan vanilla ice cream or whipped cream and a drizzle of your favourite syrup.
---
BEESTACHTIGE KOEK IN DE PAN

Dit recept is geïnspireerd op de "Dutch Baby", een soort enorme pannenkoek in een skillet gebakken. Je kan hem in een handomdraai maken en het is zo makkelijk dat je maar 1 groot exemplaar hoeft te maken ipv allerlei kleine pannenkoeken. Het is een goede vuller, maar omdat hij niet te zoet of vettig is kun je hem prima als doordeweeks toetje serveren, of als luxe ontbijt item.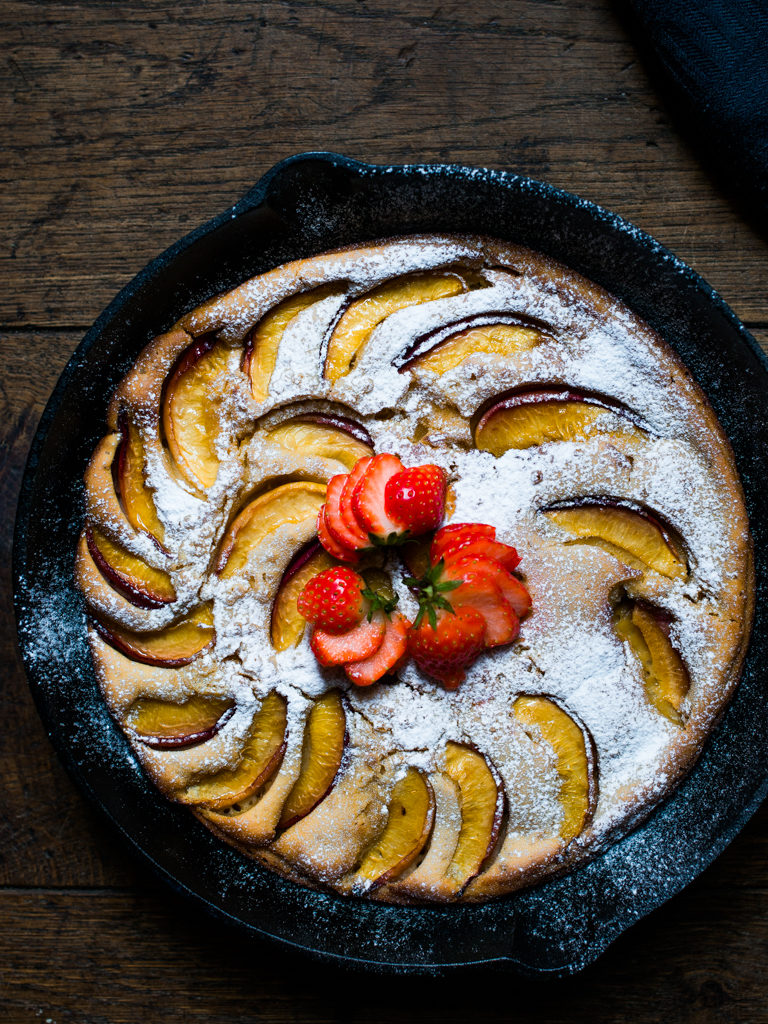 Voor 2-4 personen
INGREDIËNTEN
160 g bloem
40 g custardpoeder of maiszetmeel
25 g amandelmeel
2 tl bakpoeder
1/2 tl baking soda
1/4 tl fijn zeezout
1 zakje bourbon vanillesuiker
300 ml plantaardige melk naar keuze
2 el agave siroop
4,5 el plantaardige boter, gesmolten
1 grote perzik of nectarine, ontpit en in dunne partjes
3 el amandelschaafsel
hand vol aardbeien
poedersuiker
optioneel: siroop naar keuze, vegan slagroom of een bolletje vegan vanille ijs
INSTRUCTIES
Verwarm oven voor op 200 ℃. Meng bloem, custardpoeder, amandelmeel, bakpoeder, baking soda, zout en vanillesuiker in een ruime kom. Voeg melk, agave en 3 el van de gesmolten boter toe. Maak een glad beslag met een garde. Zet skillet of andersoortige ovenvaste koekenpan op middelhoog vuur op het fornuis. Zet het vuur laag zodra de pan warm is, voeg de 1,5 el overgebleven boter toe aan de pan en spreid uit. Giet het beslag in de warme pan en laat op laag vuur staan tot de randen een beetje beginnen te stollen. Verdeel plakjes nectarine over het beslag en sprenkel amandelschaafsel erover. Zet de pan voor ca. 15 min. in de oven, of tot een prikker schoon uit het midden van het baksel komt. Haal de pan uit de oven, besneeuw de pannenkoek met poedersuiker en serveer met verse aardbeien. Maak het gerecht nog feestelijker door er wat siroop en/of vegan slagroom of vanille ijs bij te serveren.