Eggplant is one of the most served veggies for vegetarians and vegans in restaurants. Amazingly enough though it is also one of the most misunderstood and poorly prepared vegetables. This should not be the case. Eggplant is a beastly veggie with a bizarre flavour and texture potential. You just have to know how to handle it. Hence this recipe. Especially for the former fish lovers, this is probably a very special taste experience. You can give the eggplant a surprisingly sea-ish taste by smoking it. The silky smooth structure of eggplant in combination with the smoky flavour makes this an amazing delicacy. Serve on toasted sourdough bread with arugula, avocado and vegan mayo.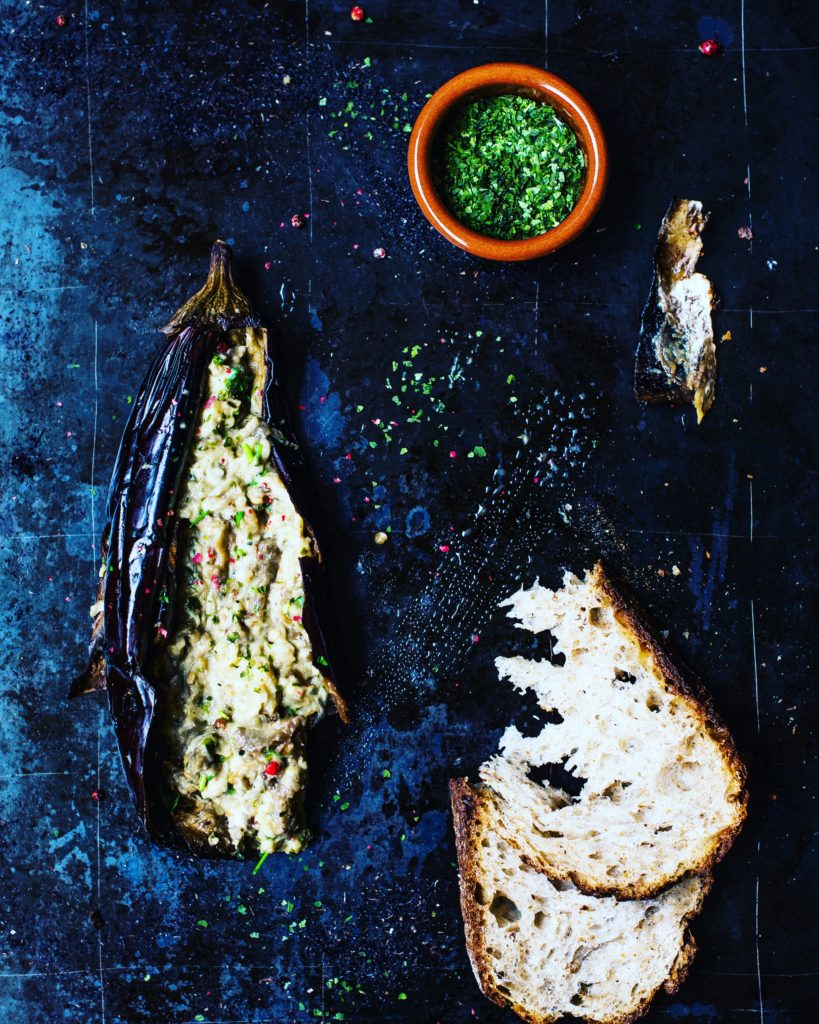 Serves 4
INGREDIENTS
2 eggplants
black pepper and salt to taste
2 tbsp vegan mayo (store bought or home made – this is very easy to make, Google is your friend!)
1/2 tsp garlic powder
some sprigs of parsley or dill, finely chopped
dried seaweed flakes to taste (sea lettuce, dulse or kombu)
smoking tray + smoker chips*
INSTRUCTIONS
Preheat the oven to the highest possible temperature (approx. 250 C/485 C). Wash the eggplants and pierce a few holes with a skewer or small knife. Roast the eggplants on a wire rack for about 30 min. until the skin is completely scalded and crispy. You won't eat this, so make it real black. Remove the eggplants from the oven and cut them in halves, lengthwise. Prepare the smoker. Smoke the eggplants in approx. 10 min.. Turn off the heat under the smoking tray and let simmer for another 5 min.. Remove the eggplants from the smoking tray. Scoop the flesh out of the skin with a spoon. Pull the stringy flesh with two forks apart, but not too much. A little texture is nice. Mix the mayo with the flesh and season with salt, pepper and garlic powder. Garnish with parsley or dill and some dried seaweed.
*Smoking tray
Smoking trays are easily available at cookery stores or online. It is a kind of baking tray in which you can smoke products with wood chips on the fire or on your stove. It is very easy to use and you can give your veggies a fantastic taste.
---
FISHY EGGPLANT

Aubergine is een van de meest geserveerde groente voor vega's en vegans in restaurants. Wonderlijk, want het is ook een van de meest misbegrepen en beroerd bereidde groentes. Dat kan anders. Aubergine is een beest van een groente met bizarre smaak en textuur potentie. Je moet het alleen even weten aan te pakken. Vandaar dit recept. Vooral voor de voormalige visliefhebbers is dit waarschijnlijk een heel bijzondere smaakervaring. Je kunt aubergine in een verrassend zeeïg jasje steken door het te roken. De zijdezachte structuur van aubergine in combinatie met de rooksmaak maakt een zalige delicatesse. Lekker op geroosterd zuurdesem brood met rucola, avocado en vegan mayo.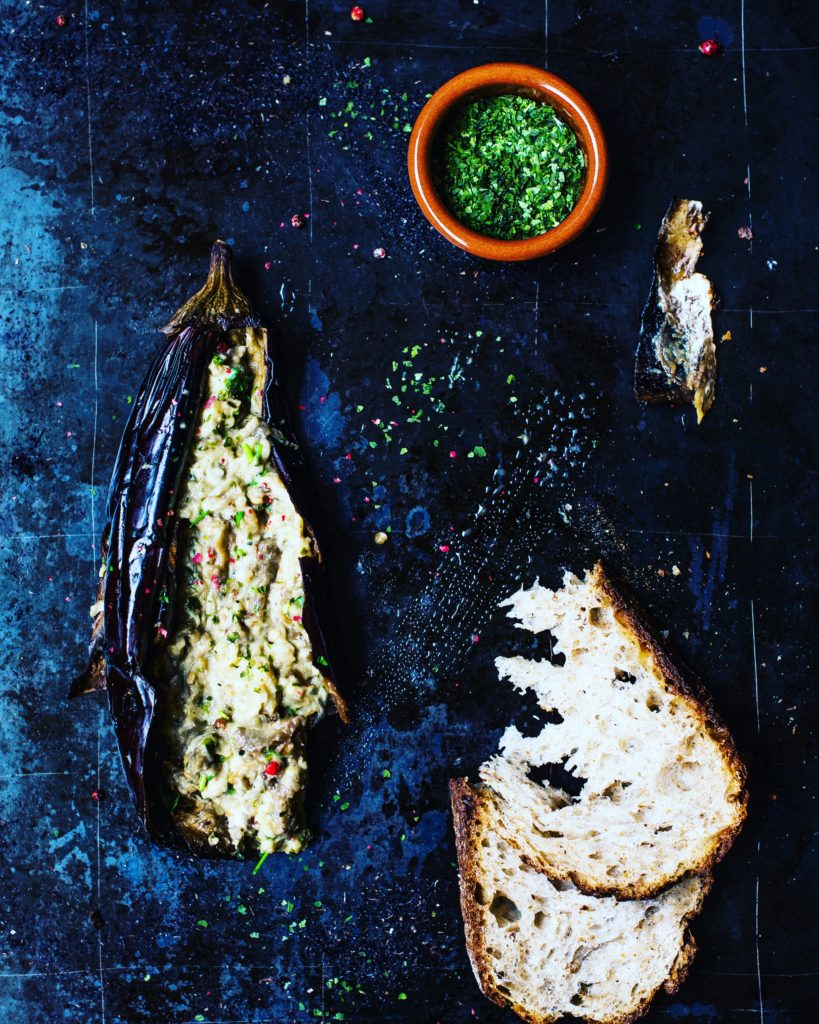 Voor 4 personen
INGREDIËNTEN
2 aubergines
versgemalen peper en zout naar smaak
2 el vegan mayo (Jean Baton, Remia Mayolijn, natuurvoedingswinkels of maak 'm eenvoudig zelf! —> Google is your friend)
1/2 tl knoflookpoeder
enkele takjes vers gehakte peterselie of dille
gedroogde zeewiersnippers naar smaak (zeesla, dulse of kombu)
rookoven met rookmot*
INSTRUCTIES
Verwarm de oven voor op de hoogst mogelijke temperatuur (ca. 250 graden). Was de aubergines en prik er enkele gaatjes in met een prikker of klein mesje. Rooster de aubergines in ca. 30 minuten op een rooster tot het vel helemaal geblakerd en knapperig is. Je eet dit niet op, dus het mag zwart zijn. Haal de aubergines vervolgens uit de oven en halveer ze in de lengte. Bereid de rookoven voor. Rook de aubergines in ca. 10 minuten. Draai het vuur onder de rookoven uit en laat nog 5 minuten koud naroken. Haal de aubergines uit de rookoven. Schep met een lepel het vruchtvlees uit de schil. Trek het draderige vruchtvlees met twee vorken een beetje uit elkaar, maar niet te veel. Een beetje textuur is lekker. Meng de mayo door het vruchtvlees en breng op smaak met peper en zout, en het knoflookpoeder. Garneer met peterselie of dille en wat gedroogde zeewiersnippers.
*
Rookoven

Rookovens zijn eenvoudig verkrijgbaar bij kookwinkels of online. Het is een soort baktray waarin je op het vuur of je kookplaat producten kunt roken met houtsnippers. Het is heel makkelijk in gebruik en je kunt je groente er een fantastische smaak meegeven.*Dit recept maakten wij in opdracht voor
Purple Pride