Here ya go, the secret to a good bean burger: do not take canned beans but use dried beans that you soak overnight and process the next day into burger meat. You will be amazed how meaty the texture of the burger will be! We created this recipe especially for Oxfam Novib.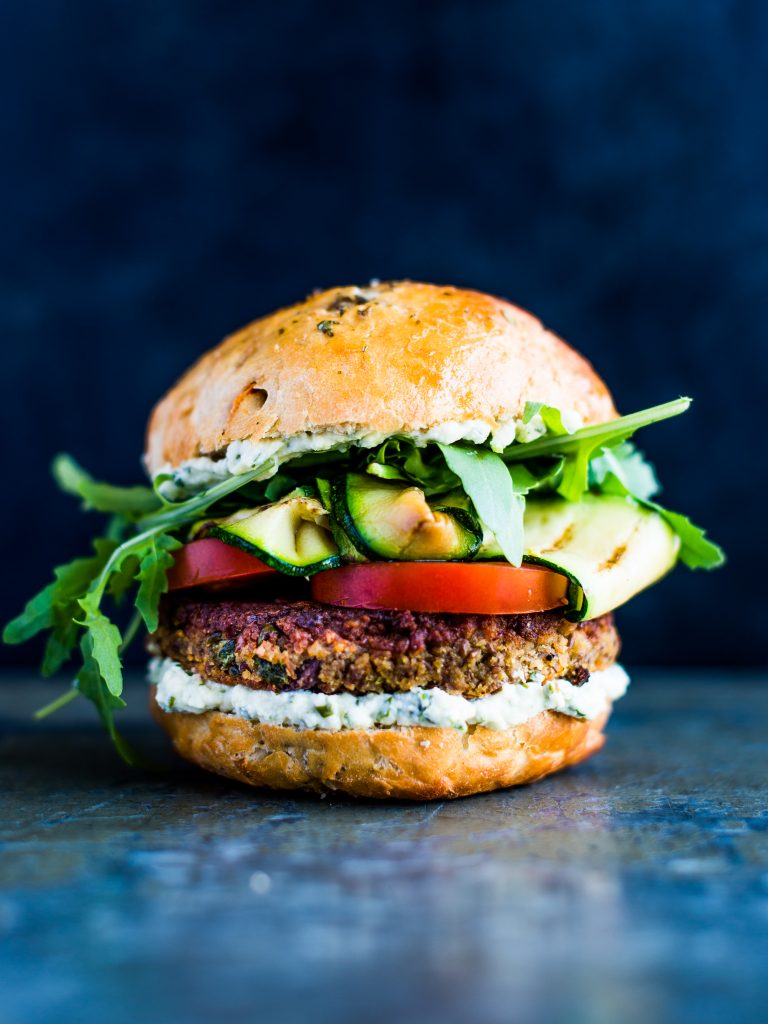 Serves 5-6
INGREDIENTS
Paddies
250 g dried capucijners (pea) from a bag (not canned!)
1 medium onion, peeled and in coarse pieces
2 garlic cloves, peeled
5 tbsp soy sauce or shoyu
10 tbsp of water
3 tbsp olive oil
1/4 bulb grated nutmeg
a lot of freshly ground black pepper
1/2 tsp of oregano
3 tbsp chickpea flour
2.50 oz semi-dry tomatoes cut into strips
2.50 oz kalamata olives, pitted and coarsely chopped
1/2 bunch of basil, coarsely chopped
oil for baking
Basil mayo
4 tbsp vegan mayonnaise
2 tbsp thick soy quark
1/2 bunch of basil, finely chopped
For the sandwiches
1 zucchini
1 tbsp olive oil
1 clove of garlic, peeled and crushed
pepper and salt
2-3 tomatoes, thinly sliced
5 to 6 vegan buns
arugula
PREPARATION
Paddies
Start the evening before. Soak the capucijners in a lot of water overnight. Drain the next day and rinse. Transfer them to a food processor or powerful blender. Add onion, garlic, shoyu, water, oil, nutmeg, pepper and oregano. Puree until the mixture is finely ground. Then stir in the chickpea flour, tomatoes, olives and basil (do not puree). Heat a layer of oil in the frying pan. Divide the mixture into 5 to 6 portions. Fry the burgers over medium heat on both sides (use frying rings so they stay in shape), and give them some time to cook perfectly; about 10 minutes per side.
Basil mayo
Mix all ingredients in a bowl.
Formatting sandwiches
Wash the zucchini and cut lengthwise into very thin strips, for example with a cheese slicer, mandolin or razor-sharp chef's knife. Put the strips in a large bowl and add olive oil, crushed garlic cloves and salt and pepper. Mix briefly. Heat a grill pan over high heat. Grill the zucchini on both sides until those grill stripes appear. Cut the bread rolls open and spread the sauce over all halves. Place the burgers on the bottom and garnish with slices of tomato, the grilled zucchini and some arugula. Put the cap on and serve.
---
Meaty Bean Burger
Bam! Hierbij het geheim voor een goede bonenburger: neem geen gare bonen uit blik maar gebruik gedroogde bonen die je een dag of nacht weekt en de volgende dag verwerkt tot burger vlees. Je zult versteld staan hoe diep van smaak en vlezig deze burger is! We creëerden dit recept speciaal voor Oxfam Novib!
Voor 5-6 personen
INGREDIENTEN
Paddies
250 g gedroogde kapucijners uit een zak (dus niet uit blik!)
1 middelgrote ui, gepeld en in grove stukken
2 tenen knoflook, gepeld
5 el shoyu
10 el water
3 el olijfolie
1/4 bol geraspte nootmuskaat
veel versgemalen zwarte peper
1/2 tl oregano
3 el kikkererwtenmeel
75 g semi-droge tomaten, in repen gesneden
75 g kalamata olijven, onpit en grof gehakt
1/2 bosje basilicum, grof gehakt
olie om in te bakken
Basilicum mayo
4 el vegan mayonaise
2 el dikke sojakwark
1/2 bosje basilicum, fijngehakt
Opmaak broodjes
1 courgette
1 el olijfolie
1 teen knoflook, gepeld en geplet
peper en zout
2-3 tomaten, in plakken
5 à 6 vegan broodjes, bijvoorbeeld Italiaanse bollen
rucola
BEREIDING
Paddies
Begin een ochtend, of nog beter, avond van tevoren. Week de kapucijners in veel water de hele dag of nacht. Giet ze na het weken af, en spoel af. Doe ze over in een keukenmachine, foodprocessor of krachtige blender. Voeg ook ui, knoflook, shoyu, water, olie, nootmuskaat, peper en oregano toe. Pureer tot de kapucijners helemaal fijngemalen zijn. Roer vervolgens het kikkererwtenmeel, zontomaten, olijven en basilicum door het mengsel (dus niet mee pureren). Verhit een laagje olie van enkele millimeters in een koekenpan. Verdeel het mengsel in 5 à 6 porties en schep deze in kookringen of hittebestendige koekstekers in de pan om perfect ronde burgers te maken. Bak de burgers op middelhoog vuur aan beide zijden, en geef ze ruimschoots de tijd om perfect gaar te worden; ca. 10 minuten per zijde.
Basilicum mayo
Meng alle ingrediënten in een kom.
Opmaak broodjes
Was de courgette en schaaf deze in de lengte in heel dunne repen, met een kaasschaaf, mandoline of vlijmscherp koksmes bijvoorbeeld. Doe de repen in een ruime kom en voeg de olijfolie, geplette teen knoflook en peper en zout toe. Meng kort door. Verhit een grillpan op hoog vuur. Grill de courgette aan beide zijden tot er mooie grillstrepen ontstaan. Snijd de tomaten in dunne plakken.
Snijd de broodjes open en verdeel de saus over alle helften. Leg de burgers op de onderkanten en garneer met schijfjes tomaat, de gegrilde courgettelinten en een pluk rucola. Zet het kapje erop en serveer de burgers uit.