Broccoli is full of intense and savory flavors. With some simple actions, you can ultimately enjoy its potential and rock your taste buds. We created this recipe especially for Oxfam Novib.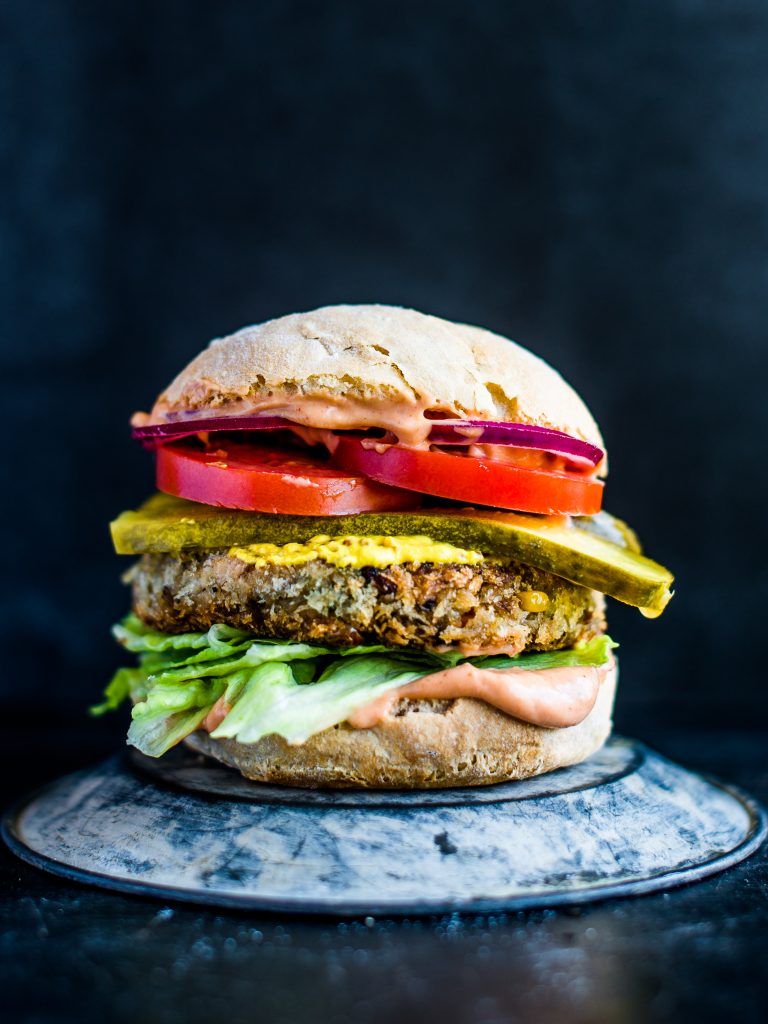 Serves 5-6
INGREDIENTS
Paddies
8.80 oz broccoli
1/2 corn cob, or 75 g of canned corn
2.65 oz carrot
4 tbsp (rice) oil
1 onion, peeled and chopped
5 tbsp flour (about 1.75 oz), + 3.50 oz for breading
1 cup strong vegetable stock
1 clove of garlic, peeled and finely chopped
1 tsp dried dill or 2 tbsp finely chopped fresh dill
1/4 bulb freshly grated nutmeg
salt to taste and a lot of freshly ground pepper
0.5 cup water
2.65 oz panko or breadcrumbs
Sauce
3 tbsp vegan mayonnaise
3 tbsp ketchup
2 tsp cognac or whiskey
For the sandwiches
5 to 6 vegan burger rolls
5 tsp mustard
2 tomatoes, cut into thin slices
1 jar of pickles
a few leaves of a head of iceberg lettuce
PREPARATION
Paddies
Cut the broccoli roses from the stem and cut stem into fine cubes (brunoise). Make sure that the roses and cubes do not exceed 0.5 mm. Use a sharp knife to cut the corn kernels from the flask, or use 2.65 oz of properly rinsed and drained corn from a can. Also cut the carrot into fine cubes. Heat 2 tbsp of the oil in a large frying pan over a high heat. Put the broccoli, corn, carrot and onion in the pan and fry the vegetables, until they start to brown (the caramelized brown pieces will give a lot of flavor!). Add the remaining 2 tbsp of oil and the 5 tbsp flour, and fry this with the vegetables. Add the vegetable stock and stir well. The mixture will now start to bind. Add garlic, dill, nutmeg and salt and pepper to taste. Then allow the mixture to cool completely.
Meanwhile, prepare the following: 1 deep plate with 1.75 oz of flour, 1 deep plate with a mixture of 1.75 oz flour and 0.5 cup water and 1 deep plate with breadcrumbs or panko.
Powder your hands with some flour. Divide the cooled vegetable mixture into 5 to 6 portions and form paddies with your hands. First take the paddies through the flour, then through the flower/water mixture and finally through the breadcrumbs. Rinse your hands after breading each paddy. Heat a layer of oil in a frying pan. Fry the broccoli burgers on both sides until golden brown and crispy. Let them drain on some paper towels after baking.
Sauce
Mix all ingredients together.
For the sandwiches
Cut the burger rolls in half. Divide the sauce over all halves. Put the paddies on the bottom. Apply 1 tsp mustard to each burger. Then garnish with slices of tomato, a few slices of gherkin and a lettuce leaf. Put the caps on the burgers and serve.
---
Brutal Brocco Burger
Broccoli zit vol met intense en hartige smaken. Met wat simpele handelingen haal je deze smaak flink op en rockt hij je smaakpapillen. Helemaal als je hem verwerkt in deze heerlijke kroket-achtige burger! We creëerden dit recept speciaal voor Oxfam Novib!
Voor 5-6 personen
INGREDIENTEN
Paddies
250 g broccoli
1/2 maiskolf, of 75 g mais uit blik
75 g wortel
4 el (rijst)olie
1 ui, gepeld en gesnipperd
5 el bloem (ca. 50 g), + 100 g voor het paneren
250 ml sterke groentebouillon
1 teen knoflook, gepeld en fijngehakt
1 tl gedroogde dille of 2 el fijngehakte verse dille
1/4 bol versgeraspte nootmuskaat
zout naar smaak en veel versgemalen peper
120 ml water
75 g panko of paneermeel
Saus
3 el vegan mayonaise
3 el ketchup
2 tl cognac of whisky
Opmaak broodjes
5 à 6 vegan burgerbroodjes
5 tl mosterd
2 tomaten, in dunne plakken gesneden
1 pot augurkenrepen
een paar mooie bladeren van een krop ijsbergsla
BEREIDING
Paddies
Snijd zo fijn mogelijke roosjes van de broccoli en snijd de stelen in fijne blokjes (brunoise). Zorg ervoor dat de roosjes en blokjes niet groter zijn dan 0,5 mm. Snijd met een scherp mes de maïskorrels van de kolf, of gebruik 75 g goed afgespoelde en uitgelekte mais uit een blikje. Snijd de wortels ook in fijne blokjes. Verhit 2 el van de olie in een grote koekenpan op hoog vuur. Doe de broccoli, mais, wortel en ui in de pan en bak de groentes flink aan, tot ze beginnen te bruinen (de gekarameliseerde bruine stukjes geven veel smaak!). Voeg de overige 2 el olie toe en het bloem, en bak dit even mee met de groentes. Blus af met de groentebouillon en roer goed door. Het mengsel zal nu gaan binden. Voeg knoflook, dille, nootmuskaat en zout en peper naar smaak toe. Laat het mengsel vervolgens volledig afkoelen.
Zet ondertussen een paneerstraatje klaar: 1 diep bord met 50 g bloem, 1 diep bord met een mengsel van 50 g bloem en 120 ml water en 1 diep bord met paneermeel of panko.
Bepoeder je handen met wat bloem. Verdeel de afgekoelde groenteragout in 5 à 6 porties en vorm er schijven van. Haal de schijven eerst door het bloem, vervolgens door het bloempapje en als laatste door het paneermeel. Spoel je handen af na het paneren van elke schijf.
Verhit een laag olie in een koekenpan. Bak de broccoliburgers aan beide zijden goudbruin en knapperig. Laat ze na het bakken uitlekken op wat keukenpapier.
Saus
Meng alle ingrediënten door elkaar.
Opmaak broodjes
Snijd de burgerbroodjes doormidden. Verdeel de saus over alle helften. Leg de burgers op de onderste helften. Breng op elke burger 1 theelepel mosterd aan. Garneer vervolgens met plakjes tomaat, een paar plakken augurk en een slablad. Zet de kapjes op de burgers en serveer ze uit.