CBD oil is hot AF and so is this noodle bowl! The flavours are green, bright and powerful. By steeping hemp leafs into the broth, this dish gains superpowers.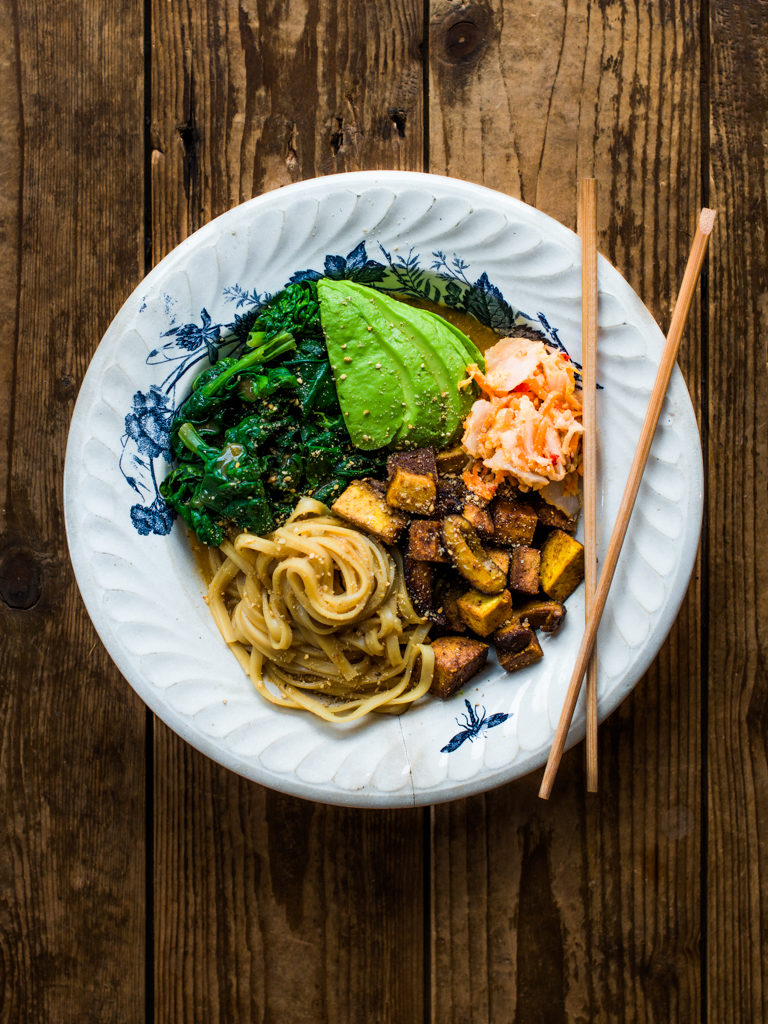 Serves 2
INGREDIENTS
3 tbsp pure hemp leafs or 2 sachets hemp tea (we use Dutch Harvest Hemp Tea)
500 ml water, recently boiled
2-3 tbsp white or light brown miso (adjust to taste)
100 g soba noodles
150 g tofu, cut into small cubes
100 g shiitake mushrooms, diced
4 tbsp oil
¼ tsp curry powder
1 tbsp soy sauce or shoyu
300 g spinach, washed
1 garlic clove, peeled and finely chopped
salt and black pepper
½ avocado, peeled
4 tbsp kimchi
optional: gomashio
INSTRUCTIONS
Steep hemp leafs in hot water for ca. 10 minutes. Strain and put into a pan. Dissolve miso into the hemp infusion and reheat, but keep temperature just under boiling point. Add noodles and simmer according to the time on the package. In the meantime fry tofu and shiitake in 3 tbsp of oil until they start to crispen. When tofu and shiitake look nice and slightly browned add curry powder, 1 tbsp water and 1 tbsp shoyu. Immediately turn off heat and transfer to a plate. Wipe pan clean and add 1 tbsp oil. Fry spinach until just cooked, add garlic, season to taste with salt and black pepper and switch off heat.  Put noodles into a bowl. Arrange tofu, shiitake, spinach, avocado and kimchi around the noodles and pour with the left over hemp broth. Sprinkle with gomashio.
---
HEMP BROTH NOODLES
CBD, yay! Deze geneeskrachtige stof uit de hennepplant vergaart steeds meer populariteit. Hoog tijd voor een mooi recept met deze groene vriend. In dit gerecht is hennepblad getrokken in een mooie misobouillon. Dat maakt het niet alleen een heel gezond en powerful bord eten, het smaakt ook nog eens fantastisch diep, groen en kruidig.  Meer weten over CBD en hennep? Zie hier.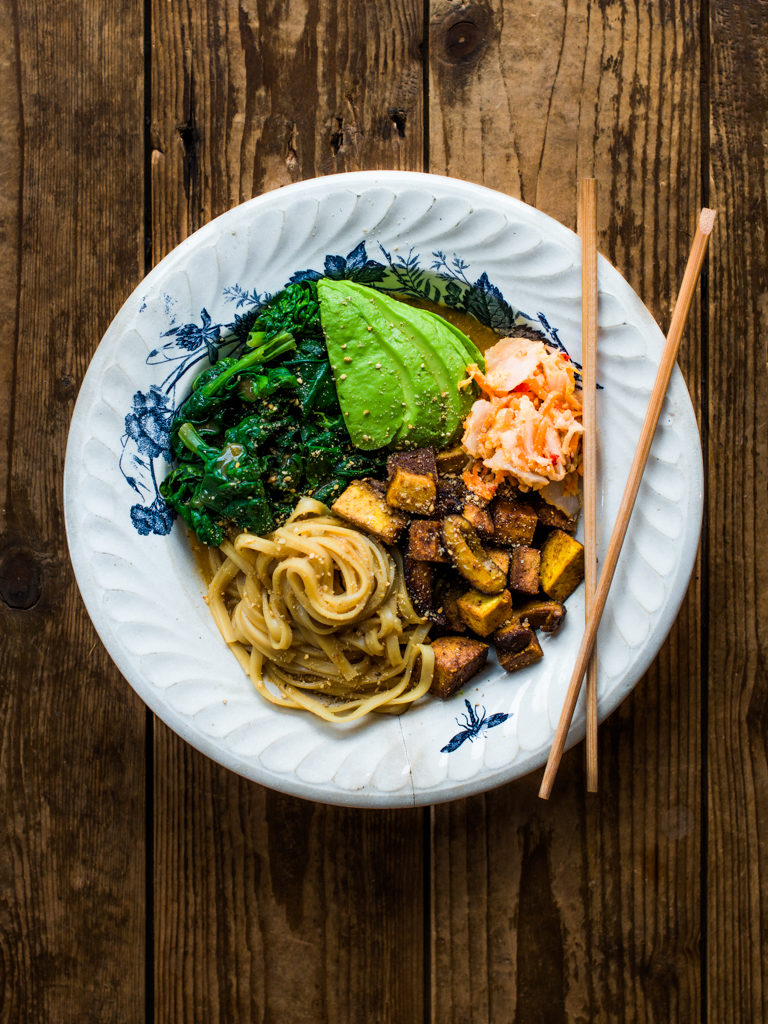 Voor 2 personen
INGREDIËNTEN
3 el hennepblad of 2 zakjes hennepthee (zonder extra kruiden en aroma's, wij gebruiken Dutch Harvest Hemp Tea)
500 ml vers gekookt water
2-3 el witte of lichtbruine miso, naar smaak
100 g soba of Cha soba noedels
150 g tofu, in kleine blokjes
100 g shiitake, in plakjes
4 el olie
¼ tl kerriepoeder
1 el sojasaus or shoyu
300 g spinazie, gewassen
1 teen knoflook, gepeld
zout en zwarte peper
½ avocado, gepeld en in plakjes
4 el kimchi
optioneel: gomashio
INSTRUCTIES
Maak een infusie van het hennepblad met het water en laat 10 minuten trekken. Zeef en doe de infusie in een pan. Voeg de miso toe (2 of 3 el naar smaak en naar gelang de sterkte van de miso) en verhit weer tot net onder de kook. Voeg noedels toe en houd de kooktijd van de verpakking aan. Bak ondertussen in 3 el olie de tofu en shiitake tot krokant en goudbruin. Voeg kerriepoeder toe en bak kort mee. Voeg vervolgens 1 el water en 1 el sojasaus toe, draai vuur meteen uit. Doe over op een bord. Maak de pan schoon en zet weer op vuur met 1 el olie. Bak de spinazie tot net geslonken, voeg de knoflook toe, breng op smaak met zout en peper en draai het vuur uit. Doe de noedels in een kom. Arrangeer de tofu, shiitakes, avocado, kimchi en spinazie om de noedels heen en overgiet met de noedel-hennep bouillon. Maak eventueel af met wat gomashio.