These scones are perfect as a luxurious weekend breakfast or as snack with a piping hot cuppa. Figs and nuts go so well with the rustic flavour and texture of rye flour. These babies are just a little bit more edgy, rich and saturating than plain classic scones. They are best served warm, slathered with some good quality vegan butter, and maybe a dollop of apricot, orange or fig jam.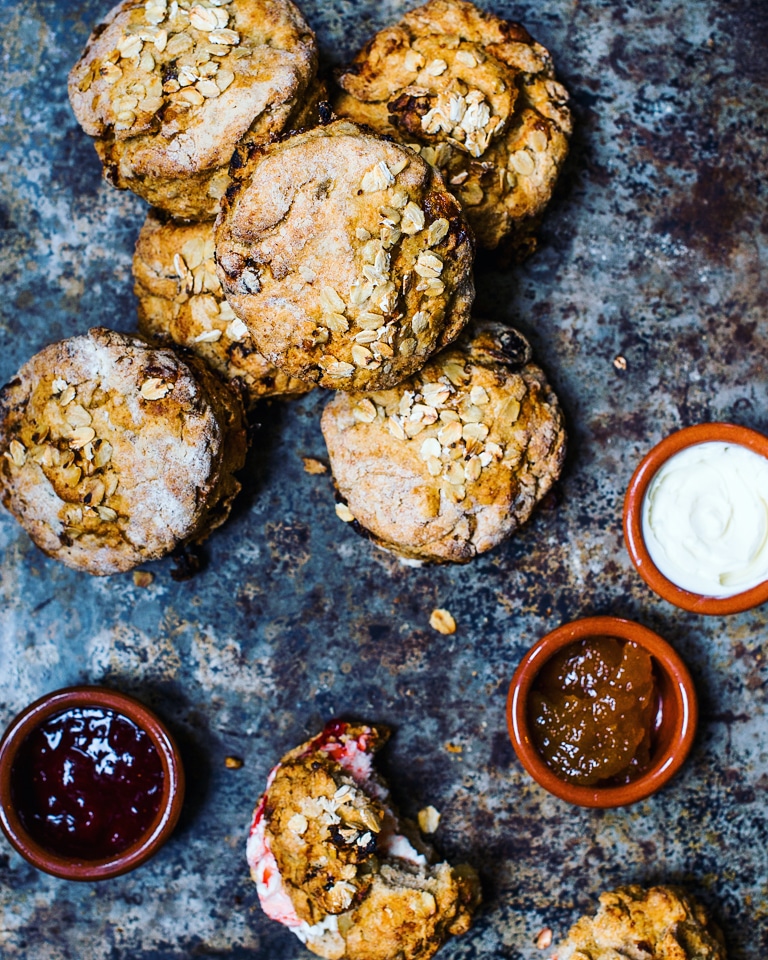 Serves 8 big scones
INGREDIENTS
150 g whole rye flour
300 g all purpose wheat flour
2,5 tsp baking powder
1 tsp salt
125 g plant based butter for baking, cubed and as cold as possible
4 tbsp maple syrup
250-300 ml plant based milk (like oat or soy)
100 g dried figs, chopped
75 g hazelnuts, whole
optional: 1 tbsp candied orange peel, chopped
INSTRUCTIONS
Mix flours, baking powder and salt in a large bowl. Rub in butter with your fingertips without kneading too much (you don't want too much gluten development because scones have a 'short' bite). Add maple syrup and 250 ml of milk and mix (again without really kneading). Check the texture. The dough must be fairly soft, moldable and extendable, not dry and crumbly, but certainly not too wet. If it is too dry, add a dash of milk (up to 50 ml extra) until you have the right consistency. It can vary greatly per type of flour and brand how much extra moisture is needed. Mix figs, nuts and orange into the dough. Put dough on work surface and pat it out to a 1 inch/2,5 cm thick slice. With a round cutter (diameter ca. 3 inch/8 cm) cut out ca. 8 scones. Place them on the baking sheet and bake for 15 min. until golden brown and done. Serve with a good vegan butter (for example Cocovit from Vitaquell) and jam.
---
RUSTIEKE ROGGE SCONES
Deze scones zijn perfect voor een luxueus weekend ontbijt, of voor bij de koffie of thee natuurlijk. Vijgen en noten zijn een heerlijke combinatie en de smaken komen extra goed tot hun recht in een mengsel met roggemeel. Deze binken zijn iets steviger, rijker en stoerder van smaak dan klassieke neutrale scones. Serveer ze met een plantaardige boter van goede kwaliteit en een mooie abrikozen-, sinaasappel- of vijgenjam.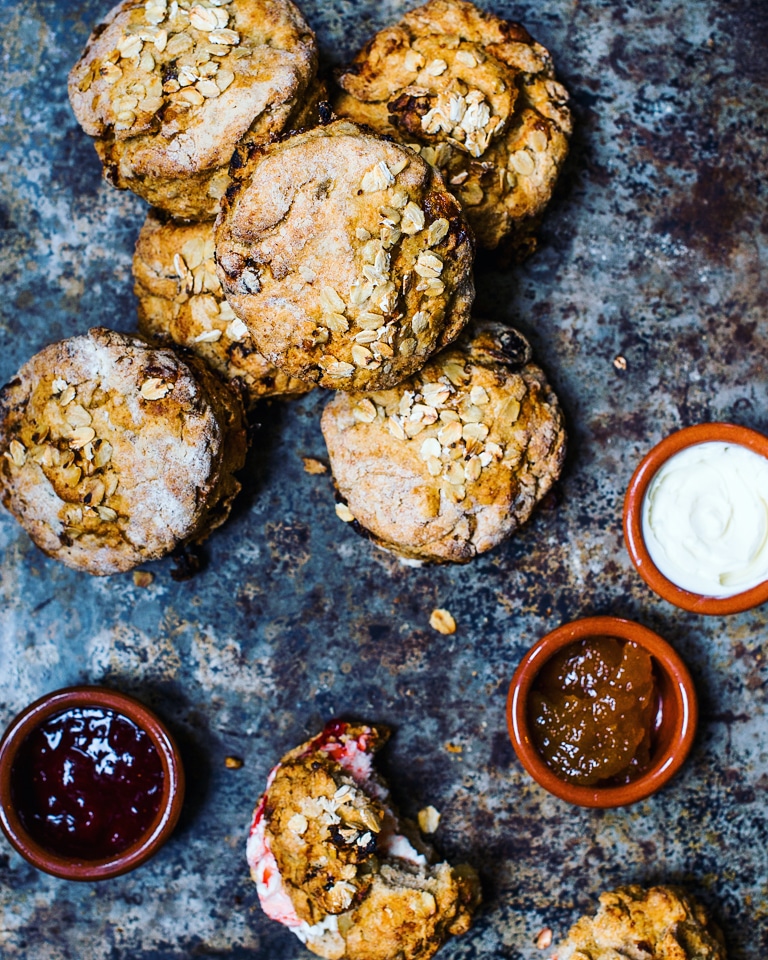 Voor 8 grote scones
INGREDIËNTEN
150 g volkoren roggemeel
300 g tarwebloem
2,5 tl bakpoeder
1 tl zout
125 g plantaardige bakboter, zo koud mogelijk en in blokjes
4 el ahornsiroop
250-300 ml plantaardige melk (haver of soja)
100 g gedroogde vijgen, in kleine stukjes
75 g hazelnoten, heel
optioneel: 1 el gekonfijte sinaasappelschil
INSTRUCTIES
Verwarm de oven voor op 220 graden C. Bekleed een bakplaat met bakpapier.
Meng roggemeel, tarwebloem, bakpoeder en zout in een ruime kom. Wrijf de blokjes boter er met je vingertoppen door, zonder al te veel te kneden (je wilt weinig glutenketens activeren want scones hebben een 'korte' bite). Voeg ahornsiroop en 250 ml plantaardige melk toe en meng (weer zonder echt te kneden). Check de textuur. Het deeg moet vrij zacht, vormbaar en uitsteekbaar zijn, niet droog en kruimelig, maar zeker ook niet te nattig. Als het te droog is, voeg dan steeds een scheutje melk toe (tot 50 ml extra), tot je de juiste consistentie hebt. Het kan erg per soort meel en merk verschillen hoeveel extra vocht er nodig is. Meng vijgen, noten en sinaasappel door het deeg en maak er een ca. 2,5 cm dikke plak van. Steek hier met een steker van ca. 8 scones uit. Leg ze op de bakplaat en bak in 15 min. goudbruin en gaar. Serveer met een goede vegan boter (bijvoorbeeld Cocovit van Vitaquell) en jam.