Have you ever heard of Fistulina Hepatica, a.k.a. beefsteak mushroom? This some amazing shit. A fungus that looks exactly like a succulent steak. It even bleeds! The texture is tender and juicy. You can find it on farmers markets or ask a local mushroom forager about it. If you can't get your hands on one, use portobello mushrooms instead. Perfect alongside Parisian potatoes and a nice green salad or cooked green beans.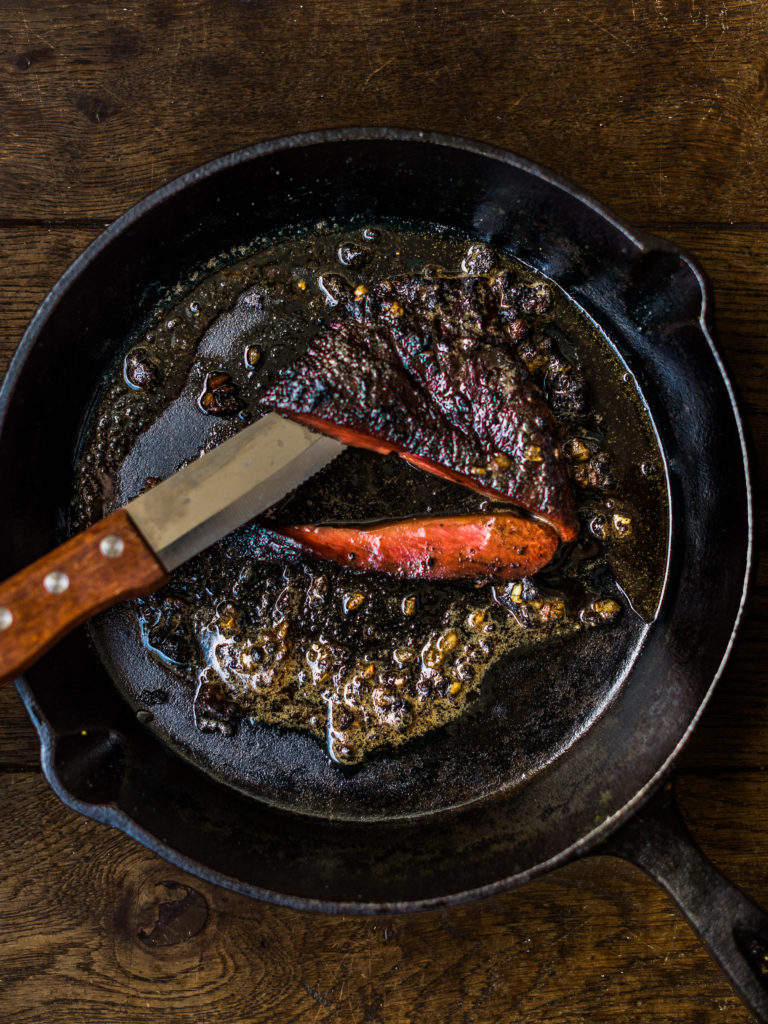 Serves 2
INGREDIENTS
150-200 g beefsteak mushroom
2 tbsp olive oil
1,5 tbsp vegan butter (suitable for baking and frying), room temperature
1 tsp miso
2 tsp soy sauce (like shoyu or light soy sauce, the sweet one will corrupt this recipe!)
1 garlic clove, peeled and finely chopped
freshly cracked black pepper
INSTRUCTIONS
Heat a frying pan until piping hot. Add the oil and lay the mushroom in the pan. Fry on high heat on both sides until nicely browned, a few minutes per side. The mushroom should shrink a bit. In the meantime, mix vegan butter with miso, soy sauce and garlic. When mushroom is nicely browned, lower heat and add butter mixture. Let melt and scoop butter over mushroom and add lots of freshly cracked pepper. Turn heat off, serve mushroom steak on a wooden cutting board and scoop butter out of frying pan over mushroom. Carve, watch it 'bleed' and devour.
---
BLOEDERIGE BIEFSTUKZWAM
Heb je ooit gehoord van Fistulina Hepatica, a.k.a. biefstukzwam? Dit is verdomd fantastisch. Een zwam die precies op een sappige biefstuk lijkt. Er komt zelfs rood sap uit! De textuur is mals en sappig. Je kunt de zwam op biologische boerenmarkten vinden (bijvoorbeeld bij Natascha Rothengatter's kraam Portobello op de Noordermarkt), of vraag een locale wildplukker ernaar. Als je de zwam niet kunt vinden, dan kun je dit recept ook prima met een portobello maken (bijna net zo lekker!). Perfect met gebakken krieltjes en een frisse groene salade of haricots verts.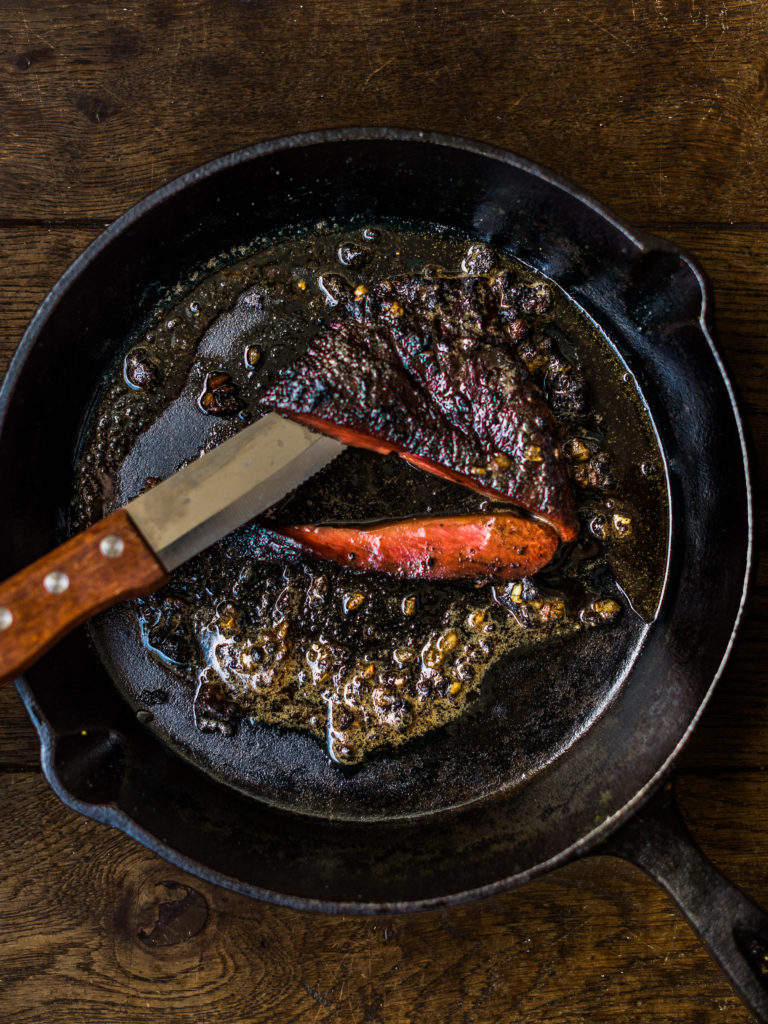 Voor 2 personen
INGREDIËNTEN
150-200 g biefstukzwam
2 el olijfolie
1,5 el vegan boter, op kamertemperatuur
1 tl miso
2 tl sojasaus (shoyu of Kikkoman, maar absoluut niet een gezoete variant)
1 teen knoflook, gepeld en fijngehakt
versgemalen zwarte peper
INSTRUCTIES
Verhit een koekenpan tot gloeiend heet. Voeg de olie toe en leg de zwam in de pan. Bak op hoog vuur aan beide zijden diep goudbruin, een paar minuten per zijde. De zwam zal wat slinken. Meng ondertussen boter met miso, sojasaus en knoflook. Draai, zodra de zwam klaar en gaar is, het vuur lager en voeg het botermengsel toe. Laat in de pan smelten en schep over de zwam. Draai het vuur uit, neem de zwam uit de pan en presenteer op een houten snijplank. Schep het achtergebleven vet uit de pan en giet het over de zwam. Snijd aan, aanschouw hoe het 'bloed' er langzaam uitsijpelt en verorber!