Sometimes you just crave something that's a bit more devilish, but you still want to nourish that delish perfect plant powered body of yours. Right? Well then we got THE recipe for you! 'Cause these enchiladas are the perfect choice to nourish that specific craving! They are bombed with some decent ingredients, though quite spiced up and topped with an indulging cheese sauce to sooth the soul.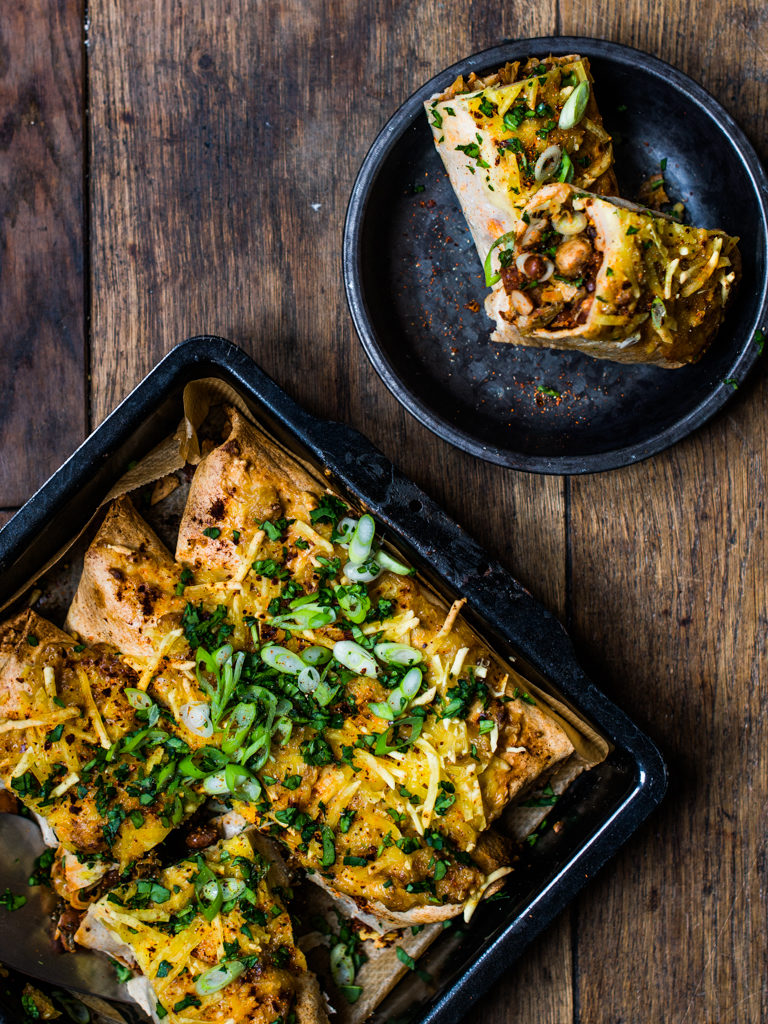 Serves +/- 6 enchiladas
INGREDIENTS
3 tbsp frying oil (olive/rice/coconut)
1 tsp cumin seeds
1 small pointy cabbage, cut into small strips
1 large onion, peeled and finely chopped,
1 bell pepper, cut into small strips and core removed
250 g button mushrooms, quartered
2 tsp smoked paprika powder (sweet or spicy to choice)
2 tsp ground coriander seeds
1 x 400 g tin kidney beans (ca. 1 1/2 cup), rinsed and drained
2 garlic cloves, peeled and finely chopped
3-5 tbsp soy sauce
200 g (ca. 1 cup) canned tomatoes
150 ml beer
6 vegan wraps
100 g grated vegan cheese
50 ml vegan unsweetened plant milk
1/4 bunch fresh coriander, chopped
2 spring onions, thinly sliced
INSTRUCTIONS
Preheat oven to 225 C/435 F.
Heat oil in large frying pan. Add cumin seeds, cabbage, onion, bell pepper and mushrooms all at the same time. Fry on high heat until veggies start to colour. Keep on going until cabbage and mushrooms have shrunk and bell pepper is tender. Add paprika powder and coriander seeds and fry along for a minute or so. Add kidney beans, garlic and 3 tbsp soy sauce and stir. Immediately after doing this, add tomatoes and stir again. Then add beer and stir. Let reduce a bit (we don't want soggy stuffing). If most of the liquid has evaporated, taste. Decide whether mixture needs more soy sauce or not, or season with some good old salt and pepper. Divide mixture into 6 portions. Stuff into the wraps and wrap them up. Place seam side down on a baking tray. In a sauce pan, gently melt cheese a bit into milk whilst stirring. When cheese is almost dissolved but not all the way, take pan off heat. Poor sauce over wraps. Wack in to the oven and bake for ca. 15 min. until wraps are crispy on the outside and sauce has nicely browned. Serve with some fresh coriander and spring onions.
---
DUIVELSE ENCHILADAS
Soms heb je gewoon een onstilbare trek in duivels eten, maar wil je tegelijkertijd dat goddelijke gespierde lijf van je onderhouden. Toch? Nou oh la la, hier zul je het hebben, want deze enchilada's zijn perfect voor dit soort momenten; rijk gevuld met lekker veel gekruide groenten en bonen, en afgemaakt met een romig kazig sausje voor de stevige bite.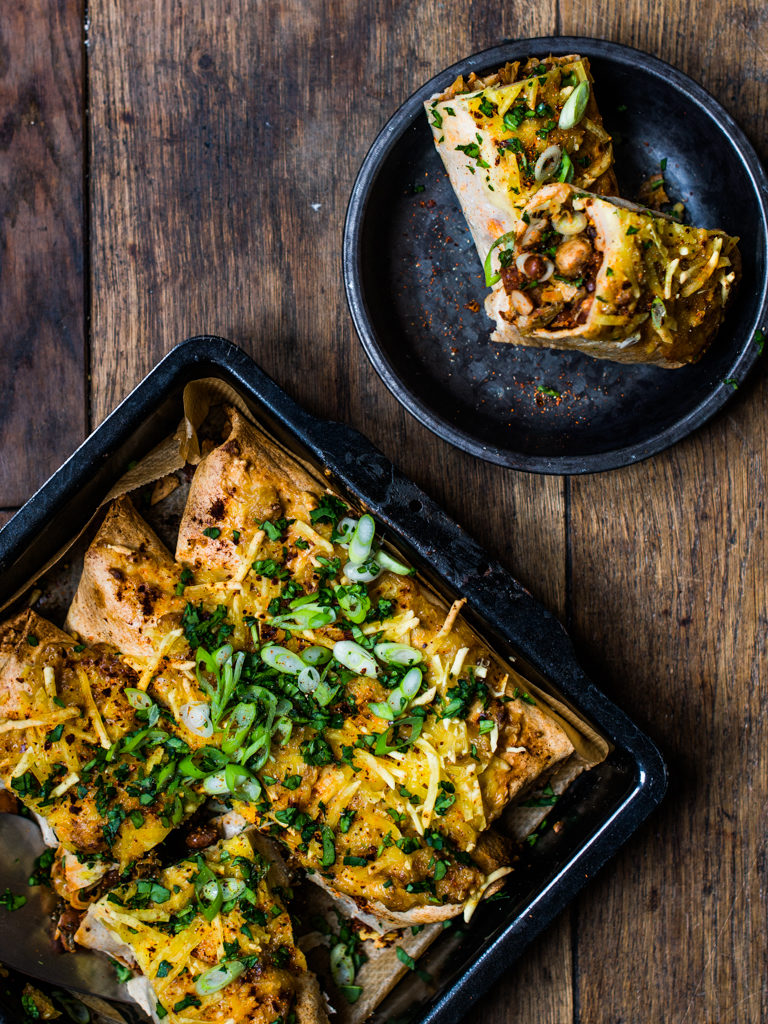 Voor +/- 6 enchilada's
INGREDIËNTEN
3 el bakolie (olijf/rijst/kokos)
1 tl komijnzaad
1 kleine spitskool, in dunne reepjes gesneden
1 grote ui, gepeld en fijngehakt
1 paprika, in dunne reepjes gesneden en kern verwijderd
250 g champignons, in vieren
2 tl gerookt paprika poeder (zoet of pittig naar keuze)
2 tl gemalen korianderzaad
1 x blik (400) kidney bonen, afgespoeld en uitgelekt
2 tenen knoflook, gepeld en fijngehakt
3-5 el sojasaus
200 g tomaten uit blik
150 ml bier
6 vegan wraps
100 g vegan geraspte kaas
50 ml ongezoete plantaardige melk
1/4 bosje verse koriander, gehakt
2 lente uien, in dunne schijfjes
INSTRUCTIES
Verwarm oven voor op 225 C.
Verhit olie in grote koekenpan op hoog vuur. Voeg komijnzaad, kool, ui, paprika en champignons toe en bak op hoog vuur tot groenten bruin beginnen te kleuren. Ga door met bakken op hoog vuur tot kool en champignons flink geslonken zijn. Voeg vervolgens paprikapoeder en korianderzaad toe en bak even mee. Voeg kidney bonen, knoflook en 3 el sojasaus toe en roer om. Voeg meteen hierna de tomatenblokjes toe en roer nogmaals goed door. Voeg het bier toe en roer wederom. Laat het vocht zoveel mogelijk verdampen (we willen geen kleffe, nattige vulling). Proef, zodra het meeste vocht verdampt is, of het mengsel hoger op smaak moet worden gebracht. Zo ja, voeg nog 2 el sojasaus toe, en/of kruid bij met wat zout en peper. Verdeel het mengsel in 6 porties en vervolgens over de 6 wraps. Rol ze op en leg ze met de naad naar beneden in een ovenschaal. Laat de kaas zachtjes in de melk smelten in een steelpan op laag vuur. Roer een beetje. Zet het vuur uit zodra de kaas bijna helemaal in de melk gesmolten is (maar nog nét niet) en giet dit over de wraps. Zet ca. 15 min. in de oven tot de kaas een mooie goudbruine korst gekregen heeft. Haal uit de oven en serveer met verse koriander en bosuitjes.