These cookies are just too good to be true, but they actually are true! They are buttery and crispy, but will immediately melt in your mouth as soon as you take a bite. But hey, we have to upgrade cookies a bit to make them a bit more cool and badass! A dash of chili powder does the trick, and causes an agreeable slight burn, which actually makes them even more delish. And by the way, they are easy and quick to make, so get your ass over to the kitchen and whip up a batch or two!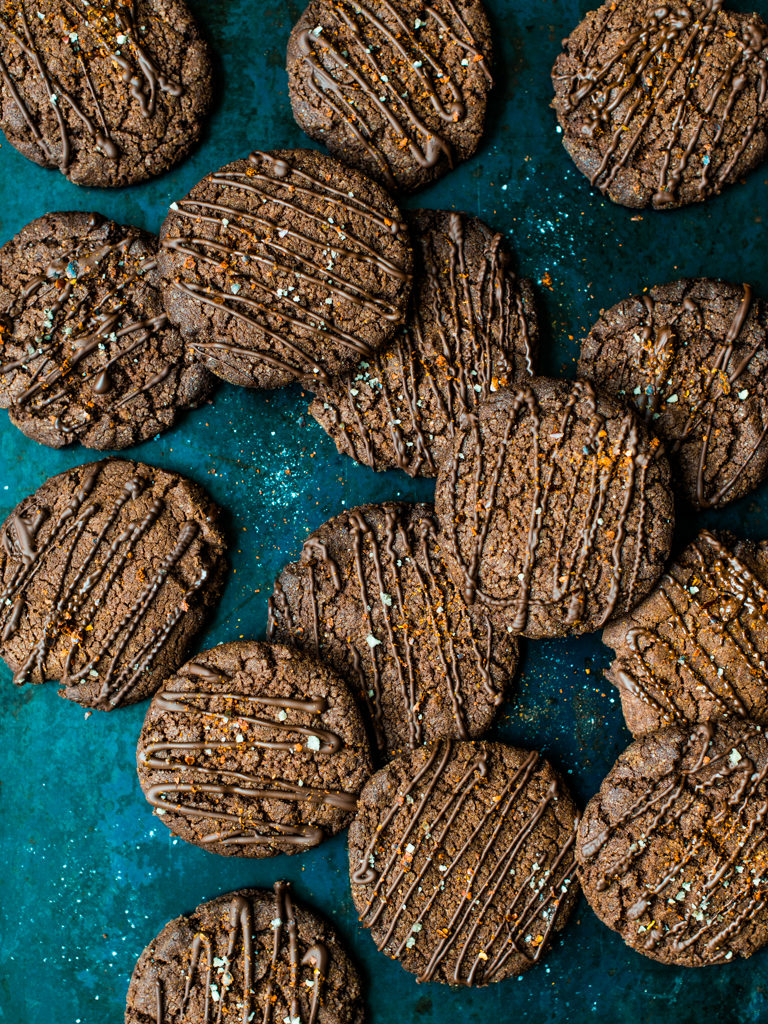 Serves 12 large or 24 small cookies
INGREDIENTS
250 g (1 1/8 cup or 2 1/4 sticks) firm plant based butter (suitable for baking)
150 g (3/4 cup) sugar
40 g (1/3 cup) Dutch processed cocoa powder
300 g (2 1/4 cup) organic flour
1/2 tsp fine sea salt
1 tsp vanilla extract
1 tsp baking powder
ca. 1/4 tsp chili powder (put in a bit more if you dare!)
100 g good quality vegan dark chocolate
dash of coarse chili flakes
dash of coarse sea salt flakes
INSTRUCTIONS
Preheat the oven to 170 C/325 F.
This recipe is made easiest with the aid of a foodprocessor. Simple put butter, sugar, cocoa, flour, salt, vanilla, baking powder and chili in the processor and blitz until it resembles a soft dough. Alternatively cream butter and sugar together with handmixer until fluffy. Add cocoa, flour, salt, vanilla, baking powder and chili and mix until just combined.
Line a baking tray with parchment paper. Roll dough into 12 large or 24 small balls, slightly flatten them and arrange them on the baking tray. Make sure there's enough space for each cookie to run out and rise a bit. Bake cookies for ca. 15-18 min (don't over bake them!). Let cool down before adding toppings.
Make topping by melting chocolate in a glass or metal bowl over a pan of hot water (au bain marie). Drizzle over cookies and crumble over a dash of coarse chili flakes and sea salt.
---
CHOC & CHILI COOKIES
Deze koekjes zijn ongelofelijk lekker! Boterig en krokant, maar meteen smeltend in de mond zodra je een hap neemt. Maar hé, het is onze taak om koekies te upgraden en meer badass te maken. Een snuf chilipoeder is precies datgene wat nodig is om ze een interessante, aangename pittigheid te geven, wat ze eigenlijk alleen maar nog perfecter maakt. Ze zijn trouwens zo makkelijk en snel te maken, dus trek je kurkleren schort over de hoofd en haast je naar de keuken om een of meerdere bakplaten vol te maken.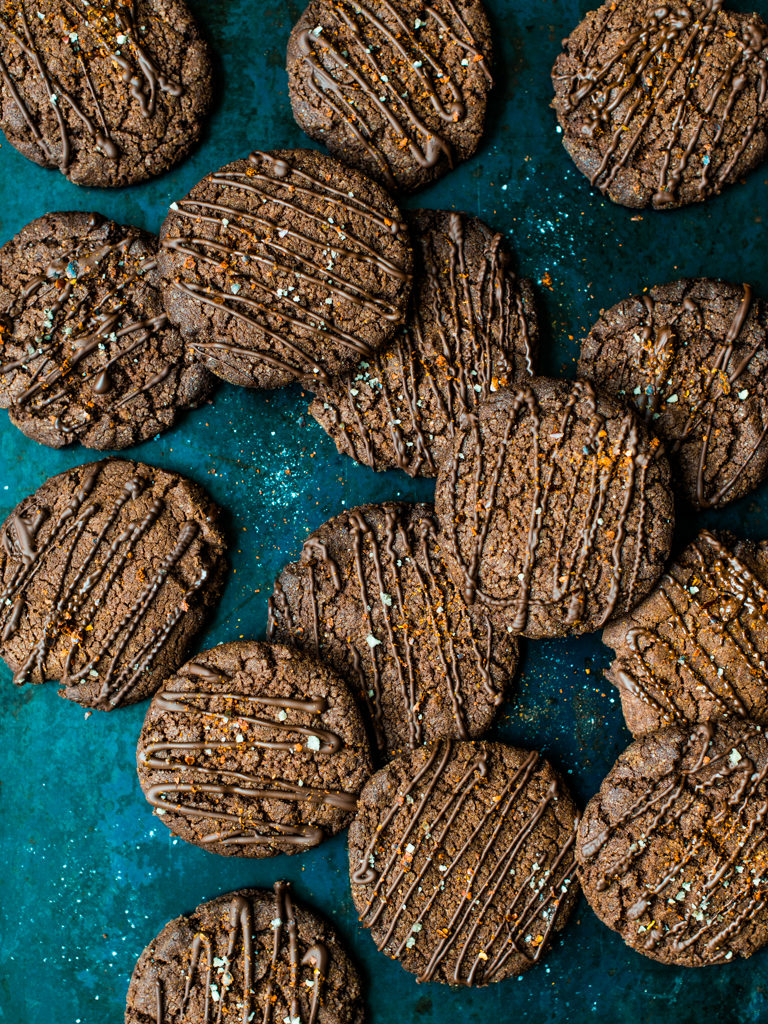 Voor 12 grote tot 24 kleine koeken
INGREDIËNTEN
250 g harde plantaardige bakboter
150 g biologische lichtbruine suiker
40 g cacaopoeder
300 g biologische tarwebloem
1/2 tl fijn zeezout
1 zakje bourbon vanillesuiker
1 tl bakpoeder
ca. 1/4 tl chilipoeder (doe vooral meer als je durft!)
100 g goede kwaliteit pure vegan chocolade
snuf grove chilivlokken (bijvoorbeeld pul biber)
snuf grof zeezout
INSTRUCTIES
Verwarm oven voor op 170 graden C.
Dit recept is het makkelijkst om te maken met behulp van een foodprocessor of keukenmachine. Doe boter t/m chilipoeder in de kom van de machine. Laat het mes even kort draaien tot er een zacht deeg ontstaat. Als je geen foodprocessor of keukenmachine hebt kun je de boter eerst met de suiker romig kloppen, om vervolgens alle ingrediënten t/m het chilipoeder erdoor te mengen.
Leg een vel bakpapier op een bakplaat. Verdeel het deeg in 12 grotere of 24 kleinere ballen. Druk ze een beetje plat, tot dikke schijven. Schik ze op de bakplaat met voldoende ruimte ertussen om uit te lopen en te rijzen (wellicht is het nodig om ze in twee keer te bakken, afhankelijk van hoe groot je oven is). Bak ze ca. 15-18 min, en vooral niet te lang. Laat ze afkoelen alvorens de toppings aan te brengen.
Smelt hiervoor de chocolate in een glazen of metalen kom op een pan met heet water (au bain marie) en druppel dit over de koeken. Kruimel er wat grove chilivlokken en zeezout over.