This heartwarming casserole is as easy as it is delicious. Middle Eastern flavours will indulge your taste buds and satisfy your hungry tummy. Perfect for week days.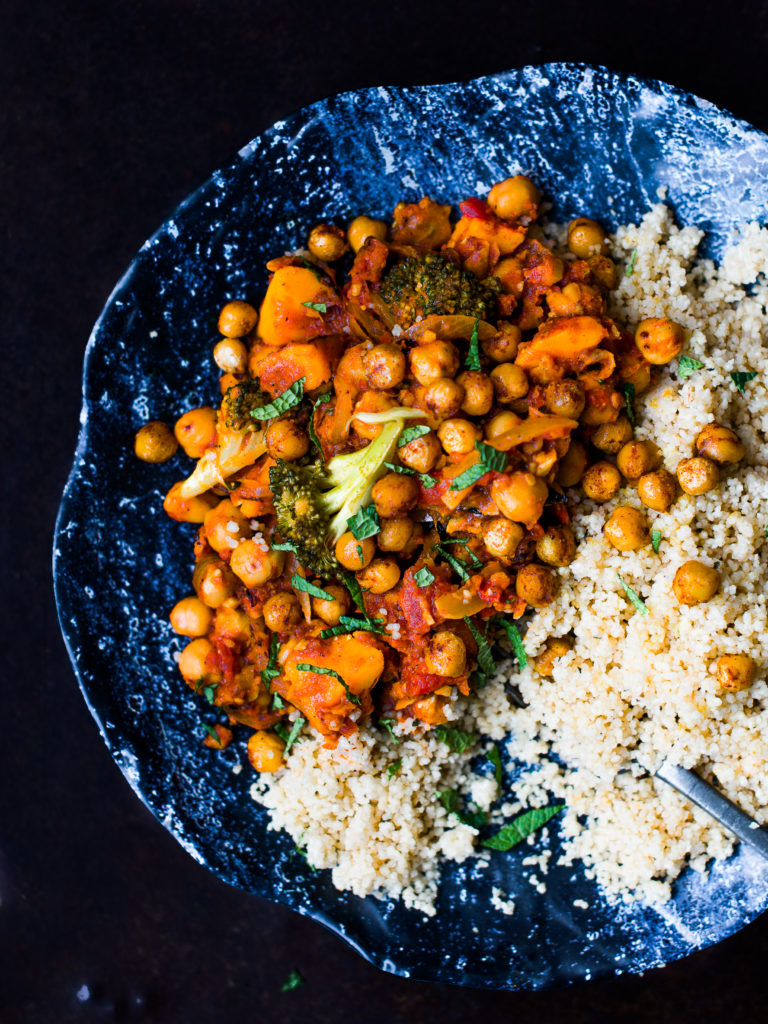 Serves 4-6
INGREDIENTS
Casserole
1 x 400 g can chickpeas, rinsed and drained (use liquid to make this ultimate vegan pavlova)
1 large onion, peeled and sliced
1 small broccoli, head cut into small florets, stem cut into small pieces
1 small pumpkin (ca. 500 g butternut or hoikkaido), cut into small pieces
2 celery stalks, cut into small pieces
1 x 400 g can cubed tomatoes
2 garlic gloves, peeled and finely chopped
1 tbsp ras el hanout
2 tsp nigella seeds
salt and black pepper to taste
olive oil
Couscous
250 g couscous
1/4 tsp cinnamon
1 garlic clove, peeled and finely chopped
1 tsp salt
350 ml boiling water
juice of 1/2 lemon
2 tbsp olive oil
some fresh mint leaves, piled up, rolled into a cigar and then thinly sliced
INSTRUCTIONS
Preheat oven to 225 C/435 F. MIX, for the casserole, all ingredients on a large baking tray lined with baking parchment, season with salt and pepper. Drizzle with some olive oil. Put in oven for ca. 30 min, or until all veggies are cooked.
Mix couscous with cinnamon, garlic and salt in heatproof bowl or pot. Add boiling water. Put lid on and let couscous sit for ca. 10 min. After welling is done, season with lemon juice, mint (safe some mint for garnish) and olive oil. Serve with the casserole and sprinkle some extra mint on top.
---
KRUIDIGE KIKKERERWTEN CASSAROLE

Dit hartverwarmende gerecht is heerlijk, rijk én makkelijk. Midden-Oosterse smaken zullen je smaakpapillen verwennen en flinke trek stillen. Perfect voor doordeweeks.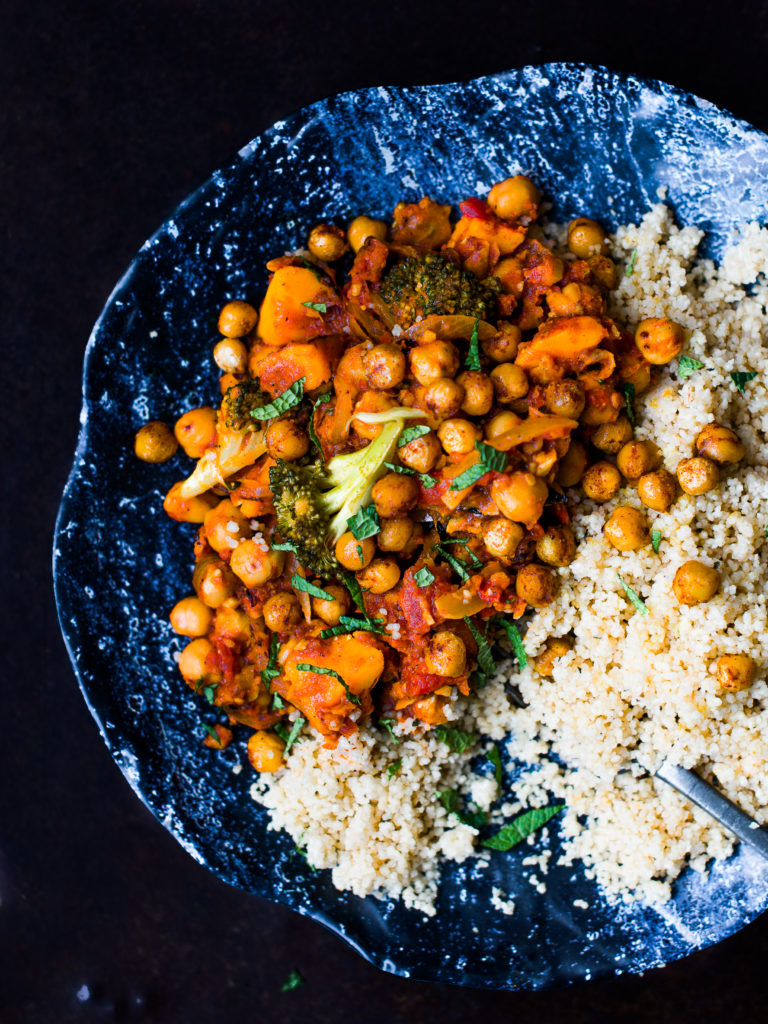 Voor 4 personen
INGREDIËNTEN
Casserole
1 blik kikkererwten van 400 g (afgespoeld en uitgelekt, gebruik vocht uit blik evt. voor de ultieme vegan pavlova)
1 grote ui, geschild en in halve ringen
1 kleine broccoli, in kleine roosjes, stengel in dunne plakjes gesneden
1 kleine pompoen (ca. 500 g butternut of hoikkaido), in kleine stukken gesneden
2 selderij stengels, in stukjes gesneden
1 blik tomatenblokjes van 400 g
2 tenen knoflook, gepeld en fijngehakt
1 el ras el hanout
2 tl nigella seeds
zout en zwarte peper naar smaak
olijfolie
Couscous
250 g couscous
1/4 tl kaneel
1 teen knoflook, gepeld en fijngehakt
1 tl zout
350 ml kokend water
sap van 1/2 citroen
2 el olijfolie
verse muntblaadjes, opgestapeld, vervolgens opgerold tot een 'sigaar' en in dunne reepjes gesneden.
INSTRUCTIES
Verhit oven voor op 225 graden C. Meng alle ingrediënten voor de casserole op een met bakpapier bekleedde bakplaat en breng op smaak met zout en peper. Druppel er wat olijfolie over. Zet ca. 30 minuten in de oven, of tot alle groenten gaar zijn geworden.
Meng couscous met kaneel, knoflook en zout in een hittebestendige kom of pan. Voeg kokend wat toe, zet het deksel erop en laat ca. 10 min wellen. Breng vervolgens op smaak met citroensap, munt en olijfolie. Serveer met de casserole en garneer met wat extra munt.