Valentine's day is just around the corner. How about surprising the one(s) you love by making this ultra delicious wacky waffle stack! The hearty waffles are topped with crunchy spinach, meaty & spicy oyster mushrooms and soft and cooling avocado. A decent treat for sure. Eat it for breakfast, lunch or even dinner (who cares!).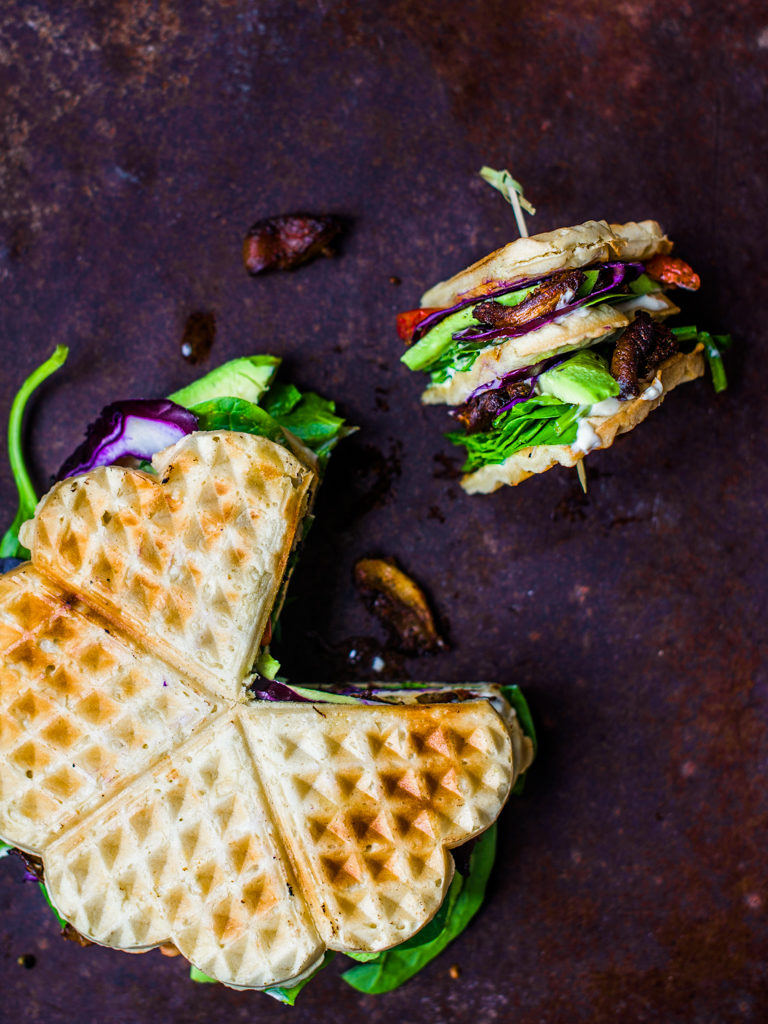 Serves 4
INGREDIENTS
300 ml (1 1/4) cup soy milk
250 g (2 cups) flour
3/4 tsp salt
10 g yeast, fresh from a cube or 5 g instant yeast (1,5 tsp instant yeast)
6 tbsp olive oil
1/2 tsp salt
250 g oyster mushrooms
2 tbsp soy sauce
2 tsp sriracha
1 tsp 'chicken' seasoning
1 large or 2 small avocado's, peeled and sliced
2 hands full of fresh spinach (check if its clean, otherwise wash first and dry)
vegan mayonnaise (ca. 4 tbsp)
1/8 part red cabbage, sliced really thinly
Special equipment
waffle iron
INSTRUCTIONS
Warm up milk just a little bit (make sure not to heat it over 40 C/100 F or you will kill the yeast!). Crumble in yeast and dissolve. Let stand for a moment until it 'comes alive' and start to forth. Mix flour and salt together. Make a well in the middle. Add yeasty milk mixture plus 3 tbsp olive oil. Stir until it resembles a thick 'doughy' batter. Cover batter with cling film or damp towel and leave to rest and rise in a warm, not drafty, spot for ca. 1 hour.
When the hour is up, heat waffle iron. Add a few tbsp of batter to the iron and bake the waffle until the outside is golden brown and the middle is fully cooked and fluffy. Repeat until the batter is finished.
In the meantime, prepare the mushrooms. Preheat oven to 200 C/395 F. Tear mushrooms into chunky pieces. Line a baking tray with baking parchment. Place the mushrooms on the tray. Add 3 tbsp olive oil, soy sauce, sriracha and 'chicken' seasoning. Mix all up and bake for ca. 20 min. until browned.
To arrange waffles
Put first waffle one on a plate. Spread with some mayo and add some of the mushrooms, avocado, red cabbage and spinach. Add some extra salt and pepper if you like. Cover with another waffle and repeat. Build a stack as high as you prefer, the sky is the limit (the actual limit is the size of you mouth :P). Cut into triangles, or rather, considering the theme, heart shapes.
---
WACKY WAFFLE STACK
Het is alweer bijna Valentijnsdag! Verras je geliefde(n) eens met deze overheerlijke Wacky Waffle Stack. De hartige wafels worden belegd met knapperige spinazie, pittige en vlezige oesterzwammen en verkoelende avocado. Een echte traktatie en bovendien heerlijk voedzaam. Maak de wafels voor ontbijt, lunch of zelf diner (wat maakt het ook uit).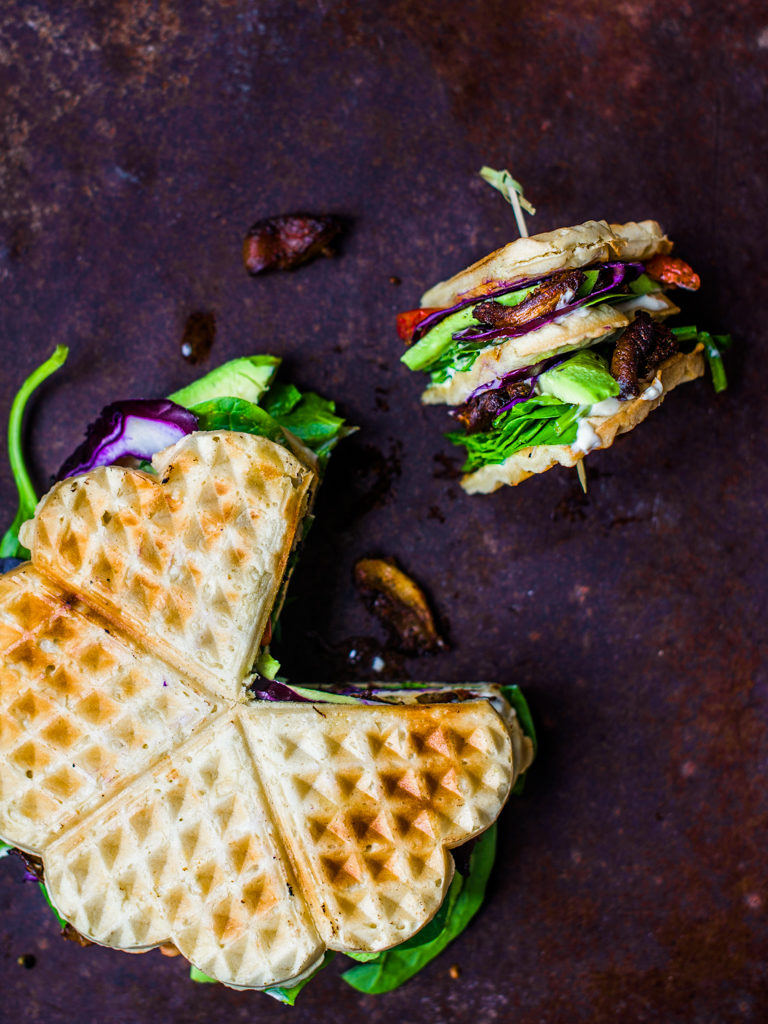 Voor 4 personen
INGREDIËNTEN
300 ml sojamelk
250 g tarwebloem
3/4 tl zout
10 g verse gist, of 5 gram instant gist
6 el olijfolie
1/2 tl zout
250 g oesterzwammen
2 el sojasaus
2 tl sriracha
1 tl 'kip'kruiden
1 grote of 2 kleine avocado's, gepeld en in dunne reepjes
2 handenvol verse spinazie (check of schoon is, anders wassen en drogen)
vegan mayonaise (ca. 4 el)
1/8 deel rode kool, heel dun in reepjes gesneden
Benodigdheden
wafelijzer (liefst in hartjes vorm ;-))
INSTRUCTIES
Warm melk een klein beetje op (zeker niet hoger dan 40 graden, anders dood je het gist!). Verkruimel de gist erboven en roer voorzichtig door met een houten lepel. Laat even staan tot de gist tot leven komt en gaat schuimen. Meng bloem en zout met elkaar. Maak een kuil in het midden. Giet hier de gistige melk in, plus 3 el olijfolie. Roer tot het samenkomt tot een dik, deegachtig beslag. Dek de kom af met huishoudfolie of een vochtige theedoek en laat ca. 1 uur rusten en rijzen op een warme, niet tochtige plek.
Verhit na het rijzen het wafelijzer. Voeg een paar el beslag aan het ijzer. Bak de wafel en zorg dat de buitenkant mooi goudbruin wordt en de binnenkant gaar en fluffy. Herhaal tot het beslag op is.
Maak ondertussen de oesterzwammen. Verwarm de oven voor op 200 graden. Scheur de oesterzwammen in stukjes en plaats op een met bakpapier bekleed bakblik. Voeg 3 el olijfolie, sojasaus, sriracha en 'kip'kruiden toe. Meng alles door elkaar en bak ca. 20 min. in de oven. De paddenstoelen zijn hierna als het goed is goed geroosterd met wat krokante stukjes aan de buitenkanten.
Opmaak
Leg de eerste wafel op een bord of plank en besmeer met een laagje mayo. Voeg wat paddenstoelen, avocado, rode kool en spinazie toe en dek af met een volgende wafel. Bouw de stapel zo verder op, zo hoog als je durft. Snijd de stapel in punten, of liever gezegd (gezien het thema) in heerlijke harten!