If you're into Asian food, this one is a winner for you. It's a winner anyway. So many ultra flavourful veggies and bright colours. This dish has a glorious (but really manageable) burn caused by fiery Korean brothers kimchi & sriracha. So good!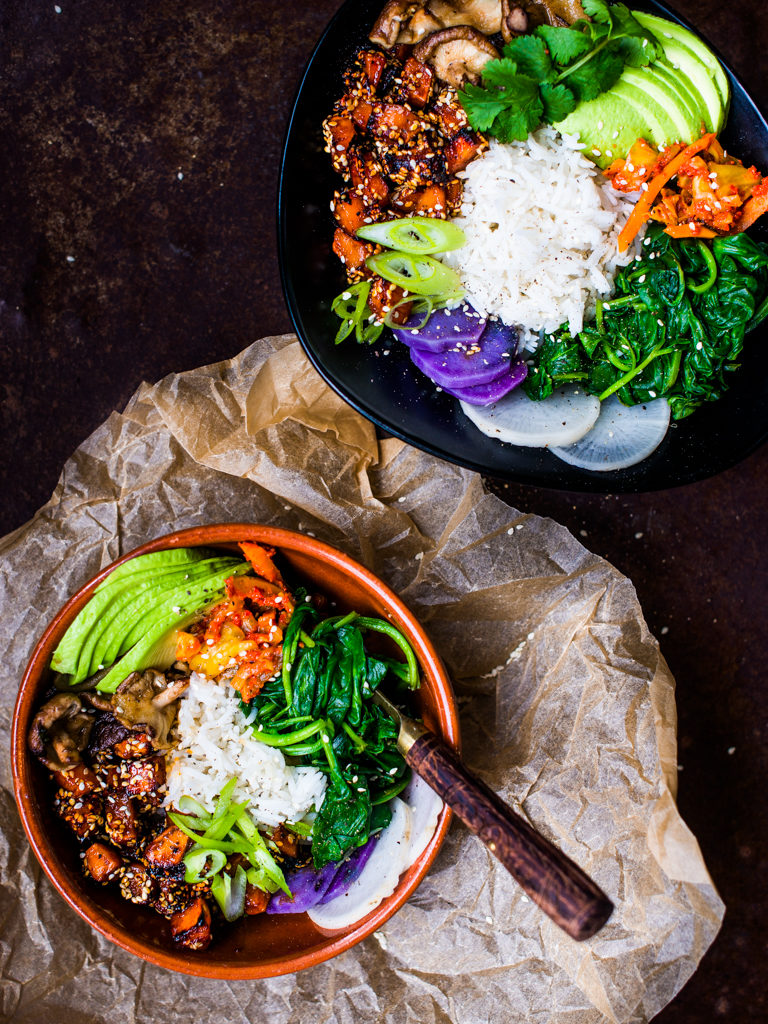 Serves 4
INGREDIENTS
1 cup basmati rice + 1,5 cups water
4 tbsp wok oil
2 medium to large sweet potatoes, peeled and cubed
2 tbsp sweet soy sauce (ketjap manis)
1 tsp curry powder
1 tsp sriracha (or more if you can handle the heat!)
2 tsp molasses
4 garlic cloves, peeled and finely chopped
2 tbsp sesame seeds
200 g shiitake mushrooms, bigger ones halved
1 tbsp soy sauce
500 g spinach leafs, rinsed and drained
1 avocado, quartered, peeled and thinly sliced
4 tbsp kimchi
2 medium sized purple potatoes, peeled and thinly sliced
1 tsp lemon juice or vinegar
a pinch kala namak
2 spring onions, sliced
1 small white turnip (or any other kind of radish), thinly sliced
1/2 bunch fresh koriander, roughly chopped
INSTRUCTIONS
Preheat oven to 200 C/390 F.
 Put rice in pan on stove with water. Bring to a boil (lid on), lower heat. Cook for 10-15 min, or until liquid is absorbed by rice and rice is nice, fully cooked and fluffy. Turn heat off and let sit for another 10-15 min (lid still on).
In the meantime, prepare veggies. On baking tray lined with parchment paper, mix sweet potato cubes with ketjap manis, curry powder, sriracha, molasses, 2 garlic cloves and 2 tbsp wok oil. Bake for ca. 10 min. Add sesame seeds, toss a bit and bake for another 5-10 min.
Bring some water to a boil in a small pan. Add purple potato slices, lemon juice or vinegar and a pinch of kala namak. Boil until tender. Drain and season with some extra kala namak and a tiny drop of oil.
Heat 1 tbsp wok oil in frying pan. Add shiitake mushrooms. Fry on high heat, let them sizzle in the pan! Add 1 tbsp soy sauce and 1 chopped garlic clove. Turn heat off within seconds after adding garlic and discard mushrooms from pan, keep them aside. Put pan back on heat with another tbsp wok oil. Add spinach. Fry until spinach has shrunk. Add 1 chopped garlic clove and some salt to taste.
To assemble the bowl
First put some rice in the middle of the bowl. Put all the veggies in a circle around the rice. Start with the sweet potato, then add shiitakes, 1/4 sliced avocado per serving, 1 tbsp kimchi, spinach, a few slices raw turnip and the purple potato. Sprinkle over freshly chopped koriander and spring onion slices.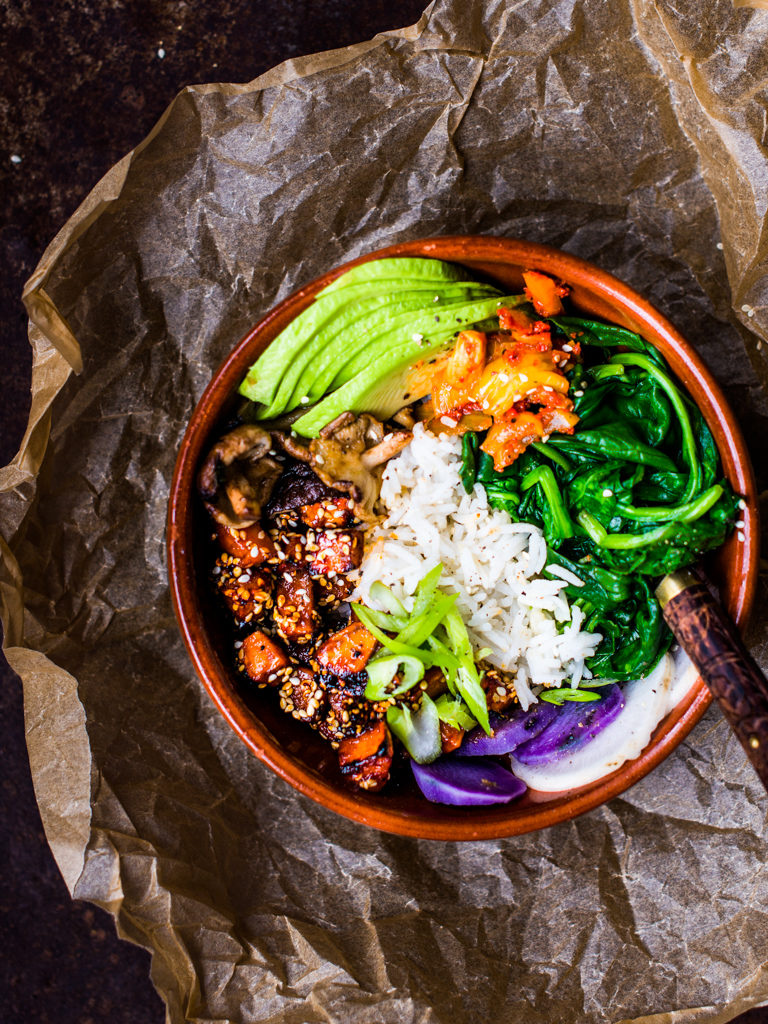 ---
KOREAANSE FIRE BOWL
Als je van Aziatisch eten houdt, is dit recept zeker wat voor jou. Deze bowl zit vol met allerhande 'groente smaakbommen' waar de kleur van afspat, en is niet bang om het bombardement verder op te voeren door middel van aangenaam pittige kimchi en sriracha. Echt een sensatie.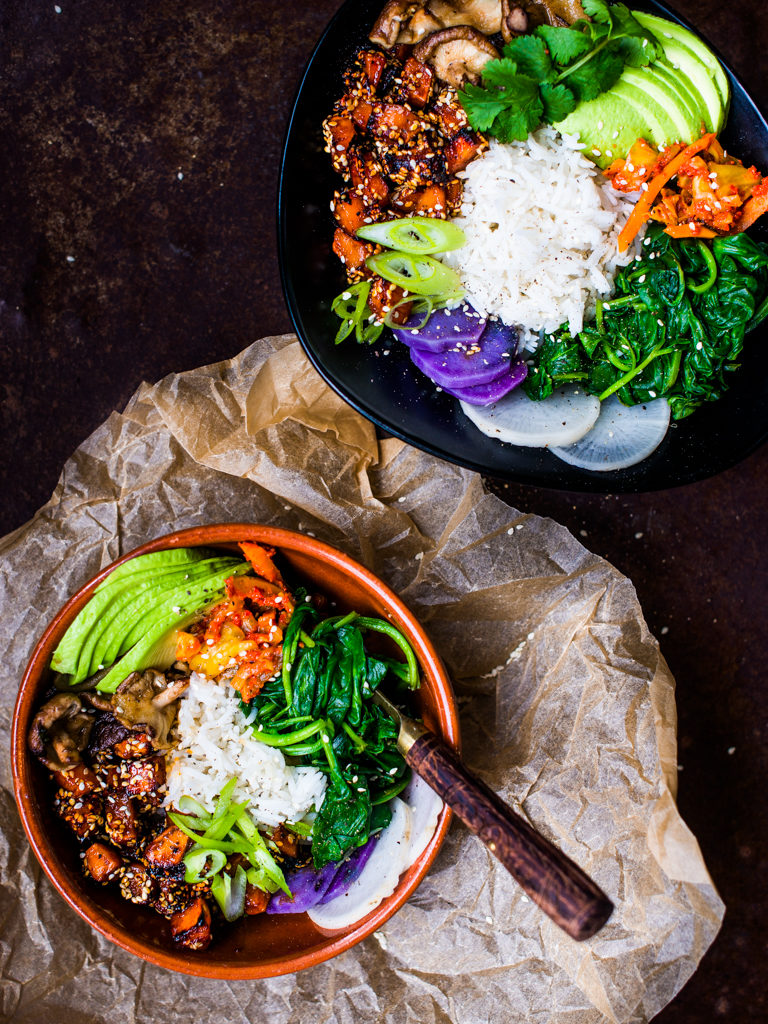 Voor 4 personen
INGREDIËNTEN
1 grote kop (van ca. 250 ml) basmati rijst + 1,5 kop water
4 el wokolie
2 middelgrote tot grote zoete aardappels, geschild en in blokjes
2 el ketjap manis
1 tl kerriepoeder
1 tl sriracha (of meer, hoe heter hoe beter!)
2 tl keukenstroop
4 tenen knoflook, gepeld en fijngehakt
2 el sesamzaad
200 g shiitakes, grote exemplaren gehalveerd
1 el sojasaus
500 g verse spinazie, afgespoeld en goed uitgelekt
1 avocado, in kwarten, van schil ontdaan en in dunne reepjes
4 el kimchi
2 middelgrote paarse aardappels, geschild en in dunne plakjes
1 tl citroensap of azijn
snuf kala namak
2 bosuitjes, in dunne plakjes
1 klein wit raapje (ander soort raapje of radijs kan ook)
1/2 bosje verse koriander, grof gehakt
INSTRUCTIES
Verwarm de oven voor op 200 C.
Doe de rijst in een pan met water. Breng aan de kook met deksel op de pan. Draai het vuur lager zodra het kookt, en kook ca. 10-15 min tot gaar en luchtig. Draai het vuur uit en laat nog 10-15 min met deksel op de pan staan alvorens uit te serveren.
Maak ondertussen de groente toppings. Doe de zoete aardappel op een met bakpapier beklede bakplaat en voeg ketjap, kerrie, sriracha, stroop, 2 tenen gehakte knoflook en 2 el wokolie toe. Bak 10 min. in de voorverwarmde oven. Strooi na 10 min de sesamzaadjes over de blokjes en bak nogmaals 5-10 min.
Breng een pannetje met water aan de kook. Voeg de paarse aardappelplakjes, citroensap en een snuf kala namak toe. Kook tot de plakjes gaar zijn. Giet ze af en strooi er wat extra kala namak over, en besprenkel met een klein beetje olie.
Verhit 1 el wokolie in een koekenpan. Bak de shiitakes flink aan op hoog vuur. Voeg, als ze mooi gebruind zijn, 1 el sojasaus en 1 gehakte teen knoflook toe. Bak slechts een paar seconden mee en haal de paddenstoelen uit de pan. Houd apart. Zet de pan terug op het vuur, en voeg opnieuw 1 el wokolie toe. Voeg de spinazie toe en bak tot net aan geslonken. Voeg 1 teen gehakte knoflook toe en breng op smaak met wat zout.
Opmaak
Begin met een schep rijst in het midden van je bowl. Leg de toppings er in een cirkel langs de rand omheen. Eerst de zoete aardappel, dan de shiitakes, 1/4 avocado in dunne reepjes, 1 el kimchi, spinazie, wat plakjes rauwe radijs/raap en de paarse aardappel. Strooi er wat verse koriander en bosuitjes over.