This recipe is totally bad ass! Transform king oyster mushrooms into something Master Chefs might mistake for pulled chicken. Create a sandwich that's Free From Animals, aka Derek style, you know that the brilliant chef from Wicked Healthy.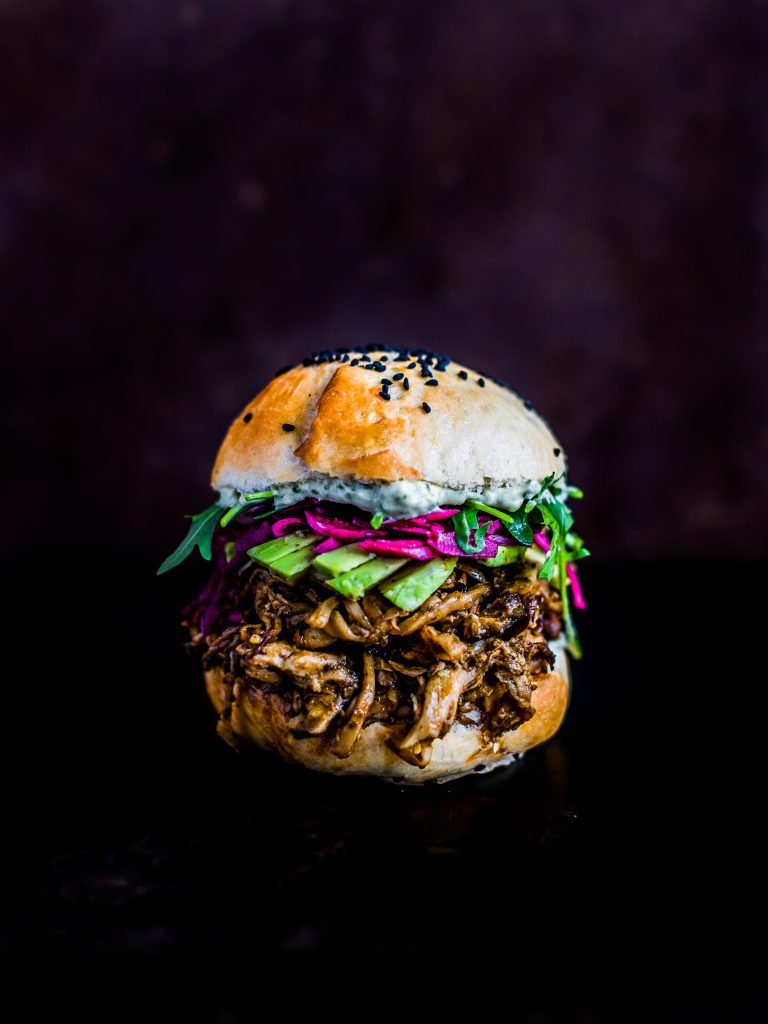 Serves 4
INGREDIENTS
500 g king oyster mushrooms
3 tbsp poultry seasoning, without salt
2 tsp garlic powder
a generous amount of freshly ground black pepper
7 tbsp light shoyu or soy sauce
5 tbsp oil
1/4 red cabbage
75 ml vinegar
25 ml water
25 g sugar
3 pieces of star anise
8 tbsp vegan mayo
fresh basil
4 round sandwich buns
1 avocado in thin slices
a handful of rocket lettuce leaves
INSTRUCTIONS
Preheat the oven to 435 degrees F/225 °C. Line a baking sheet with baking paper. Use a fork to gently shred the mushroom stems, starting at the ends (like combing them out). Mix with the poultry seasoning, garlic powder and freshly-ground pepper. Add the soy sauce and spread the mushrooms over the baking sheet. Sprinkle generously with oil and bake approximately 25 minutes until golden brown.
In the meantime, slice the red cabbage razor thin and place it in a bowl. In a pan on low temperature, gently heat the water, vinegar, star anise and sugar until the sugar dissolves. Pour the vinegar mixture over the cabbage and let it marinate until it's needed – the longer, the yummier.
For the sauce, chop the basil leaves fine and mix with the mayo. Warm the sandwich buns in the oven for about a minute. Cut the buns in half and spread some basil mayo on the bases. Pile high with a generous helping of mushrooms, then one quarter of the avocado, some marinated red cabbage and a few sprigs of rocket. Cover with the top of the bun and serve immediately.
STAY TUNED FOR MORE M.E.P. STYLE KILLER FOOD!