These protein packed mancakes are the perfect breakfast to start your weekend, work day or whatever. The salty, crispy Tempeh Bacon and sweet, woody maple syrup wake your sleepy head right up. And for the 'what about bacon though?' brothers and sisters out there…we have some next level sjit over here: tempeh + smoked paprika powder + maple syrup + soy sauce is your bacon 2.0. Yep.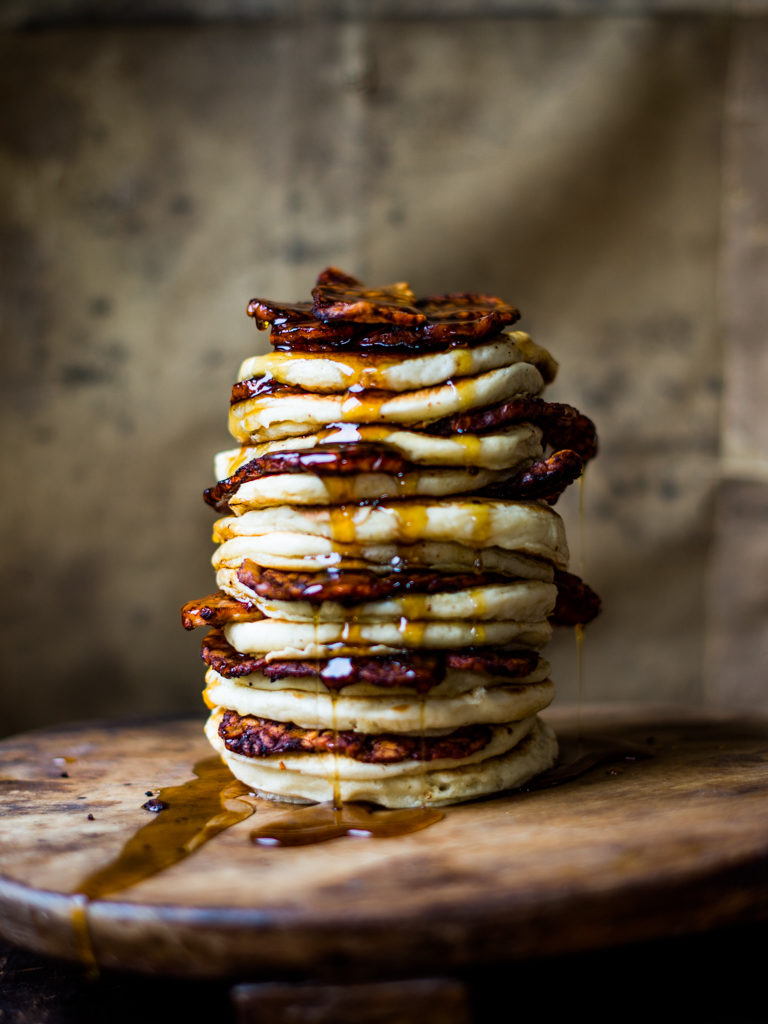 Serves 2-4
INGREDIENTS
Tempeh Bacon
1 block of tempeh
rice oil for baking
1 tsp smoked paprika powder
1 tbsp light soy sauce or shoyu
Mancakes
250 g (+/- 2 cups) flour
a pinch of salt
1 tsp baking powder
200 g (4/5 cup) soy yogurt
200 ml (1 cup) beer
100 ml (1/2 cup) soy milk
1 tbsp vegan butter, melted + an extra non-melted scoop for serving
rice oil for baking
Tempeh Bacon (see above)
maple syrup
INSTRUCTIONS
Tempeh Bacon
Cut tempeh into thin slices. Heat oil in a frying pan and fry tempeh slices on both sides until they are crispy and golden brown. Lower the heat and remove tempeh from the pan. Remove excess oil from the pan with kitchen paper and put the tempeh back in again. Sprinkle it evenly with the paprika powder and soy sauce. Wait until the tempé has completely absorbed the powder and soy sauce.
Mancakes
In a bowl, mix flour with sea salt and baking powder. Add soy yogurt, beer, soy milk and butter. Mix until smooth. Heat a splash of oil in a frying pan, scoop small heaps of batter into the pan and fry the pancakes on both sides until cooked and golden brown. Stack them high and serve with the Tempeh Bacon, lots of maple syrup and a scoop of butter.
Tip
Use leftover Tempeh Bacon for a Bacon Sarnie; coat two slices of white bread on both sides with some vegan butter and cover with the Tempeh Bacon. Fry the sandwich on both sides in a frying pan. For the savoury appetite!
---
MANCAKES
Deze protein packed mancakes zijn het perfecte ontbijt om je weekend of werkdag mee te kickstarten. De zoutige, krokante Tempeh Bacon en de zoete, houtachtige ahornsiroop schudden je ochtendhoofd zó wakker. En voor de 'what about bacon though?' vrienden daarbuiten… Dit is next level sjit: tempeh + gerookte paprika poeder + shoyu + ahornsiroop = bacon 2.0. Yep.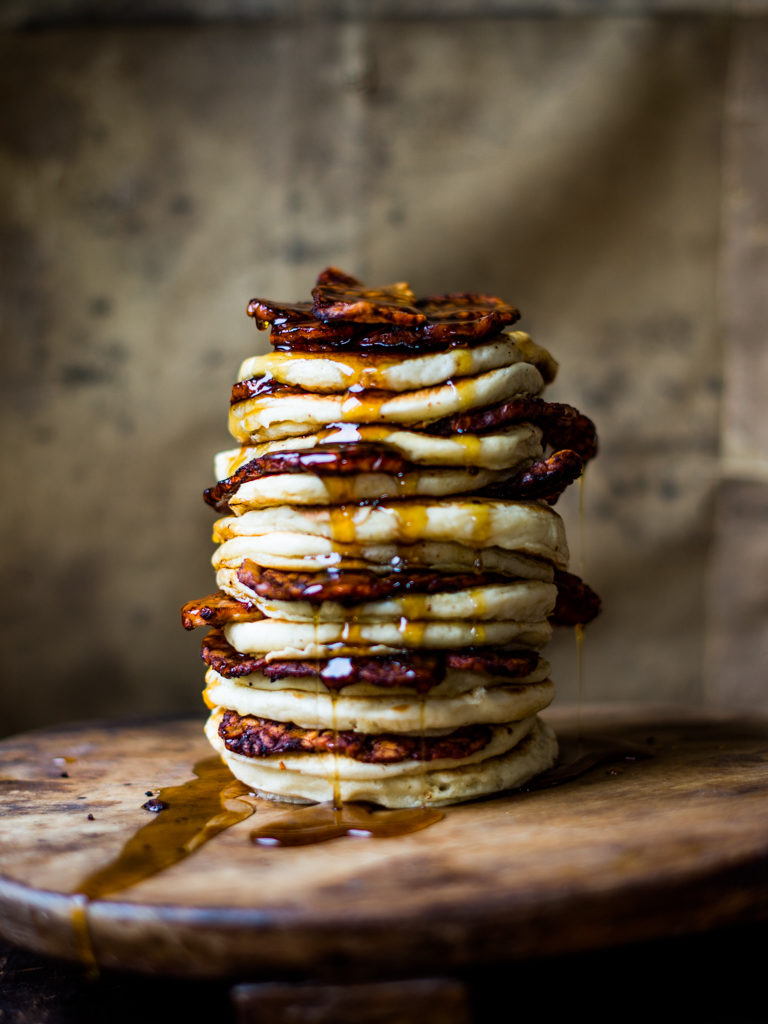 Voor 2-4 personen
INGREDIËNTEN
Tempeh Bacon
1 blok tempeh
rijstolie om in te bakken
1 tl gerookte-paprikapoeder
1 el lichte sojasaus of shoyu
Mancakes
250 g bloem
snuf zeezout
1 tl bakpoeder
200 g sojayoghurt
200 ml bier
100 ml sojamelk
1 el gesmolten plantaardige bakboter, plus een extra niet-gesmolten klontje voor het serveren
rijstolie om in te bakken
Tempeh Bacon (zie boven)
ahornsiroop
INSTRUCTIES
Tempeh Bacon
Snijd de tempeh in zo dun mogelijke plakken. Verhit een plens olie in een koekenpan en bak de plakken tempeh aan weerszijden tot ze knapperig en goudbruin zijn. Zet het vuur lager en schep de tempeh uit de pan. Verwijder met keukenpapier de overtollige olie uit de pan en doe de tempeh er weer in. Bestrooi hem gelijkmatig met het paprikapoeder. Sprenkel de sojasaus erover en wacht tot de tempeh die helemaal opgenomen heeft.
Mancakes
Meng in een kom bloem met zeezout en bakpoeder. Voeg sojayoghurt, bier, sojamelk en boter toe. Roer het geheel met een garde tot een glad beslag. Verhit een klein scheutje olie in een koekenpan, schep kleine hoopjes beslag in de pan en bak de pancakes aan weerszijden gaar en goudbruin. Serveer met de Tempeh Bacon, lekker veel ahornsiroop en het klontje boter.
Tip
Gebruik overgebleven Tempeh Bacon voor een Bacon Sarnie door twee sneden witbrood aan weerszijden te besmeren met wat plantaardige bakboter en te beleggen met de Tempeh Bacon. Bak de sandwich aan weerszijden in een koekenpan. Stilt de hartige trek!