For all vegan newcomers, this one is for you! No special skills required. This is a nice entry-level recipe and guarantees fun in the kitch. Perfect to make with the kids. Looking for more great, delicious, easy and luxurious recipe inspiration for the holidays? Check out our recipe index!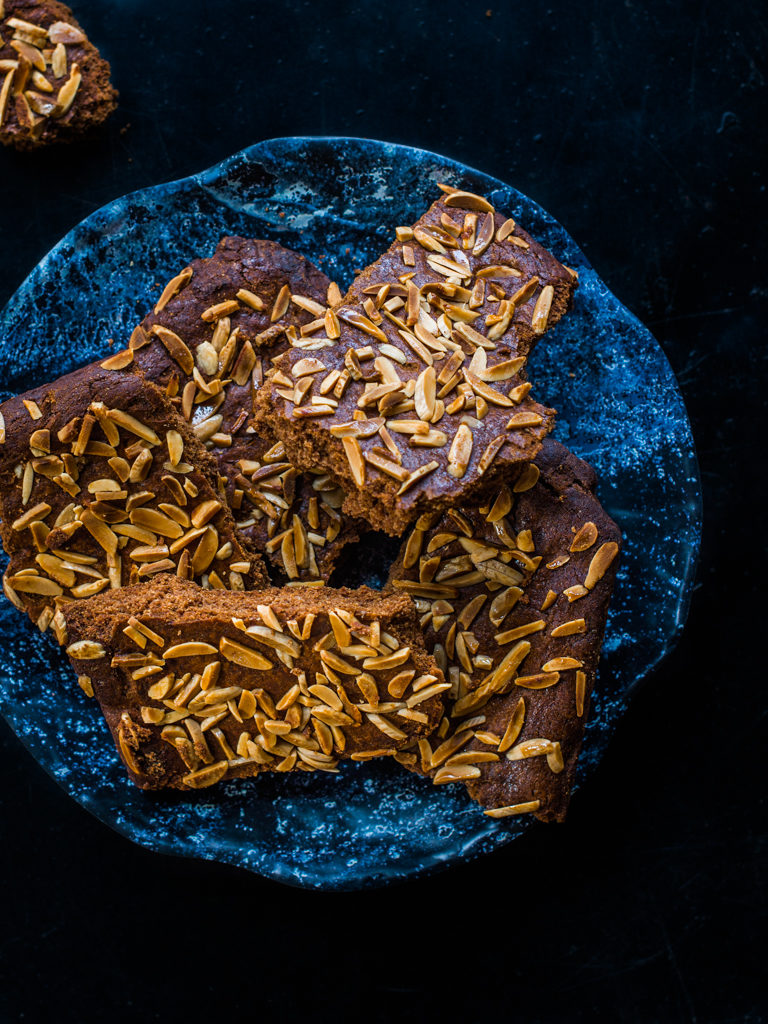 Yield one enormous piece or many chunks
INGREDIENTS
400 g organic wheat flour
100 g of organic brown sugar
6 leveled gingerbread spices
½ tsp of salt
1 leveled tsp baking powder
½ tsp baking soda
250 g vegetable butter, cold and in cubes
125 ml kitchen syrup or molasses
2 tbsp vegetable milk of your choice
50 g white almonds (planed, whole or minced) for decoration
INSTRUCTIONS
Mix flour, sugar, gingerbread spices, salt, baking powder and baking soda in a bowl. Add butter and with your fingertips crumble it all together. Then add syrup and mix until it forms a dough, without really kneading. If the dough is too dry, add a few tbsp of water. Cover the dough and let rest for at least 30 minutes in the refrigerator.
Preheat oven to 165 degrees C. Cover a baking sheet with baking paper. Place the dough on top and roll out it is approx. 1.5 cm thick. Brush with vegetable milk and garnish with the almonds. Bake for approx. 40 minutes (check in between whether it does not burn, lower the temperature if necessary). Allow to cool and then break into pieces.
---
STOERE SPECULAAS BROKKEN
Voor alle vegan nieuwkomers, deze is voor jullie! Geen speciale vaardigheden vereist. Dit is een mooi instapmodel en garandeerd lol in de keuken. Perfect om met de kids te maken. Op zoek naar meer geweldige, heerlijke, makkelijke en luxe recept inspiratie voor de feestdagen? Bekijk onze receptenindex!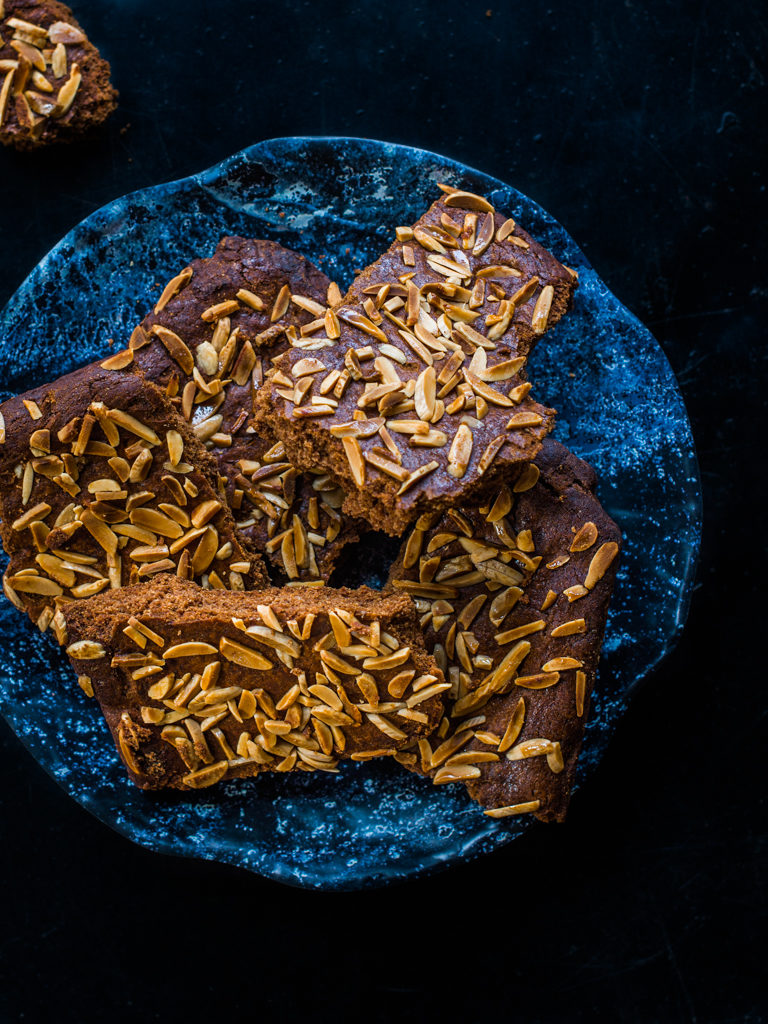 Voor 1 gigantisch stuk of veel brokken
INGREDIENTEN
400 g biologische tarwebloem
100 g biologische bruine suiker
6 afgestreken el speculaaskruiden
½ tl zout
1 afgestreken tl bakpoeder
½ tl baking soda
250 g plantaardige bakboter, koud en in blokjes
125 ml keukenstroop of molasse
2 el plantaardige melk naar keuze
50 g witte amandelen (geschaafd, heel of gehakt) ter decoratie
BEREIDING
Meng bloem, suiker, speculaaskruiden, zout, bakpoeder en baking soda in een kom. Voeg boter toe en verkruimel met je vingertoppen door de droge ingrediënten. Voeg vervolgens stroop toe en meng tot het deeg samenkomt, zonder echt te kneden. Mocht het deeg erg droog zijn, voeg dan enkele el water toe. Dek deeg af en laat mintens 30 minuten rusten in koelkast.
Verwarm oven voor op 165 graden C. Bekleed een bakplaat met bakpapier. Plaats het deeg hierop en rol uit tot het ca. 1,5 cm dik is. Bestrijk met plantaardige melk en garneer met de amandelen. Bak het gevaarte ca. 40 minuten (check tussendoor of de koek niet verbrandt, verlaag indien nodig de temperatuur). Laat afkoelen en breek vervolgens in stukken.